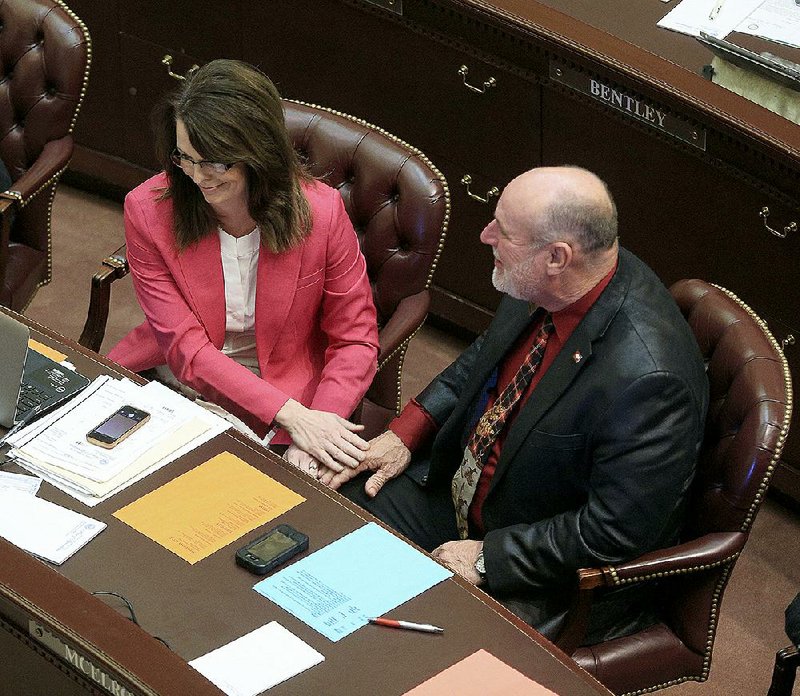 Rep. Mark McElroy, D-Tillar, congratulates Rep. Julie Mayberry, R-Hensley, after the bill she presented to ban the use of telemedicine during chemical abortions was approved Thursday in the House. - Photo by Staton Breidenthal
The House approved legislation Thursday requiring a doctor to be in the room during a medication-induced abortion, also called a chemical abortion.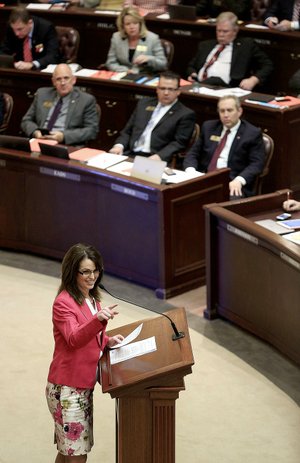 Photo by Staton Breidenthal
State Rep. Julie Mayberry, R-Hensley, presents legislation that bars the use of telemedicine for performing chemical abortions. The legislation passed overwhelmingly and is headed for the governor's desk.
Senate Bill 53, sponsored by Sen. Missy Irvin, R-Mountain View, would ban the use of telemedicine during chemical abortions. The procedure that is sometimes called a webcam abortion was already unavailable in Arkansas, the bill's sponsors said.
In an 85-3 vote, the House approved SB53 with little discussion. Rep. Julie Mayberry, R-Hensley, presented the bill, reminding legislators that they had voted in favor of her version.
The Senate approved House Bill 1076, by Mayberry, on Tuesday in a 28-5 vote. The House bill is identical to Irvin's SB53.
"Members, I've had a few of you question me, 'Didn't we already pass this?' And yes, you did," said Mayberry. "This is the same bill that you have already passed; 83 of you gave it a yea."
Supporters of the bill said they want a doctor present in case of complications with a chemical abortion, but opponents said it would restrict access to a medical abortion that's both safe and legal.
The legislation also requires that doctors make "all reasonable efforts" to ensure that the patients return between 12 and 18 days after the procedures for follow-up examinations.
Mayberry said Thursday that she and Irvin filed the identical bills early in the session as an insurance policy if one of them was held up.
"Mine does have to go back through the House, but we only need one to get through. If mine sits there and doesn't come all the way through, we just need one to pass through and get to the governor's desk for a signature," she said. "Sen. Irvin started this process two years ago and had a Senate bill that was filed late in the session and never made it out of committee. So, we filed identical bills early to double make sure that it passed."
Mayberry said that abortions induced, usually using mifepristone, also known as RU-486, can have side effects, including bleeding and more serious problems. She said that in researching the bill, she found statistics that about 5 percent of women who have medication-induced abortions need to have surgical abortions later because the medication was ineffective.
The bill also notes that medical providers who violate the rules could be sued by the mother or the father of the embryo.
The measure is the first bill by abortion opponents filed during the 90th General Assembly, two years after the Arkansas Legislature passed two of the strictest abortion bans in the country, one prohibiting most abortions after 20 weeks of pregnancy, the other barring most abortions after 12 weeks.
The 12-week ban is being challenged in a federal appeals court.
Other abortion measures were expected to be filed during this session, including several measure by senators who said early in the session that they planned to refile legislation that had not passed out of committee during the 89th General Assembly.
Rep. Charlene Fite, R-Van Buren, filed HB1394 earlier this week to establish the "abortion-inducing drugs safety act." Fite said Wednesday that she planned to run the bill in the Public Health, Welfare and Labor Committee next week.
The nine-page bill would require abortion-inducing drugs to be prescribed by a physician and follow all U.S. Food and Drug Administration prohibitions and requirements. It also requires a medical examination before a woman can be prescribed the drug and would require an emergency physician with admitting privileges at a hospital as well as gynecological surgical privileges be designated and available in case of an emergency with the administration of the drug.
Metro on 02/20/2015
Print Headline: House OKs telemedicine-abortion ban
Sponsor Content
Comments