CORRECTION: The United States and the United Kingdom declared war on Japan on Dec. 8, 1941, a day after the Japanese empire attacked Pearl Harbor in Hawaii and British forces in Malaya, Singapore and Hong Kong. The Japanese surrendered on Aug. 15, 1945. This story misstated how long the British were at war in Asia.
TOKYO -- Emperor Akihito, whose father announced Japan's surrender in World War II, expressed "deep remorse" for the war Saturday at a memorial service on the 70th anniversary of the war's end.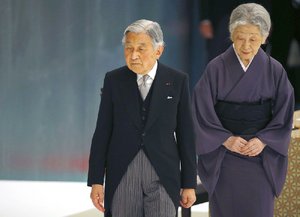 Photo by SHIZUO KAMBAYASHI / AP
Japan's Emperor Akihito, accompanied by Empress Michiko, leaves the stage Saturday after delivering remarks during a memorial service in Tokyo on the 70th anniversary of Japan's surrender at the end of World War II.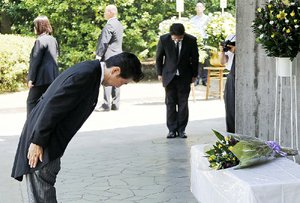 Photo by SHUJI KAJIYAMA / AP
Japanese Prime Minister Shinzo Abe bows Saturday during a ceremony at a national cemetery in Tokyo honoring soldiers who died in World War II.
Prime Minister Shinzo Abe, meanwhile, stayed away from a contentious Yasukuni shrine that honors war criminals, among other war dead. He instead prayed and laid flowers at a nearby national cemetery for unnamed fallen soldiers ahead of the annual ceremony at Tokyo's Budokan hall.
Akihito's words were not new for the emperor: He has often spoken of regret over the war, and he has done so increasingly in recent years, in meetings with foreign leaders and visits to sites where battles once raged.
But his remarks were an unusual addition to the short and highly ritualized statement that he delivers each year at the memorial ceremony.
"Reflecting on our past and bearing in mind the feelings of deep remorse over the last war, I earnestly hope that the ravages of war will never be repeated," Akihito said in his speech. Japanese media said it was the first time he had used the words "deep remorse" in reference to the war in his annual speech.
The emperor's statement came a day after Abe, a conservative nationalist, made his own remarks about the war, in which he endorsed past expressions of contrition by Japanese leaders -- including the same "deep remorse" -- but chose not to make a new apology of his own, a departure from past practice.
Akihito, 81, is a figurehead with no role in government, although he is popular in the country. He speaks softly and, in public, relatively rarely.
The addition of the word "remorse" attracted notice, as did another new turn of phrase, in which he spoke of the Japanese people's "earnest desire for the continuation of peace."
"Since the start of the Abe administration, there has been a more noticeable political message in the words and actions of the emperor and empress," said Takashi Hara, an expert on the imperial family at Meiji Gakuin University. "I think the emperor is critical of Abe."
This month the Imperial Household Agency released refurbished recordings of the radio broadcast made by Akihito's father, Hirohito, when he declared Japan's surrender on Aug. 15, 1945. Several times this year, Akihito has made unusually direct references to wartime events and the need, as he said on one occasion, to "study and learn from the history of this war."
In February, the emperor's son, Crown Prince Naruhito, 55, also appeared to chide Abe when he said it was necessary to "correctly pass down" history to future generations.
Abe is seeking to loosen postwar restrictions on Japan's military, which until now has been limited to a strictly defensive role. In doing so, he is contending with a Japanese public that has been reluctant to part with its more pacifist identity.
For the third year in a row since he took office in December 2012, the prime minister -- who also spoke at the memorial service -- avoided any reference to the damage caused by Japan's aggression.
Abe did promise, however, to "face the past" and "never to repeat the calamity of the war."
Previously, Abe has angered Chinese and South Korean leaders by visiting the Yasukuni shrine. Hirohito stopped visiting the shrine in the late 1970s after the so-called Class-A war criminals were added to its rolls.
Abe, as expected, did not visit it Saturday, sending a ritual offering instead. He donated Shinto-style religious ornaments for the shrine, as he has done since his last visit, in December 2013, which triggered criticism from China and South Korea. However, two of his Cabinet ministers prayed at the shrine, and a group of about 60 national lawmakers also visited Yasukuni on Saturday.
The lawmakers said they wanted to pay respects to those who sacrificed their lives for their country. But because Yasukuni enshrines mostly soldiers, many see it as a symbol of Japan's past militarism.
"We should not apologize forever into the future," Internal Affairs Minister Sanae Takaichi said in a speech at the shrine.
Thousands of people of all ages -- some in military uniforms -- streamed into the shrine. The street leading to the main entrance was packed with campaigners for causes such as changing the pacifist constitution and withdrawing a 1993 apology to the thousands of women forced into Japanese military brothels.
In Abe's closely monitored statement Friday, he acknowledged damage and suffering of innocent people 70 years ago, but he fell short of apologizing in his own words to the victims of Japan's aggression.
His statement had been widely anticipated because of his past remarks on historical issues that suggested a revisionist stance. He has repeatedly said there is no clear definition of aggression, and he has denied that Japan's wartime government coerced foreign women to become military prostitutes, citing lack of documentary evidence.
Friday's statement drew mixed reactions from overseas -- including criticism from China and South Korea, and praise from the United States. South Korean President Park Geun-hye said the statement "left a lot to be desired," and China called it evasive.
In London on Saturday, war veterans wearing medals paraded through the city to mark the 70th anniversary of the victory over Japan.
The slow parade by the aging veterans recalled the pain and triumph of Britain's 4 ½-year campaign in Asia. One veteran twirled his cane. Others waved. Many saluted. Thousands cheered them on.
The moment marked the end of a day of ceremony and remembrance. Queen Elizabeth II led the nation's commemoration, attending a morning service at St. Martin-in-the-Fields, near London's Trafalgar Square.
Some in the audience wore medals earned by their fathers and grandfathers -- a show of remembrance from some who feel that the war in Asia was largely overlooked by a country that focused on the struggle against Nazi Germany.
"I think it's very important to the veterans because they feel that they've been treated as the forgotten army," said Pauline Simpson, one of the organizers. "Their comrades that fought in Europe came home in May 1945, and they came back to a huge welcome and celebration.
"And for many people in the nation, it was the end of the war. But in actual fact for all of the men still in the Far East in captivity, many of them didn't even know that the war had ended. And they didn't start returning home until three or four months later."
Classic British hymns such as "Abide with Me" rang out during the afternoon service as airmen, sailors and soldiers honored the sacrifices of the men and women who came before them.
Prince Charles and Prime Minister David Cameron laid wreaths. A bugler played "The Last Post" as many dabbed tears.
Information for this article was contributed by Jonathan Soble of The New York Times; by Mari Yamaguchi and Danica Kirk of The Associated Press; and by Maiko Takahashi and Isabel Reynolds of Bloomberg News.
A Section on 08/16/2015