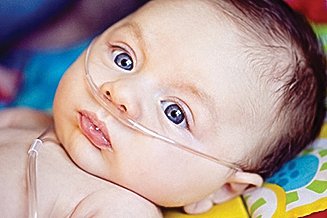 Every child deserves a great birthday party, and Miller McNeil Woodruff is no different.
Some 900 family members, friends and guests attended his fourth birthday party on March 27 in order to celebrate his life and courageous fight against spinal muscular atrophy, a disease which took his life after only 87 days.
Cupcakes and Cocktails
Who: The Miller McNeil Woodruff Foundation
When: March 27
Where: Fayetteville Towne Center
Funds Raised: $200,000
Info: imwithmiller.com
Spinal muscular atrophy is the No. 1 genetic killer of children under the age of 2, said Meredith Woodruff, Miller's mother and co-founder of the Miller McNeil Woodruff Foundation. The disease is inherited and usually fatal. It causes degeneration of the nerves that control voluntary muscle movement, making crawling, walking and even swallowing nearly impossible.
On March 28, 2011, the Woodruff family welcomed their second son, Miller, but within a month, their perfect baby would go from "laid back" to seriously ill, she said.
"Patrick and I promised each other and Miller that we would make the best of this unfortunate situation and never let Miller be forgotten," she said. "We spent 87 precious days with our angel, until his poor little body finally let go."
Miller died on June 23, 2011, but the family held true to their word.
Each year near Miller's birthday, the family hosts a birthday celebration complete with copious food, drinks and, of course, cupcakes to honor the day he came into their lives. Proceeds from the event go to benefit families facing this diagnosis. The foundation also raises money for awareness programs, research and donations for Arkansas Children's Hospital, Circle of Life Hospice and Families of SMA.
Party-goers noshed on a buffet provided by Qdoba before perusing an extensive silent auction. Auction items included household goods, exercise equipment, food, wine and furniture. Donations were made by Graco, Signed Sealed Delivered, The Organizer Chick, Posh Alley, Keeco, Agio/Woven Designs, EcoVET, Ever After Portratier, Bordino's, Paschal Heat and Air and more.
The largest ticket item in the silent auction was a six-piece patio set which sold for more than $1,000.
A live auction also followed dinner and included entertainment and vacation packages. The big seller was a one-week stay in a private home in Key Largo donated by Emily and Buck Ortega. The package went for more than $4,000.
Constellation Brands donated wine. GRUBS provided beer and soft drinks and water were provided by the Coca Cola Company.
The event had 28 corporate sponsors including Premier Concepts, Landers McLarty, Jim and Rhonda Woodruff, J. M. Smucker, Lifespring Women's Health, SCM Designs, C. R. Crawford Construction, Willard and Pat Walker Foundation, Lighthouse Financial, Jay Franco and Sons, Mars, Clear Channel, Coca Cola, Constellation, Qdoba, Ricks Bakery, Shirley's Flowers, AR Sign and Banner, Outdoor Cap, the Roark Group, Grubs, Design Works, KNWA, NWA Media, PeekaBoo, Citiscapes, 3W, Fly N' Hog, Magic 107.9 and Mix 101.9.
Emcee was KNWA's Laine Baker.
Patrick and Meredith Woodruff spoke at the event, highlighting both the legacy of their son and the hope they have for families like theirs.
"His legacy continues to work in people every day by the support they give to the Foundation and the fight against SMA," she said. "He is an angel to all of us."
NAN Profiles on 04/19/2015
Print Headline: Bittersweet birthday
Sponsor Content
Comments