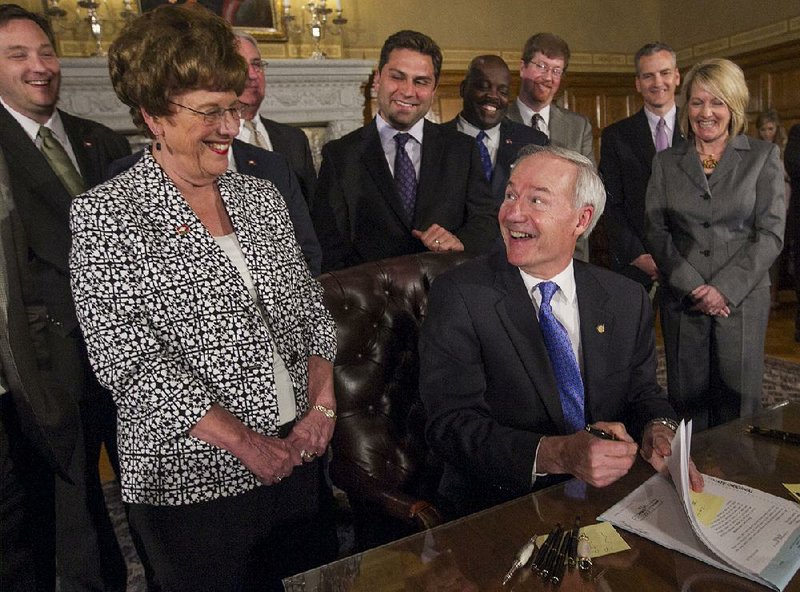 Arkansas Democrat-Gazette/BENJAMIN KRAIN --04/06/2015-- Gov. Asa Hutchinson signs into law three state Senate bills aimed at overhauling the state's workforce education programs during a ceremony Monday at the Capitol as legislators look on. Sen. Jane English, R-North Little Rock, at left, sponsored 2 of the 3 bills which create a grant program, an Office of Skills Development and sets legislative language that will allow the state to maximize opportunities for federal grants. - Photo by Benjamin Krain
Four days after the Arkansas Legislature went home, Gov. Asa Hutchinson signed into law a bill Monday prohibiting "re-homing" and another that he called a "momentum changer" for economic growth in the state.
Surrounded by smiling lawmakers, Hutchinson signed Senate Bill 891, the Workforce Initiative Act of 2015, into law Monday afternoon during a ceremony at the state Capitol.
Sponsored by state Sen. Jane English, R-North Little Rock, it would set up a fund in the state Department of Higher Education that will accept competitive applications for regional economic development and workforce development initiatives.
The Higher Education Department would set funding priorities.
The first phase would seek requests for proposals from alliances consisting of technical institutes, community colleges, universities, the K-12 education system, educational cooperatives and employers, with input from local workforce investment boards, to receive planning grants of up to $100,000.
The second phase would provide implementation grants. The third phase would provide continuation grants to second-phase recipients that meet or exceed outcome measures.
Supporters say there is $15 million for the grant programs that would be available through the Higher Education and Career Education departments, set aside by former Gov. Mike Beebe.
The governor said he will devote an additional $2 million in discretionary money to the Higher Education Department, which will use the money as grants to two-year colleges and technical schools that have workforce-training needs.
Later Monday, Hutchinson went through more than 100 pieces of legislation, and put into force, among other bills, one that would criminalize unauthorized trading or shifting of adopted children.
Hutchinson signed House Bill 1676, which made the unauthorized "re-homing" of adopted children a felony. That bill, sponsored by Rep. David Meeks, R-Conway, is now law along its companion bill HB1648 by Rep. Greg Leding, D-Fayetteville, which put into law certain requirements for adoptive parents receiving state subsidies.
Those two bills were both filed in early March, shortly after a story by the Arkansas Times detailed the re-homing of two adopted daughters, ages 3 and 5, by Rep. Justin Harris, R-West Fork, to an employee at his day care center, Eric Cameron Francis.
Harris has said the two girls he and his wife adopted had been scarred by past abuse and were too difficult for them to raise, turning his life into a "nightmare" and a "living hell." Harris said he gave the girls to the Francis family because he feared that the state would accuse him of child abandonment.
During a child-abandonment investigation, state officials uncovered evidence that Francis had raped the oldest girl. Late last year, he pleaded guilty to two counts of sexual assault and is now serving a 40-year prison sentence.
Under Meeks' legislation, which is now law, re-homing adopted children to people who are not close family members would be a felony punishable by up to five years in prison and a $5,000 fine.
Leding's bill, which became law last week, would tighten oversight on adoption subsidies provided by the state Department of Human Services.
By law, parents receiving those subsides would have to annually sign an affidavit stating that the adopted children will remain in their care and that the parents will notify state officials if such a child were to be taken in by someone else, save for temporary situations.
It is now a Class A misdemeanor to falsify such an affidavit. Class A misdemeanors can lead to up to a year in jail as well as a fine.
On Monday, Meeks said that he hoped that the public awareness over re-homing, as well as the new statute, will prevent any future incidents where children are transferred from one home to another without state involvement.
Meeks, as well as DHS officials, said there have been about nine instances of re-homing in the last two years.
In addition to sanctions, the new laws put greater requirements on DHS to provide more post-adoption services to parents.
DHS policy has been to provide help to families going through an adoption, but new state law mandates that the agency put together policies and procedures to ensure that an adoption is not dissolved until families, with the help of DHS, have done all they can to make the adoption work.
"I think the important part now is making sure that DHS has the resources and [is] offering the resources that we need as far as adoptions are concerned, and that's the biggest thing," Meeks said. "If we do that, then the re-homing cases -- hopefully we won't hear of anything like that happening in Arkansas in the future."
DHS spokesman Amy Webb said her agency is in the process of ironing out how the post-adoption services will be offered but that the agency has already printed out informational materials for adoptive and foster parents offering a range of services such as "crisis intervention services," "respite care" and "therapeutic counseling."
Webb said that her agency is "centralizing" requests for post-adoption services as well.
Instead of calling all around the state, parents can call the DHS central office, which will help guide parents through options and resources.
Although the law requires a signed agreement to obtain subsidies, Webb said her agency has been doing that as a matter of policy since August.
Asked what state officials will do to combat fraud or falsified affidavits, Webb said that DHS officials are "considering several different options, including a home visit" to make sure that children are actually at the home receiving the subsidy.
While DHS strives to adjust to the the new laws, a comprehensive review of the agency is already underway.
Hutchinson spokesman J.R. Davis said Paul Vincent, a social services consultant and former head of the state of Alabama's social services agency, is "on the ground" and conducting an "independent review" of DHS child-welfare policies, procedures and performance as well as other aspects of the agency.
Hutchinson said several weeks ago that the re-homing controversy raised questions and that such a review is necessary to see what other types of fixes are needed in the state's social services.
Vincent, who has conducted similar reviews for about one-third of the states in the nation, should take about 60 days to complete his review, Davis said.
Hutchinson didn't make any public comments Monday about the new re-homing law. But he emphasized the importance of the Workforce Initiative Act of 2015.
"It's one of the crying needs in our state to drive economic development, to make sure that we can compete with ... other ... states in terms of recruiting industry and to support the existing industry we have," Hutchinson said. "To do that we had to have a more robust system of job skill training that matches the needs of industry."
Last week, Hutchinson signed two other bills designed to strengthen the state's workforce services. He signed SB368 and SB791 again at this week's event.
"This is foundational," Gov. Hutchinson said of the bills during Monday's ceremony. "It will set the course for success in Arkansas in terms of job training."
SB368 by English expands the seven-member Career Education Board, replacing it with a new Career Education and Workforce Development Board. The new board will include up to 13 representatives from different industries and will be chaired by Hutchinson himself.
SB791 by Hutchinson's nephew, Sen. Jeremy Hutchinson, R-Little Rock, creates 10 regional boards under the Department of Workforce Services that will be staffed with business and industry leaders to assess needs in job training and develop solutions.
Metro on 04/07/2015
Print Headline: Governor signs ban on re-homing kids
Sponsor Content
Comments