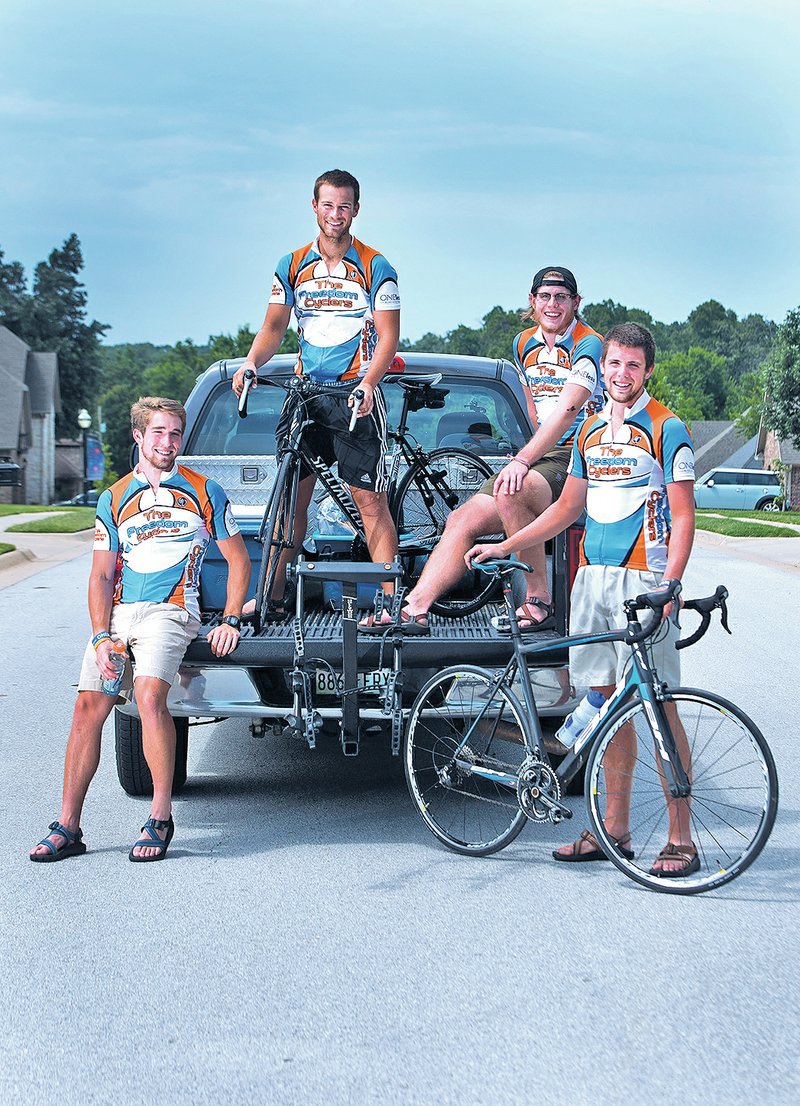 STAFF PHOTO SAMANTHA BAKER • @NWASAMANTHA Jason Elliott, from left, Jeff Maier, Taylor Carlisle and Matthew Roelofs, seniors at the University of Tennessee, pose with their bicycles Monday in Rogers after cycling into town on their way across the United States. The Freedom Cyclers, as they call themselves, are cycling across the country to raise awareness and money in an effort to end human trafficking. The team began its trip near Los Angeles on June 11 and plan to end in Savannah, Ga. on July 25.
ROGERS -- Four hot and tired University of Tennessee students arrived in Northwest Arkansas via bicycle Monday as they made their way from Los Angeles to Savannah, Ga., raising awareness of human trafficking, and money to fight the problem.
Taylor Carlisle -- nephew of Rogers residents Fred and Linda Burrows -- Jeff Maier, Matthew Roelofs and Jason Elliott, all seniors at the University of Tennessee, are biking more than 3,106 miles in 43 days. They plan to be in Savannah in 18 days.
At A Glance
Human Trafficking
Human Trafficking and slavery is an international problem, including in the United States.
• In fiscal year 2013, the Department of Justice convicted a total of 174 traffickers in cases involving forced labor and sex trafficking of adults and children.
• Immigration and Customs Enforcement reported opening 1,025 investigations involving human trafficking in 2013.
• The FBI opened 220 cases involving human trafficking in 2013.
• Slaves are found in factories, construction sites, fisheries and the sex industry, generating profits of $32 billion every year.
• It is estimated that today, 21 million humans live in slavery around the world.
Source: Staff Report
Web Watch
The Freedom Cyclers
To learn more about the cyclists, go to: www.thefreedomcyclers.com
Mekong Club
To learn more about human trafficking, go to: www.themekongclub.org
"This was something I've been thinking about doing since I was a freshman in college," Elliott said. "Jeff asked me if I was really going do it earlier this year, and we started talking about actually making the ride, but we wanted to be part of something bigger than ourselves.
Roelofs and Carlisle joined the group after the planning had started.
The decision to use the ride as a fundraiser for an organization that fights human trafficking was made, and they named themselves "The Freedom Cyclers." They want to raise $40,000 for three agencies that fight slavery: Mekong Club, ONEless Ministries and Community Coalition Against Human Trafficking.
"After we talked to some people who have done similar things, we learned it's really not about the money," Elliott said.
"A guy came to the university and talked about human trafficking, and it really open my eyes. I had no idea there was human trafficking in the United States, but there is. Most people don't know that. One of the things we do when we stop is talk to people about human trafficking to raise awareness about the problem," Maier said.
"Getting word out is the most important thing we do. Most people listen and seem interested in the information. Sometimes they will make a donation of $50 or more," Elliott said.
The riders agree the trek across the United States has been an adventure, and a learning experience that has changed them.
"It's given me a more positive attitude," Carlisle said.
"You wake up in the morning knowing you are going to ride 75 to 100 miles. Some days you don't think you can do it, but you do. Biking is physical, but it's also mental. If you keep a positive attitude you can do it. Besides, we help each other. If one of us is struggling one of us will drop back to help," he said.
"I've changed my attitude about a lot of things," Maier said.
As an example, he recalled leaving a motel room to find one of his fellow riders having breakfast.
"There was Roelofs sitting at a table with six rough-looking construction workers. These guys were eating a big meal and drinking beer. Before I went on this ride, I wouldn't have engaged in conversation with the construction workers, but I thought 'if Roelofs can do it so can I,' and I joined the table," Maier said.
"I discovered that's the way it should be. We should all talk to each other and not just to those in our peer group. That's a lesson I hope I don't forget," he said.
Roelofs said he has learned he is capable of doing things he didn't know he could do.
"Jeff is a real cyclist. The rest of had to train for a couple of months before we started. There were days I just knew I couldn't make it, but Jeff would drop back and tell me I could do it. He would keep talking to me, and I always made it. I also learned I could talk to just about anybody. At first it was out of my comfort zone, but I'm fine with it now," Roelofs said.
Roelofs' father, John, has been driving a vehicle following the cyclists the past few days. He said he's learned a few things as well.
"We weren't sure we wanted Matthew to make this trip. His mother was afraid the boys might run into some of the crazy people out there. We allowed him to go only after the boys agreed to have a follow vehicle," John Roelofs said.
"It's a lot different following behind the boys than getting a phone call. You see what they are up against every day as they ride 75 to 100 miles. They are all fine men, and I'm proud of them for what they are doing," he said.
The Freedom Cyclers leave this morning and will ride to Harrison where they will spend the night.
NW News on 07/08/2014
Print Headline: Bike Riders Raise Awareness Of Human Trafficking
Sponsor Content
Comments