ROGERS — The Rogers-Lowell area, as a community, is in exceptional shape, but there is room for improvement, according to a community assessment report released Monday.
The report was prepared by Market Street Service Inc., a national economic, community and work force development consulting firm. The firm was hired to develop and implement a strategic plan for the area.
Document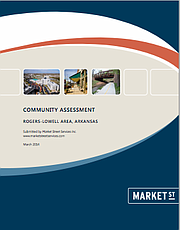 At A Glance
Assessment Report
The community assessment report, prepared by Market Street Services Inc., lists nine items the Rogers-Lowell leaders and residents need to discuss and develop to improve the region:
• Rogers-Lowell and Northwest Arkansas: A regional mindset.
• Growth and migration: Rogers-Lowell and its position within Northwest Arkansas.
• The changing face of Rogers-Lowell: Diversity, inclusion and equity.
• Education and income: Opportunity in Northwest Arkansas.
• Economic transition in Rogers-Lowell.
• Traffic, transportation and infrastructure.
• Public education: Preserving an asset.
• Quality of life: Community appeal to various groups.
• The future of downtown Rogers.
Source: Staff report
"There were no real surprises in the report, but we did discover there are some perceptions that may be a little off center," said Greg Lindley, a member of the project's steering committee and member of the city Parks and Recreation Commission.
One misconception is there is too much traffic, Lindley said.
"It depends on where you are from, to some degree. If you come from Dallas or Chicago, traffic in Northwest Arkansas is nothing. However, after you have lived here awhile, your perception changes and you begin to think the traffic is terrible," he said.
The study found commute times in Northwest Arkansas are about 15 minutes. In areas of similar size, the commute can be twice as long, according to the report.
Although the report found Rogers is attractive to families with children, the city doesn't attract as many young, unmarried professionals or recent college graduates as other areas. There are a number of reasons why, said Raymond Burns, executive director and president of the Rogers-Lowell Area Chamber of Commerce.
"Many young professionals want to stay near other young professionals. Bentonville, with the world headquarters of Walmart, attracts young professionals because of the employment opportunities," Burns said.
Other issues where Rogers and Lowell need improvement include having more apartments for single people, and having entertainment venues that offer live music, outdoor dining and a nightlife, according to the report.
"We also discovered that most of the people in the focus groups or taking the online survey expressed the importance of a viable, vibrant downtown area. While that wasn't a big surprise, it was nice to know residents are interested in the revitalization of downtown and Lake Atalanta," Burns said.
Tom Hopper, of Crafton Tull and a steering committee member, said he was impressed with Market Street's efforts.
"Market Street really went the extra mile to get so many people involved. There was a wide variety of concerns voiced by residents, which will help develop a better plan for the future," Hopper said.
The next step in the development of an action plan for the Rogers-Lowell area will take three to four months, said Matt Tarleton, of Market Street Services.
"The amount of response we received from the public gave us some solid information to work with as we begin to work on the action plan," Tarleton said. More than 1,600 people completed an online survey.
"We will be working closely with the steering committee as we put the action plan together. They will have the opportunity to vet every thing we do. They can help us make sure we haven't missed anything," Tarleton said.
The action plan will contain best practices Market Street staff members have learned over the years.
"The plan will also include a set of ideas we received from the survey and the focus groups. There were some great economic development and beautification ideas, to mention two, we want to add to the plan," he said.
The final step will be the implementation of the plan, which is expected to begin in late summer or early fall, Market Street officials said.
The city contributed $100,000 toward the study and the Rogers-Lowell Area Chamber of Commerce kicked in about $30,000.
NW News on 04/01/2014