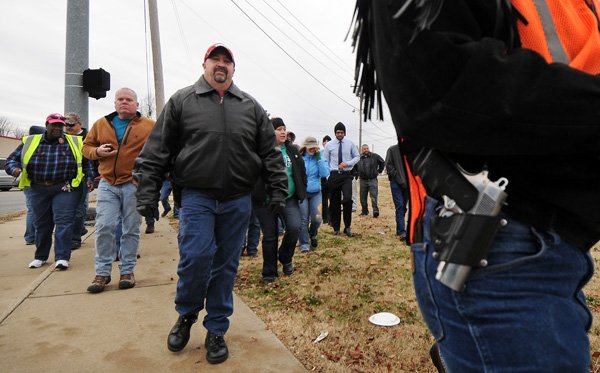 Marty Nelson, from Greenwood, left, follows behind Tony Asher, from Lincoln, who wears a Colt .45 cal pistol on his hip, while participating in a walk along North Thompson Street in Springdale celebrating a new state law, passed on August 16, legalizing open carry of firearms in Arkansas, on Saturday November 23, 2013. Several dozen gun rights supporters joined Northwest Carry, a group associated with Arkansas Carry, in walking a few blocks while openly wearing handguns. - Photo by Ben Goff
Tony Asher gave his 16-year-old son, Dalton Asher, his first gun at age 5.
At A Glance
Arkansas Gun Laws
"A person commits the offense of carrying a weapon if he or she possesses a handgun, knife, or club on or about his or her person, in a vehicle occupied by him or her, or otherwise readily available for use with a purpose to attempt to unlawfully employ the handgun, knife, or club as a weapon against a person."
State law also allows a college employee who has a concealed handgun license to carry the gun on a campus where the governing body does not have a policy forbidding it.
Correction: A previous version of this story contained an outdated portion of state law. The error has been corrected.
Sponsor Content
Comments