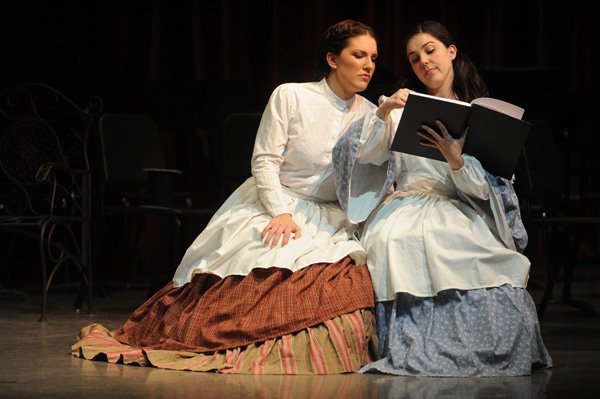 Performers Chelsea Coyne, left, and Ann Coffman star in Opera Fayetteville's inaugural production of "Little Women." Coyne is Jo and Coffman is Amy in one of two casts performing this weekend in the Stella Boyle Smith Concert Hall at the University of Arkansas. - Photo by Andy Shupe
There is something incredibly special about traveling to meet a cast of strangers and bringing a score to life on a stage together," says Hilary Ginther of Bristol, Va. "It is a fulfilling feeling of teamwork, creativity and artistic honesty." It's also a challenge, which Ginther, who is performing the role of Jo March, and about 20 other young singers have accepted as part of the inaugural production of Opera Fayetteville.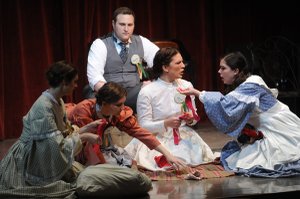 Photo by Andy Shupe
Performers Audrey Grieme, left, Sarah Tucker Slayden, Cristopher Frisco, Chelsea Coyne and Ann Coffman sing during a rehearsal for Opera Fayetteville's production of "Little Women." The company's inaugural season features performers from around the country and orchestra members from the Symphony of Northwest Arkansas, the Arkansas Philharmonic and the Fort Smith Symphony.
FAQ
'LITTLE WOMEN' BY OPERA FAYETTEVILLE
WHEN - 7:30 p.m. today & Saturday
WHERE - Stella Boyle Smith Concert Hall on the University of Arkansas campus in Fayetteville
COST - $25
INFO - www.operafayetteville.org
Whats Up, Pages 11 on 01/13/2012
Print Headline: Living The American Dream
Sponsor Content
Comments