There is something incredibly special about traveling to meet a cast of strangers and bringing a score to life on a stage together," says Hilary Ginther of Bristol, Va. "It is a fulfilling feeling of teamwork, creativity and artistic honesty."
It's also a challenge, which Ginther, who is performing the role of Jo March, and about 20 other young singers have accepted as part of the inaugural production of Opera Fayetteville. The fledgling company opens its single-show "season" this weekend with Mark Adamo's "Little Women," which Opera Fayetteville founder Tamara Ryan says has "a libretto with all the tenderness and emotion of the beloved story, along with a dazzling and lyrical score that has rendered it a staple of the American operatic repertoire."
A commitment to American composers helped Ryan choose "Little Women" as Opera Fayetteville's first production, as did several other factors.
"'Little Women' has something significant to offer to everyone," she says. "The English language, familiar characters and stunningly lyric arias provide an excellent introduction to opera for a first-time audience member.
On the other hand, the musical and dramatic sophistication of the score make it equally appealing to the seasoned operagoer. It is a beautiful blend of the intellectual and the emotional, the traditional and the modern.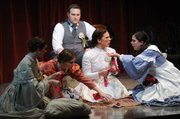 "Secondly (and more concretely), the opera has a large cast," she says, made even bigger by doublecasting to create two separate troupes. "While this made casting and housing more difficult, it also allowed usto offer opportunities to more young singers, and that is an important part of the company's mission.
"Finally, I must guiltily admit, this opera is my personal favorite," says Ryan, who is singing the role of Amy with one cast. "I just really wanted to do it!"
Ryan was equally determined to create an opera company, and her experience performing with Metro West Opera in Boston convinced her that she could.
"I was so inspired by what they could accomplish on a limited budget with their enthusiasm and strong work ethic and so impressed by what a significant artistic contribution they made to their community," she says. "I realized that it was actually possible to take charge of one's own artistic destiny and that the true magic of opera can be conveyed even with limited means.
"It seemed to me," she adds, "that I could ramble on for days about not being the person best suited to the job or I could just decide that I was going to get it done. There was a lot of waking up in the middle of the night thinking, 'Oh no! What am I going to do about (costumes/publicity/ finding everyone a place to stay)!?' I really believe in this project, and that's helped to get me through."
FAQ
'LITTLE WOMEN' BY OPERA FAYETTEVILLE
WHEN - 7:30 p.m. today & Saturday
WHERE - Stella Boyle Smith Concert Hall on the University of Arkansas campus in Fayetteville
COST - $25
INFO - www.operafayetteville.org
"There are many large, successful opera companies that hire singers who are at the top of their game, but as young musicians, it is incredibly difficult to figure out how to get started in this career," says Ginther, a mezzo soprano.
"Small, regional companies are a vitally important figure in helping young singers start a career."
Ginther is joined on stage by singers from around the country, conducted by Robert Mueller of the Universityof Arkansas and directed by internationally renowned baritone David Malis.
"Bring open ears and an open heart," Malis advises operagoers. "Mark Adamo's music is beautiful, our youngsingers are fine actors and singers, and the story is powerful, emotional and timeless. That's all (you) need to know."
"Ever since I started singing, I wished that therewas an opera company in Fayetteville," says Ryan, who grew up in Northwest Arkansas, performing with the Arts Center of the Ozarks Children's Choir and studying voice with Elaine Cencel at the university. "I've been a lot of places, but there's nowhere quite like Fayetteville."
Whats Up, Pages 11 on 01/13/2012