Bobby Petrino's Harley-Davidson motorcycle following an accident on Sunday. - Photo by Bob Kramer, Special to NWAonline
FAYETTEVILLE — Arkansas head football coach Bobby Petrino was involved in a motorcycle accident Sunday night, according to the Arkansas State Police.
In a release Monday, Petrino's family said he is expected to make a full recovery and was in stable condition, but didn't specify the severity of his injuries.
A source told the Arkansas Democrat-Gazette that Petrino suffered multiple broken ribs, "all kinds of cuts and bruises", and a neck sprain.
The crash was reported around 6:45 p.m. Sunday night on Arkansas 16 in Madison County near Crosses, a rural community about 23 miles southeast of Fayetteville. With its winding roads and picturesque views of the Boston Mountains, the area is popular among bikers.
Bob Kramer came upon the crash scene around 7:05 p.m. on Sunday, but said Petrino was already gone and no police were on-hand. Kramer said the Harley-Davidson had a custom Razorback paint job.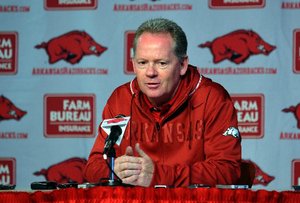 Photo by Michael Woods
Arkansas football coach Bobby Petrino was injured in a motorcycle accident Sunday night southeast of Fayetteville.
"The bike was on top of some timber, but nothing real big - maybe 4 inches in diameter," Kramer said. "It ended up resting basically upright, at a little bit of an angle.
"The road kind of has a little rise on it and then bends around to the left over a hill. The bike just kind of went straight up over the crest of that hill. It could have been anything that caused it."
An Arkansas State Police report on the incident might not be available for two or three days, but spokesperson Bill Sadler said it was a single-vehicle crash that happened when Petrino's motorcycle left the roadway.
According to Sadler, Petrino was taken to a hospital in Washington County, where he was admitted and kept overnight. Sadler didn't specify whether Petrino was wearing a helmet at the time of the accident.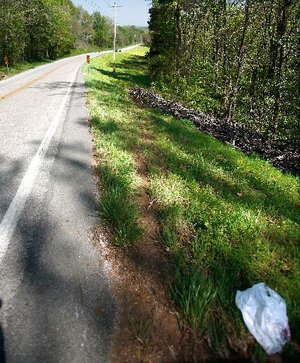 Photo by Jason Ivester
Arkansas Democrat-Gazette/JASON IVESTER --04/02/12-- Seen on Monday, April 2, 2012, a single tire track extends about 20 yards from Arkansas 16 south of Crosses. Bobby Petrino's motorcycle left the highway and crashed into a pile of wood on Sunday.
Petrino was not listed as a patient at any of the major hospitals in Northwest Arkansas on Monday, but patients can ask their name be withheld from a hospital's roster, citing the Health Insurance Portability and Accountability Act (HIPAA).
UA athletics director Jeff Long said in a release on Monday afternoon he had visited with Petrino in the hospital and, "Coach Petrino is resting comfortably and is encouraged by the progress of his recovery."
Petrino, 51, is entering his fifth year as the Razorbacks' football coach. He is an avid motorcycle collector and had four when he spoke about his hobby during a 2008 interview with Northwest Arkansas Newspapers.
"It's relaxing to me," Petrino said in the interview. "You get out and you get to see good scenery, and I like to ride up to Beaver Lake. It's pretty up there. I've been around the outdoors. I grew up around the outdoors my whole life."
--
Tom Murphy in Fayetteville, Caleb Fort in Springdale and Jennifer Godwin in Little Rock contributed to this report
Read tomorrow's Arkansas Democrat-Gazette for full details.
Thank you for coming to the website of the Arkansas Democrat-Gazette. We're working to keep you informed with the latest breaking news.
Sponsor Content
Comments