Photo Gallery
Fayetteville Bank Robbery Suspect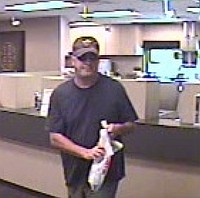 Photos
More photos available on the Photo Blog at photos.nwaonline.com
FAYETTEVILLE — Police have released a description of the man they say robbed First Federal Bank on North College Avenue on Thursday.
A white male in his 40s or 50s, with a buzz haircut, walked into the lobby of the bank around noon, presented a note and demanded money, said Sgt. Shannon Gabbard of the Fayetteville Police Department. The man was wearing khaki-colored pants, a blue T-shirt, tennis shoes and a green or camouflage baseball cap, according to police.
The man fled the bank, at 3460 N. College Ave., on foot. Police were interviewing employees at area businesses and using search dogs in the area in an attempt to locate the man, Gabbard said.