Vaccination plan for Northwest Arkansas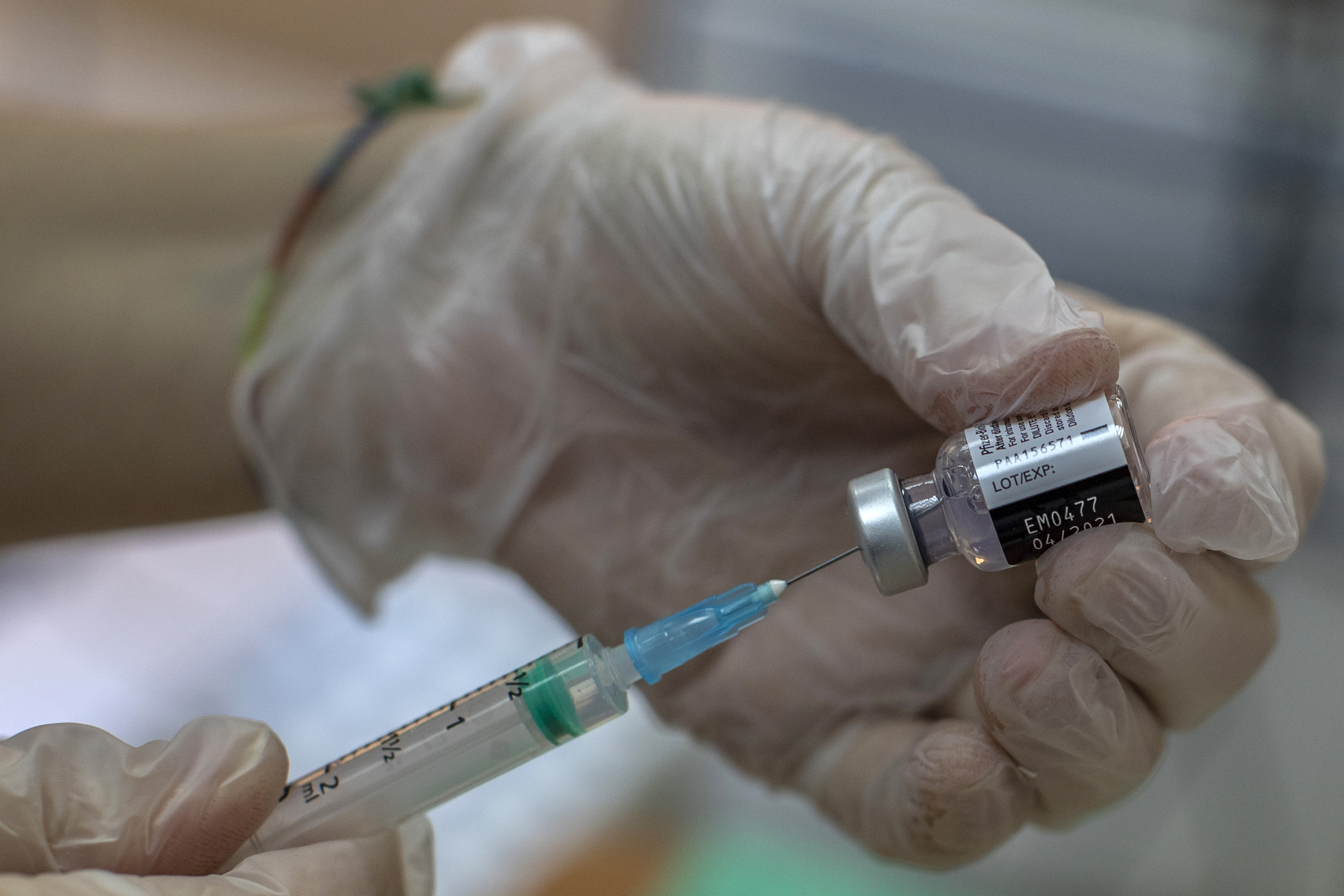 Covid-19 vaccination plan
Arkansas residents are divided into groups within three phases of a plan to provide covid-19 vaccines at community pharmacies, vaccination clinics or hospitals. Governor Asa Hutchinson announced Wednesday that vaccine eligibility in Arkansas will expand to include everyone in category 1-C, effective immediately.
Phase 1-A, ongoing
Who: Health care workers; long-term care residents and staff; first responders
Where: At hospitals for employees. At long-term care facilities for residents and employees. All others who work in health care can be vaccinated at a pharmacy. Full list of three dozen categories of people in this phase is available in the Covid-19 section of the Department of Health's website: www.healthy.arkansas.gov.
Phase 1-B, ongoing
Who: Residents 65 and older; education workers, including K-12, higher education and child care; food manufacturing workers; grocery store workers; nursery, garden center and farm supply store workers; agriculture workers; government workers and public officials; solid waste/trash collection workers; water and wastewater workers; legal counsel
Where: Anyone eligible can make an appointment anywhere offering the vaccine. Some employers are hosting vaccination events for their employees.
Phase 1-C, ongoing
Who: Residents 16 to 64 with health conditions that increase their risk to covid-19; essential workers in areas that include energy, finance, food service, law, media, information technology and communications, public health and human services, public safety, shelter and housing and transportation and logistics; people living in high-risk settings, including those who are incarcerated or detained; those living in group homes, congregate settings, or crowded housing; and student housing such as dorms and Greek housing.
Where: Arkansans can call 1-800-985-6030 for appointment information.
Open to all 16 and older, beginning Mar. 30
Who: Residents 16 and older.
Where: Arkansans can call 1-800-985-6030 for appointment information. Also see the list below for vaccination sites.
Upcoming vaccination events
Several mass covid-19 vaccination clinics will take place in Northwest Arkansas over the next few weeks, and hospitals and pharmacies continue to offer regular appointments.
Northwest Arkansas Council
The Northwest Arkansas Council will host a first dose Pfizer clinic from 8 a.m. to 4 p.m. Thursday at Razorback Stadium on the University of Arkansas campus in Fayetteville, according to the council's website. The council will host another first dose clinic from 8 a.m. to 4 p.m. Friday at J.B. Hunt Corporate Headquarters in Lowell. Residents may make appointments for either clinic on the council's website at nwacouncil.org/nwavaccines.
The council has four other first dose clinics scheduled, but is not yet offering appointments for them. The clinics will be April 8 and April 15 at the Northwest Arkansas Mall and April 9 and April 16 at J.B. Hunt.
The Pfizer vaccine requires two doses three weeks apart. The council will offer second doses to those who receive their first doses at the events.
John Brown University
John Brown University will host a vaccine event from 9 a.m. to 2 p.m. Wednesday where people may receive their first Moderna shots, according to a news release from the university. Participants will receive the vaccine at the Walton Lifetime Health Complex Recreation Gym in Siloam Springs. Appointments are required and can be made at www.jbu.edu/vaccine.
Participants will be emailed a form to bring to the clinic and should expect their appointment to take 30-45 minutes. Participants will receive their second dose April 30. The Moderna vaccine require two doses four weeks apart.
Benton County
Benton County and Collier Drug Stores plan to fully vaccinate 10,000 people against covid-19 in a series of clinics over the next 13 weeks. The first clinic will be 11 a.m. to 7 p.m. Wednesday at the Benton County Fairgrounds and is already full, according to a news release from the county. Residents may make appointments for the April 7 clinic, which will be 11 a.m. to 7 p.m.
The clinics will offer the Pfizer vaccine. The county and Collier will give 1,000 first doses at each of the first 10 clinics and 1,000 second doses each week beginning with the fourth clinic, Michael Waddle, director of emergency management for the county.
Appointments are required. Residents who wish to make an appointment may do so online at bit.ly/39iawND or by calling (479) 935-4316 and leaving their number, date of birth, county of residence and their full name, which they should spell out.
Pharmacies and Health care organizations
These pharmacies and health care organizations in Northwest Arkansas are providing vaccines.
• Cornerstone Pharmacy, 1 Mercy Way, Suite 50, Bella Vista (479) 876-6200
• Harps Pharmacy, 1209 N. Walton Blvd., Bentonville (479) 273-5541
• Heartland Pharmacy, 1735 W. Walnut St., Rogers (479) 631-0204; heartland-rx.com
• Debbie's Family Pharmacy, 5403 Pinnacle Point Drive, Rogers (479) 271-6300; debbiesfamilypharmacy.com
• Austin Drug, 118 Main St. N.E., Gravette (479) 787-5432
• Teasley Drug, 205 Atlanta S.E., Gravette (479) 787-5966; teasleydrug.com
• Collier Drug, 991 W. Centerton Blvd., Centerton (479) 795-8199; People who wish to be vaccinated at any Collier Drug pharmacy should email [email protected] with their phase in the subject line and include their name, birthdate and phone number in the body of the email. People without email should call Collier Drug to sign up and specify they don't have email.
• Harps Pharmacy, 201 Hwy. 412 West, Siloam Springs (479) 549-3200
• Collier Drug, 100 W. Dickson, Fayetteville (479) 442-6262
• Medical Arts Pharmacy, 2515 E. Huntsville Road, Fayetteville (479) 443-3411; medartspharmacynwa.com
• Heartland Pharmacy, 1450 E. Zion Road Suite 1, Fayetteville (479) 444-7200; heartland-rx.com
• Community Pharmacy, 400 W. Emma Ave., Springdale (479) 750-2220; communitypharmacyspringdale.com
• Harps Pharmacy, 2894 W. Sunset Ave., Springdale (479) 751-0882
• Heartland Pharmacy, 701 S. Thompson St., Springdale (479) 751-2072; heartland-rx.com
• Collier Drug, 197 E. Main St., Farmington (479) 267-4303
• Collier Drug, 801 E. Douglas, Prairie Grove (479) 846-2195
• Harps Pharmacy, 115 Lee St., Huntsville (479) 738-2202
• Arkansas Children's Northwest is offering vaccines to people ages 16-21. Patients must schedule appointments by calling 479-725-6995.
• Mercy Clinic, Patients may make appointments at http://mercy.net/VaccineAR or by calling 833-364-6777.
• Washington Regional Medical System, Patients may make appointments online at www.wregional.com/covid19vaccine.
Pharmacies at these stores are offering the covid-19 vaccines:
Walmart, 2110 W. Walnut St. in Rogers 479-636-3222
Walmart, 4870 Elm Springs Road in Springdale 479-306-7025
Sam's Club, 1517 Gene George Blvd in Springdale 479-365-8141
Walmart, 2004 S. Pleasant St. in Springdale 479-751-4817
Walmart, 406 S. Walton Blvd. in Bentonville 479-273-0060
The list and a map of pharmacies in the state that are offering vaccinations is at: https://www.healthy.arkansas.gov/programs-services/topics/covid-19-vaccination-plan
SOURCE: Arkansas Department of Health