Robert William Tunstill
Fayetteville, AR, 1935 - 2021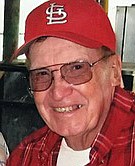 Robert William Tunstill, 85, of Fayetteville, died Saturday, May 22, 2021 at Washington Regional Medical Center surrounded by family. He was born October 30, 1935 in Fayetteville to William and Ruth Tuck Tunstill.
Robert was preceded in death by his parents.
He is survived by one son and daughter-in-law, Darrell and Sheri Tunstill, of Fayetteville; one daughter and son-in-law, Sondra and James Baker, of Siloam Springs; three grandchildren, Katlyn Tunstill of Fayetteville, Mitchell and Kara Baker of Gentry and Luke Baker of Siloam Springs; two great-grandchildren, Gracie Mae and Langston Robert Baker; one brother, John Tunstill of Fayetteville; and a special cousin, Mary Louise Jean of Fayetteville.
Robert was a graduate of Fayetteville High School. He later served in the United States Army. He retired from the Campbell Soup Company in 1990 after over 35 years. He was a lifetime member of the American Angus Association and a past president of the Arkansas Angus Association. He was a member of Black Oak Baptist Church in Fayetteville.
After retirement, he spent his days on the farm raising cattle and poultry, and gardening. Robert was an avid breeder of Angus cattle for a vast majority of his life. In 2014 he was awarded the Historic Angus Herd Award, a national honor from the American Angus Association for breeding registered Angus cattle for 50 years. He was very involved in the Arkansas Angus Association, including going to meetings and consigning cattle to the state sale each year, something he enjoyed very much. He loved going to cattle sales, shows, and all gatherings of fellow Angus breeders. He made many friendships during his years of involvement that he cherished very much. For 52 years, Robert exhibited cattle and poultry at the Washington County Fair. Something he looked forward to every year. After his years of involvement, he was recognized in 2019 when he was featured on the cover of the Washington County Fair Book. He was truly honored with this. Whether it was cattle, poultry, or gardening, Robert loved all things agriculture. He was proud to pass down his knowledge to his children and grandchildren.
The family will receive friends from 5-7:30 Tuesday, May 25, 2021.
Funeral services will be 10 a.m., Wednesday, May 26, 2021 at Beard's Chapel with pastors Eric Howerton and Bob Headrick officiating. Interment will follow in Sons Chapel Cemetery under the direction of Beard's Chapel.
Condolences at www.beardsfuneralchapel.com.
Published May 24, 2021
OBITUARY SUBMITTED BY:
Beards Funeral Chapel
855 S. Happy Hollow Road, Fayetteville, AR
Phone: 479-521-8551
http://www.beardsfuneralchapel.com