Robert (Sonny) Willis Dungan
Bella Vista, AR, 1928 - 2021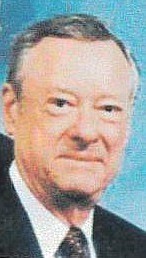 Robert Willis (Sonny) Dungan, age 92, of Bella Vista, Ark., died May 1, 2021 at Circle of Life in Bentonville. Born November 25, 1928, in Jeannette, Pa., the son of George Dungan and Clarice Ada (Buckingham) Dungan.
Robert graduated from Penn Township High School and Pittsburgh Institute of Aeronautics. He was a real estate appraiser and cartographer. He did appraisals and mapping in many locations, including the island of Guam. He was employed by the J.M. Cleminshaw Co of Cleveland, Ohio, for 13 years. In 1968, he was co-founder of Vanguard Appraisals, Inc., Cedar Rapids, Iowa. Robert married Sara Louise (Sally) MacEachern on June 25, 1955, in Halifax, Nova Scotia. He is a member of the Presbyterian Church of Bella Vista. He enjoyed fishing and playing duplicate bridge.
Robert is survived by, in addition to his wife of 65 years, a son, Ronald, of Phoenix, Ariz.; daughter, Laurie (Richard) Staky; grandson, Rob (Blair) Staky; granddaughter, Adria Reed (Gavin); and three great-grandsons, all of Denver, Colo.; two sisters-in-law; and several nieces and nephews.
A family service will be held at a later date. Memorials may be made to the Presbyterian Church of Bella Vista or Circle of Life Hospice, Bentonville, Ark.
Arrangements are by Bella Vista Funeral Home and Crematory. Memories and condolences may be shared at www.funeralmation.com.
Published May 5, 2021
OBITUARY SUBMITTED BY:
Bella Vista Funeral Home and Crematory
2258 Forest Hills Blvd, Bella Vista, AR
E-mail: [email protected]
Phone: 479-855-1611