Robert "Bob" Basil Johnson
Fayetteville, AR, 1930 - 2021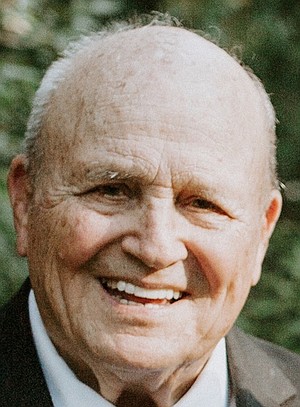 Robert "Bob" Basil Johnson, 91, of Fayetteville, Ark., girl dad, ardent Aggie, and all-around jokester, died unexpectedly on Monday, July 19, 2021. Bob will be fondly remembered as a loving husband, protective father, doting grandfather, loyal brother, and friend to all.
Bob was the middle of three sons born to Mabel Leona and Ernest Rudolph Johnson. He was born on July 4, 1930, in Elgin, Illinois. He was always proud to share the same birthday as the U.S.A. When he was less than one year old, the family moved to Fort Worth, Texas, where he grew up in the Meadowbrook [East] section and graduated from Polytechnic High School, Fort Worth, Texas, in 1948. Bob attended Texas A&M University where he majored in Agronomy and graduated with the class of 1952.
He met the love of his life, Fay Marie Stafford, in the fall of 1952 when he was driving between College Station and Houston. Bob had pulled over to help a friend with car trouble and noticed Fay Marie in the passenger seat. They later married on May 16, 1954, at the First United Methodist Church, Springdale, Ark., and recently celebrated their 67th wedding anniversary on May 16, 2021. After marrying they settled in Dallas, Texas, where Bob worked for Ralston Purina. He continued to work for Ralston Purina after relocating to Springdale, Ark., in July 1956. As his family was growing, he decided to pursue his life's passion and started a landscape and irrigation business that would serve the northwest Arkansas area for the next 33 years. After retiring he became a consultant for Wal-Mart headquarters, supporting their Garden Center irrigation development until 2006. Bob was generous with his time and talents when it came to helping others. Whether he was having a cup of coffee with Alice Walton while working on her irrigation system, or telling tall tales with his comrades at Keeling Company, he was always the same genuine person. When Bob wasn't working or supporting his children's or grandchildren's activities, he enjoyed hunting, fishing, and playing golf. There were no pretenses when it came to his wardrobe either as he was the ultimate jeans and t-shirt guy. He could often be heard asking Fay Marie before an event if he had to wear a tie. There was a time, before super centers, when Bob was known to brag about shopping for his t-shirts at the same store, Dillons, where he bought groceries. He called it one-stop shopping.
Bob is preceded in death by his parents and older brother, Ernest Rudolph Johnson, Jr. of Fort Worth, Texas. His memory will be cherished and kept alive by his wife and best friend, Fay Marie, of the home; brother, Ronald (Gayle) Johnson of Fort Worth, Texas; daughters, Lorrie Cross of Springdale, Ark., Diane Christie of Prairie Village, Kan., and Robin (Tom) Joseph of Springdale, Ark.; grandchildren, Sunny Hassell and Summer Cross of Fayetteville, Ark., Natalie (Jay Paul) Ramos of Oklahoma City, Okla., Johnson David 'J.D.' (Sabaria) Christie of Overland Park, Kan.,  Mary Grace (Drew) DeLozier of Houston, Texas, Reid (Maggie) Joseph of Tyler, Texas, and Bethany (Zach) Wheeler of Burleson, Texas; five great-grandchildren, including Ezra Hassell, Savannah Grace, and Charlotte Jane Christie, Thomas Reid, and George Robert Joseph, with #6 arriving in November 2021.
The memorial service will be held at the First United Methodist Chapel, Springdale, Ark., on Saturday, August 28, 2021, at 10 a.m. His family will be present to welcome loved ones. People wishing to honor Bob's commitment to family and community can send donations to the First United Methodist Church, 206 W. Johnson Ave., Springdale, Ark., 72764, or a charity of their choice. A private family interment will be held at Bluff Cemetery in Springdale, Ark. The family would like to extend their heartfelt thanks to the medical team at Northwest Medical Center, Springdale, Ark., who worked gallantly to save his life. Online condolences may be left at: www.siscofuneral.com. Gig 'Em Aggies.
Published July 24, 2021
OBITUARY SUBMITTED BY:
Sisco Funeral Chapel
705 W. Meadow St., Springdale, AR
Phone: 479-751-4577
http://www.siscofuneral.com