Bobby Eugene Frederick
Diamond City, AR, 1937 - 2021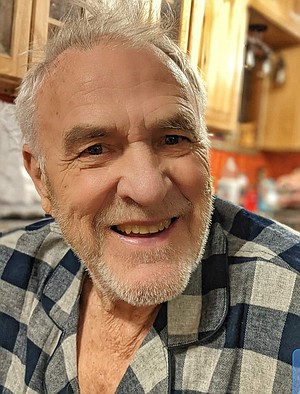 Bob Frederick was as good a man as you'll ever meet. That was pretty much the unanimous opinion of anyone who ever met him.
A lifelong resident of Boone County, Bob had a quiet strength that was forged from a difficult childhood. He persevered to become a high school football standout at Harrison, and married his lifelong partner, Patty (Raulston) in 1960. The union resulted in two children, Mike, who was tragically taken in 1977, and Sandy (Rice), and a grandson, Gage Rice.
When Bob married Patty, he adopted, and was adopted by a large, close-knit family of Raulston kin which spanned five generations of enjoying each other's love and company.
Bob had an immutable character, and was a role model for many. He never drank, smoked, or cursed. Those close to him can't remember him ever speaking unkindly of anyone. He was a great father, grandfather and uncle. He said the only time he ever broke the law was when he kept a bass that was too small, and that was because he was fishing for his supper.
He had no college education, but he had sharp, innate intelligence that belied his soft Ozark accent. He seemed to be able to fix anything that was broken, with whatever was on-hand at the time. He never wasted anything, and wasn't hesitant to reuse a saved rusty nail or scavenged two-by-four.
Though he had worked hard at various jobs, even from childhood, Bob began his career at the Harrison Dental Lab, later becoming a technician at Allied Telephone Company. He took early retirement from that company's successor, Altell, in 1993.
Nobody ever made better use of their retirement years. The first part was spent helping care for his beloved young grandson, Gage, creating an inseparable bond between the two. Bob, his brother-in-law, Jim Nicholson, and son-in-law, Mark Rice, fished every corner of the Lead Hill area of Bull Shoals Lake. He and Patty, along with other family members, hiked thousands of miles of Arkansas trails, visiting all fifty-two Arkansas state parks. Bob was the guy who hiked in front, clearing the trails of cobwebs and other assorted hazards.
Bob was the foreman of a motley family crew that rehabilitated two houses and an old fishing lodge in the Diamond City community. Affectionately named "The Lower Place," after a Raulston family homestead in Newton County, the lodge became headquarters for a pretty much constant family reunion for years.
His persistent work ethic kept him busy with countless projects and self-imposed chores.
Bob had a wry, kind sense of humor that never left him, even as Alzheimer's disease robbed him of his memory in his final years. When he retired, his co-workers playfully presented him a plaque that said, "The biggest agitator ever to retire from Altell." His family reported a mischievous grin, even on his last day.
Bob passed peacefully, at home, lovingly cared for by Patty, Sandy, Mark and Gage, whom he'd lovingly cared for throughout life.
He was a good man. He lived a great life.
He was preceded in death by his mother, Annice Mildred Frederick; father George Earl Frederick, son, Michael Guy; brothers, Earl and Jess; sister Yvonne Miller; and special aunt and uncle, Mae and Lee Howell.
He is survived by Patty, Sandy, Mark, Gage and his finance Chena Moore; sister, Kay (Sherrell) Davis, and brother Larry (Darlene) Frederick.
He is also survived by a clan of Raulston kin, his close family, who would be honored to have their names attached to this tribute, but are far too numerous to mention.
There is no service planned at this time. Memorials can be made to the charity of your choice.
Published January 20, 2021