Gilmore Murphy
Chippewa Falls, WI, 1928 - 2021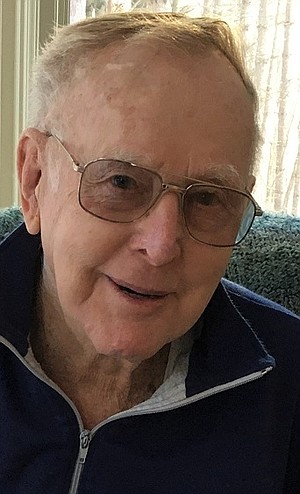 Gilmore Levi Murphy, age 92, died peacefully Monday, March 22, 2021 surrounded by his daughters in Chippewa Falls, Wis. He was born May 11, 1928, in Bisbee, N.D., to Clara (Christofferson) and Harold Murphy. Gil attended school in Sarles, N.D., and served during the Korean War in the Army Signal Corps. After returning from Korea, Gil married Betty Jean Stone and they moved to Farmington, Minn. Gil spent 40 years in commercial building in Minneapolis, Minn. and 30 years as a retiree in Bella Vista, Ark. He came back north in September, 2020, to live with his daughter in Chippewa Falls, Wis. He was an accomplished golfer, enjoyed dancing, playing cribbage, and was an avid reader.
Gil was preceded in death by his wife, Betty Jean Stone (1988). and Cherie Hessler Murphy (2010); his parents; and his brothers, Francis Joe, Howard, and Ralph. He is loved and survived by his brother, Harold Murphy from North Dakota; and daughters, Jan Adams (Randy), Gail Piehl (Dan), Karla Sundt (Bill), and Jill Schramel (Paul); grandchildren, Hanna and Tanner Sundt, Abigail and Jack Schramel, and Mitchell and Miranda Piehl.
The family will hold a private ceremony in Farmington, Minn.
Published April 6, 2021