Robert Irvin Moore
Springdale, AR, 1939 - 2020
0

comment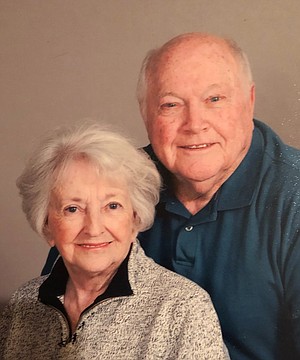 Robert (Bob) Irvin Moore, 81, went to Heaven to be with Jesus on November 19, 2020. He was preceded in death by his loving wife, Cora Sue Moore on November 18, 2020, both of Springdale, Ark.
Bob was born in Oran, Mo. on January 29, 1939. He was the son of Austin and Eva Moore. Cora was born at her family home in Hackett, Ark. on August 17, 1938. She was the daughter of Letha and Gene Neal.
Their love story began at a USO dance in 1959 in Colorado Springs, Colo. Bob looked across the dance floor and saw the most beautiful girl in the room. Six months later they were married and their love story continued for 61 years on this earth and for eternity in Heaven.
Bob was a devoted husband, dad, and friend. In high school he was an athlete and his favorite sport was basketball. He loved chemistry. Bob was baptized in February of 1959 at Pleasant Valley Baptist Church in Colorado Springs. He served in the United States Airforce Academy from 1957-1963. He had the honor of seeing the 1st graduating class of the academy. He was the Chief Lab Technician of Springdale Memorial Hospital. Upon leaving the hospital, Bob opened his own business, Medical Laboratory Services. After retiring, he decided to return to "work" as a volunteer at John Tyson Elementary, T.G. Smith Elementary, and Lowell Elementary. During his seven years of service as a WatchDog Dad. The children knew him as Mr. Moore. Mr. Moore instilled the love of learning by encouraging children to read and understand math. His legacy of learning will never be forgotten. In addition, he enjoyed helping in any capacity at Sonora Baptist Church. He was a Sunday School teacher in the men's class. He also attended every men's prayer breakfast where he spent countless hours cooking and washing dishes.
Cora, known by her friends as Sue, was a devoted wife, mother, and friend. Sue was a Christ follower who devoted her life to telling others about the love of God. Her greatest desire was to teach children about Jesus at Sonora Baptist Church. Through the years she planted many seeds. She taught Sunday School for the Naomi Class, and her love of Christ was evident in everything she said and did. Sue retired from nursing, became the owner of Sue's Decorating, and was a licensed realtor...a jack of all trades. Later in life Sue spent many years volunteering in the hospital auxiliary at Northwest Medical Center. She would soon become president of the Auxiliary. People in the hospital will remember her smile, her love for life and her Lord. Sue's passion in life was to start her day with prayer and devotion to the Lord. She enjoyed reading, puzzles, dancing and playing cards. She was an artist and author of many poems and stories.
Bob and Sue were not wealthy by any means, but that didn't stop them from giving generously to anyone in need. They had a true love for people. Bob and Sue lived their lives in such a way that people could see God's love through them. They gave financially. They gave of their time. They were selfless in their compassion and love for others. Their ultimate desire was to share their faith with anyone who would listen and to reach the ends of the earth for the Kingdom of God. Mathew 28:16-20 John 3:16.
Bob and Sue were blessed with four children and many grandchildren and great grandchildren. They are survived by one son: Robert Moore, and wife, Ann; three daughters: Debbie Keen, and husband, Tim; Judi Crowder, and husband, Mike; and Julie Bogle, and husband, Gary; 12 grandchildren; and 21 great-grandchildren.
A public Celebration of Life Service will be at Sonora Baptist Church, 17330 US 412, Springdale, Ark. at 4 p.m. on Wednesday, November 25. The service will be transmitted through your car radio. Participants will remain in their cars for the memorial service. The family requests that memorials go to their favorite charities: the Lottie Moon Ministry ℅ Sonora Baptist Church P.O. Box 915, Springdale, Ark. 72765 or Online at Samaritan's Purse. Services were entrusted to Memorial Funeral Home of Springdale, Ark.
Online condolences may be made to www.memorialfhspringdale.com.
Published November 22, 2020
OBITUARY SUBMITTED BY:
Springdale Memorial Funeral Home
3926 Willowood Ave., Springdale, AR
E-mail: [email protected]
Phone: 479-756-8341
http://memfuneral.com/
Comments