Marilyn R. (Beecher) Phillips
Bentonville, AR, 1927 - 2020
0

comment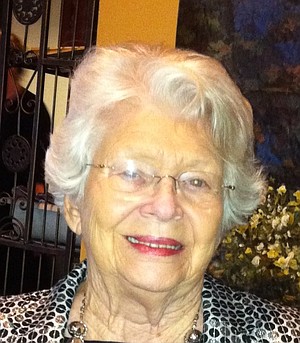 Marilyn R. (Beecher) Phillips, formerly of 1 Secrest Circle, Pinnacle Country Club, Rogers, Ark., passed away November 10, 2020, at Circle of Life Hospice in Bentonville, Ark. Marilyn was born in Hill City, Kan., on August 2, 1927, to Ray L. Beecher, Sr. and Julia Florence (Middleton) Beecher. The Beecher family moved to Benton County, Ark., in 1930. Marilyn graduated from Rogers High School in the Class of 1945, and she married Harlon L. Phillips on May 25, 1945-one week after her high school graduation.
Marilyn was preceded in death by her husband, Harlon L. Phillips-to whom she was married for more than 54 years; by her parents; by her brother, Ray L. Beecher, Jr. and by her grandson, Dustin A. Phillips. She is survived by: her daughter, Janet Sue Hendren (Jimm) of Bentonville, Ark; her son, John A. Phillips (Marsha) of Bentonville, Ark; by three grandchildren: Todd Phillips of Amsterdam, The Netherlands; Jason B. Hendren of Bentonville, Ark; and Janell Lynn Hendren of Bentonville, Ark; by three step-grandchildren: Laura (Holder) Jansen of Portland, Ore; Jonathan Holder of Fayetteville, Ark; and Elliot Holder of Pea Ridge, Ark; and by two great- grandchildren and eight step great-grandchildren.
Marilyn's late husband, Harlon, was a prominent businessman and civic leader in Northwest Arkansas for over forty years and she was his loyal, loving companion and co-worker through it all. After opening their first grocery store in Bentonville, in 1953, the Phillips family expanded their supermarket business throughout Arkansas before selling their company to Walmart in 1991.
After retirement, Harlon and Marilyn enjoyed spending time with family and friends. They were long-time Razorback supporters and fans. They especially enjoyed and treasured their many trips abroad with their close friends, Bob & Marilyn Bogle and Don & Wanda Bailey. In her declining years, Marilyn proved to be a gracious, patient and loving soul who was a joy not only to her friends and family, but also to her care-givers—especially Trish Sawyer and the teams who assisted and cared for her during her sojourns at Primrose Memory Care of Rogers; Apple Creek Health & Rehab LLC of Centerton; Mercy Hospital of Rogers; and Circle of Life Hospice of Bentonville. The family sincerely thanks all those wonderful folks for their loving care.
Final arrangements will be under the direction of the Stockdale-Moody Funeral Home. A private service will be held for immediate family at Bentonville Cemetery. Memorials may be made in Marilyn's name to a favorite charity or to the Circle of Life Hospice Bentonville. Any personal cards or notes to Marilyn's family may be made c/o Janet Sue Hendren, P.O. Box 589, Bentonville, Ark., 72712. To leave an online tribute please visit www.stockdalemoody.com
Published November 11, 2020
OBITUARY SUBMITTED BY:
Stockdale-Moody Funeral Services
2898 West Walnut, Rogers, AR
Phone: 479-631-1353
http://stockdalefuneral.com/
Comments