Irene Elizabeth Mayes Nickell
Fayetteville, AR, 1923 - 2018
0

comment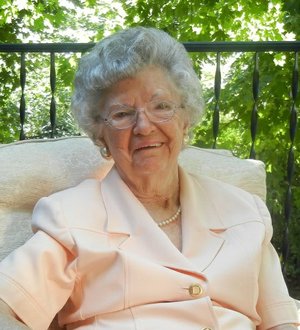 On May 4th, 2018, Irene Mayes Nickell, of Fayetteville, Arkansas, died peacefully at the Circle of Life Hospice in Springdale, Arkansas at the age of 94.
Irene Elizabeth Mayes was born September 25th, 1923 on her family's farm in Farmington, Arkansas. She was born to John Gable Mayes and Mable McKee Mayes. Irene was the fifth child of seven siblings. Like many families living during the Depression era, Irene and her family migrated to the West Coast. They split time between Phoenix, AZ, and Stockton, CA. During the summer months until early fall, they would pick peaches and apricots on farms in the Stockton area. As the weather turned colder in California, they would return to Phoenix to work during the winter months and harvested leaf and head lettuce. In the early 1940's, the Mayes family resettled in Northwest Arkansas. Shortly after their return, the family purchased property in Johnson, Arkansas. Upon their arrival, Irene married her childhood sweetheart from Meadow Valley School, Donald Nickell.
Irene was a homemaker for many years, taking care of the household, overseeing their finances, and raising two children. She and her family attended Calvary Baptist Church, Irene and her husband, Donald, were active members for over 50 years. The dynamics of the Nickell family were very much the epitome of a 1950's and 1960's family: two children, a dog, a house with a white picket fence, a hardworking husband, and a homemaker wife. After her children left home, she entered the workforce by working at the University of Arkansas, which allowed her to visit with the students there. Her family members often joked that Irene must have worked "seven years in one summer" to have as many colorful stories and experiences as she told from her time there.
If there were one word summing up her personality, it would be sociable. She never knew a stranger and often would hold long conversations with people while out in public. Upon exiting the conversations, her children or other family members would inquire who she had been speaking with, only to find that she did not know them. Irene and her husband, Donald, were an example of "opposites attract"; where Donald was reserved, Irene was extroverted. They balanced each other well in many aspects and made a good team together.
While she was known to be quite the homemaker, in her later years, she developed a strong affinity for chocolate and cheese puffs, and they were often the first items on her grocery list. Her family was always happy to indulge her sweet tooth by having pies delivered to her door, preparing care packages of Ferrero-Rocher and other chocolates, and baking her famous marshmallow brownies.
Irene is preceded in death by her husband, Donald Wayne Nickell Sr., her parents John and Mable Mayes, her siblings Frank Mayes, Roscoe Mayes, Louise Mayes Albright, Curmania Mayes, Lela Mayes Neal, and Richard Mayes.
She is survived by her two children, Sondra Nickell Bateman and her husband Tommy of Chesterfield, Missouri and Donald Nickell and his wife Marivel of Farmington, Arkansas; six grandchildren: Michelle Bateman, Danielle Bateman Girondo, Meredith Bateman Demeropolis, Matthew Clinkscales, Jason Clinkscales, and Sarah Nickell; five great-grandchildren: James Girondo IV, Josephine Girondo, Xavier Demeropolis, Greyson Demeropolis, and Skyler Clinkscales.
The visitation will be Wednesday, May 9th from 5:00 pm until 7:00 pm at Moore's Chapel. The memorial service will be at Moore's Chapel the following day, May 10th at 10:00 am, officiating will be Rev. Phil Misenheimer. Following the memorial, interment will be at Nickell Cemetery in Durham, Arkansas.
In place of flowers, memorials may be made to The Circle of Life Hospice, 901 Jones Road, Springdale, Arkansas 72762. To sign the online guestbook visit www.mooresfuneralchapel.com.
Published May 7, 2018
OBITUARY SUBMITTED BY:
Moore Chapel
206 West Center Street, P.O. Box 1149, Fayetteville, AR
Phone: 479-442-7314

Comments