Odell Easterling
Springdale, AR, 1930 - 2018
0

comment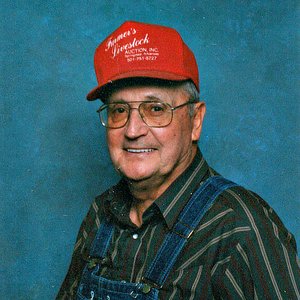 Odell Easterling, 87, of Springdale, Ark., passed from this life on May 1, 2018, at the Willard Walker Hospice Home. He was born July 17, 1930, in Huntsville to Hosie and Martha Reynolds Easterling.
Odell married the love of his life, Bertha Lyman, on October 13, 1946, at Wharton Creek. In his early years of married life, they followed the fruit harvest in Washington State. He and Bertha moved back to Arkansas in 1954, where they purchased the first portion of their farm in Madison County. In 1979, they moved to what is now 40th Street in Springdale, then to Nob Hill where he and Bertha enjoyed getting in the pickup to go check their cattle.
His love for God and his love for fellowship with others in the church was impeccable, and his word was his bond. His friend, AT Smith, said that when Odell told you something, that was how it would be.
Odell was preceded in death by his parents; two grandchildren, Steven Easterling and Pamela Easterling; three brothers, Noel Easterling, Olen Easterling, and Dewell Burgess; four sisters, Imogene Wilcox, Loraine Yeager, Wilda Keck, and Veda Keck. He is survived by his wife of 71 years, Bertha Lyman Easterling of the home; two sons: Larry Dean Easterling and wife, Sherida, of Huntsville, and Terry Lynn Easterling, and wife Janet, of Springdale; one daughter: Kathy Pauletta Easterling Roles and husband, Claude, of Hatfield; one sister, Lougene Parker; six grandchildren: Rebecca Nelle, Kevin Easterling, Larae Harvey, Shawna Cline, Chad Roles, RaeDell Davis; 12 great-grandchildren: Alexis, Brianna, Lily, Brandon, Mallory, Trey, Finley, Quintin, Kyle, Taylor, Brett, and Mazze; numerous nieces; nephews; friends; and health care provider/special friend, Gayla Duffy.
The family will receive friends from 6-8 p.m., May 4, 2018, at Brashears Funeral Home and Crematory in Huntsville. Funeral services will be 2 p.m., May 5, 2018, in the Bruce Brashears Memorial Chapel with Reverend Bill Williams officiating. Pallbearers will be Chris Cline, Kevin Easterling, Swain Harvey, Chad Roles, Christian Nelle, and Justin Davis. Honorary pallbearers will be Gary Hull, Doug Laningham, Glenn West Jr., Dale Wade, Jared Wade, and Tim Hepler. Interment will immediately follow the service at Aurora Cemetery. Services are in care of Brashears Funeral Home and Crematory.
Published May 4, 2018
OBITUARY SUBMITTED BY:
Brashears Funeral Home
509 North Gaskill Street, P.O. Drawer B, Huntsville, AR
Phone: 479-738-2123
http://brashearsfuneralhome.net/
Comments