Douglas J. Moses
Vacaville, CA, 1946 - 2018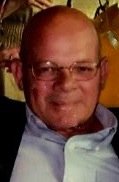 Douglas J. "Doug" Moses, 71, of Vacaville, Calif., and a former Parsons resident, passed away at 2:30 a.m., Tuesday, March 6, 2018 at the Guest Homes Estates in Erie. Doug was born on June 24, 1946 at Parsons, Kansas to James and Katherine (Richardson) Moses. He grew up at Parsons and attended Parsons schools graduating from Parsons High School. He went on to attend Kansas State University where he earned a degree in Biology.
He entered service in the United States Navy in 1969 and was stationed in Pearl Harbor on the USS Cochran. He served four tours of duty in the Vietnam War. He was honorably discharged in 1972. He married Judi O'Neill on June 2, 1973 at Reno, Nevada whom he met while he was stationed in Hawaii. She survives of the home.
He lived in Suisun City, California prior to moving to Vacaville, California. Doug worked in the food brokerage business working his way from Salesman to Account Executive. He retired in 2008. He enjoyed fishing, golfing, and sports. He was a fan of his alma mater the Kansas State Wildcats, Kansas City Chiefs, and the St. Louis Cardinals. Most of all he loved watching his son play basketball. He was a member of the St. Mary's Catholic Church in Vacaville and a lifetime member of the Veterans of Foreign Wars.
In addition to his wife, Judi, Doug is survived by his pride and joy, his only son, A.J. Moses of Fayetteville, Ark.; his parents, James and Katherine Moses of Parsons; his brother, Mark Moses, and his wife, Sara of Springdale, Ark.; his sisters, Barbara Kyle Moses of Parsons and Shelley Moses-Reed, and her husband, Steven of Denver, Colo.; and several nieces, nephews, and cousins.
A Memorial Mass will be held at 10:30 a.m., Monday, March 12, 2018 at the St. Patrick's Catholic Church in Parsons with Father Curtis Robertson officiating. The Rosary will be recited at 10 a.m., Monday at the church prior to the service. Military honors will follow and be conducted by the Brown-Bishop Post No. 704 Veterans of Foreign Wars. Memorials are suggested to the Kansas State Alumni Association and these may be left at or mailed to the funeral home 112 N. 26th St., P.O. Box 942, Parsons, Kan. 67357. Online condolences may be left at www.wallfuneralservices.com.
Published March 10, 2018