Clarence Ronald Polfer
Punta Gorda, FL, 1933 - 2014
0

comment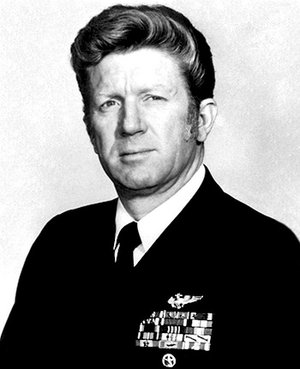 Clarence Ronald Polfer, age 80 of Punta Gorda, Fla., passed away Aug. 5, 2014.
Ron was born Dec. 9, 1933, in Kansas City, Mo., to parents Clarence Polfer and Audrey Baldwin Polfer. He was united in marriage to Veda Shaw on June 16, 1956 in Albion, Ill.
Ron was commissioned an Ensign in the U.S. Navy through the Navy ROTC Program at the Illinois Institute of Technology on June 8, 1956, and then completed flight training, earning his designation as a Naval Aviator on May 2, 1958. He deployed many times in his career, including four deployments to Southeast Asia. It was during his fourth deployment on May 7, 1972, that Ron was forced to eject over North Vietnam and was taken as a prisoner, finally being released after 326 days in captivity.
He continued to serve until retiring from the Navy on Nov. 1, 1979, at the rank of Captain. His awards included the Purple Heart, Distinguished Flying Cross, Bronze Star and Air Medal among others. Ron was a member of the Vietnam POW Association, the American Legion, the Red River Fighter Pilots Association, Veterans of Foreign Wars, Disabled American Veterans, the Military Officers Association of America and the Phi Kappa Sigma Fraternity.
In later years, Ron enjoyed traveling with Veda and they traveled far and wide in their RV. He also enjoyed spending time with his family.
Ron was preceded in death by his parents.
He is survived by his wife of 58 years, Veda Polfer of Punta Gorda, Fla.; two daughters, Sandra Selling and husband Vern of Sunrise, Fla., and Susan Grake and husband Sam of Springfield, Va.; grandsons, Sam Paul Grake and Jared Selling; granddaughter, Brandi Grake and sister, Judith Considine of Middletown, Md.
Funeral services are scheduled for 11 a.m. Wednesday, Aug. 13, 2014, at the Benton County Memorial Park Funeral Home Chapel, 3800 W. Walnut, Rogers, Ark.
Interment will follow at Benton County Memorial Park, with full military honors.
Published August 10, 2014
OBITUARY SUBMITTED BY:
Benton County Memorial Park Funeral Home and Crematory
3800 West Walnut, PO Box 328, Rogers, AR
E-mail: [email protected]
Phone: 479-636-2412
http://www.bentoncountymemorialpark.com/
Comments