Pat Reeves Henry
Springdale, AR, 1926 - 2013
0

comment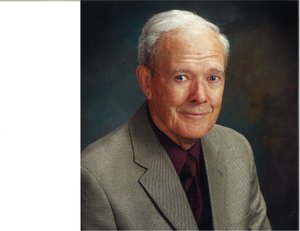 Pat Reeves Henry, 87, of Springdale died May 26, 2013, surrounded by the big family he cultivated like a garden. A man who had his priorities straight, he is best described as a faithful servant-leader.
Pat said, "the best thing I ever did was to marry Earlene Brown."
She wisely took him on in 1950, when he said his "greatest ambition was to have a happy Christian home."
That achievement was more than realized in Springdale with four daughters, the Rev. Wendy Fenn and husband, Doug (Dallas), Ginger and Rick Geyer (Austin), Linda and Joe Dickinson (Ft. Smith) and Holly and Dave Meehan (Rogers).
A friend commented that he'd like to be reincarnated as one of Pat Henry's grandchildren. In chronological order, those who got to claim "Paw Paw" are Steve and Julia Fenn, Blake and Brandy Meehan, Alan and Erin Dickinson, Meghan Meehan, John Fenn, Kevin and Tiffany Dickinson, Allison and Fernan Rodriguez, Patrick Fenn, Adam Geyer, Abbey Meehan, Melissa Dickinson, Larkin Geyer, Keith Dickinson and Amanda Maxwell (deceased).
Happiness rose to another level with a quiver-full of great-grandchildren, Gabrielle, Ella, Grace, Joseph, Drew, Ann Marie, Henry, Maci Claire, Elijah and Blythe.
Crying out for liberty, his parents, Amma and Wendell, named their noisy newborn, Pat Henry, on March 14, 1926. The town of Conway, Ark., raised the ever-curious Pat along with his brothers, Joe and Bob, and sister, Mickie. Bob and wife, Barbara of Conway and Billie Henry of Benton survive him, along with a bevy of nieces and nephews.
Pat graduated from Conway High School and Hendrix College. Versatile and encouraging, Pat worked as a teacher and coach in Fordyce. Fair-minded and sharp, he served the Jeff D. Brown Co., Inc. for 19 years, three as president, followed by Wilson Laurel Farms, Inc. He held leadership positions in several statewide poultry associations.
Mid-life, he resourcefully took ownership of Pat Henry Chevy-Olds-Geo. In 1990, he was nominated by the Arkansas Automobile Dealers Association for the Time Magazine Dealer of the Year Award. He always said "my faithful employees made my business successful."
Pat drew deep joy from the First United Methodist Church of Springdale, where he was a co-founder of the Builders Class 63 years ago. He started youth programs, taught Sunday School, was on every board possible and a delegate to annual conference. He enjoyed being on the building committee, and served as "Snoopervisor" for church expansion in his elder years.
Pat's civic involvement was extensive, from president of the Chamber of Commence to planting maple trees named for his grandchildren all over Murphy Park. He was on the board of the United Fund, the advisory committee for public schools and personally built the playground equipment for Westwood Elementary.
An avid booster for kids and Razorbacks, he was a lifelong member of the Kiwanis Club, where he started the Kids Day Football. The Jaycees honored him for Distinguished Service and Boss of the Year and he received the Chamber's Outstanding Civic Service Award.
The family thanks the Schmieding Center, Circle of Life Hospice and many others for special care given to Pat in his 15-year struggle with dementia. Despite many losses and frustrations, his true spirit, which was humble, courteous and hilarious remained intact.
Visitation will be 5-7 p.m. Wednesday, May 29 in the chapel of First United Methodist Church. Memorial service will be in the sanctuary at 11 a.m. Thursday.
Gifts in honor of Pat may be sent to Circle of Life, 901 Jones Road, Springdale, AR 72762; or to FUMC, columbarium fund, 206 West Johnson Ave, Springdale, AR 72764.
Well done, good and faithful servant.
To sign the guestbook online, please visit www.siscofuneral.com.
Published May 29, 2013
OBITUARY SUBMITTED BY:
Sisco Funeral Chapel
705 W. Meadow St., Springdale, AR
Phone: 479-751-4577
http://www.siscofuneral.com
Comments