Lucille Elizabeth Rutledge
Fayetteville, AR, 1913 - 2013
0

comment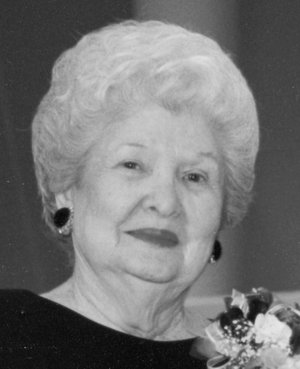 Lucille Elizabeth Rutledge, 100, of Fayetteville, Ark., passed away on May 26, 2013. Lucille was born on September 26, 1913, in Yancey, Texas, to John and Adelaide (Burgin) Bandy.
Her family later moved to San Antonio, Texas, where she graduated from Brackenridge High School. Lucille had a keen sense for finances, and at age 15 began working for S.H. Kress and Company, the first of several bookkeeping jobs she held throughout her life.
She married Wallace Carlstrom on Jan. 31, 1942. She gave birth to her first child, Gloria, one month after Wallace's untimely death in 1944 during military service.
Lucille was blessed to wed again, marrying Browne "B.P." Rutledge on Aug. 5, 1948, in San Antonio. In addition to Gloria, they had two sons, Jack and Duane, and were happily married for nearly 65 years.
B.P. and Lucille raised their children in Kenedy, Texas, where Lucille became a leader in many community organizations and was named "Woman of the Year" in 1973.
Her focus, however, was her faith in God and serving her family. She had come to have a life-changing experience of Jesus Christ, and she devoted much of her life to helping others know and understand the Gospel for themselves by teaching Sunday school, leading Bible studies and prayer groups. At home Lucille was a skilled cook, seamstress, financial manager and was involved in all her children's activities.
In 1986, Lucille and B.P. moved to Fayetteville in order to live near their grandchildren (and later great-grandchildren), who affectionately called her "Memom." They were her delight and she always found creative ways to be playful with them. She had a gift for making those around her feel loved and special.
She also retained a sharp memory and quick wit throughout her nearly 100 years. She was a strong and joyful woman to the end of her life.
Lucille is survived by her husband, Browne Rutledge, of Fayetteville; daughter, Gloria Mills and her husband, Bill, of Fayetteville; son, Dr. John Rutledge and his wife, Dr. Amparo Villablanca, of Sacramento, Calif.; son, Duane Rutledge, also of Sacramento; grandson, Scott Mills and his wife, Jennifer, of Springdale, Ark.; granddaughter, Kristen Hodskins and her husband, Kent, of Fayetteville; great-grandchildren, Aidan and Patrick Hodskins of Fayetteville and Lila, Charlotte and Barrett Mills of Springdale; as well as many nieces, nephews, great-nieces and great-nephews.
Lucille is preceded in death by her parents; her first husband; her sisters, Willa "Bill" Nuemann, Lois Jones, Earla Bandy and Gladys Bandy (who died in infancy); her brother, Wayne Bandy; and her sister, Lorayne Bandy.
The visitation will be held at Nelson-Berna Funeral Home, 4520 N. Crossover Road in Fayetteville on Thursday, May 30, 2013, from 4 to 6 p.m.
Funeral service will be held at Nelson-Berna Funeral Home on Friday, May 31, 2013, at 2 p.m. Interment to follow at Fairview Memorial Gardens, 1728 E. Mission Blvd. Fayetteville.
To sign the online guest-book, please visit www.nelsonberna.com.
Published May 29, 2013
OBITUARY SUBMITTED BY:
Nelson-Berna Funeral Home and Crematory
4520 North Crossover Road, P.O. Box 8982, Fayetteville, AR
Phone: 479-521-5000
http://www.nelsonberna.com
Comments