Mary Ann Johnson
Bentonville, AR, 1919 - 2013
0

comment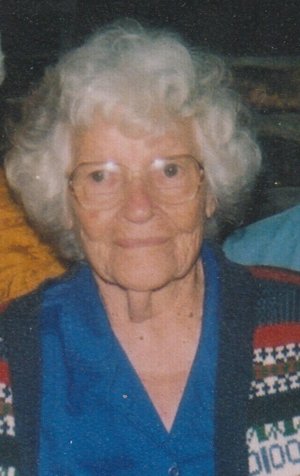 Mary Ann Hughes Johnson, 93, of Bentonville, Ark., died May 23, 2013. She was born Oct. 24, 1919, in Abilene, Kan., to Tom and Daisy Hoyt Hughes.
Her grandfather, Sgt. Robert Hughes, was killed in Custer's Last Stand.
Mary was preceded in death by her husband, Andy Johnson; sisters, Bernice, Helen, Kay and Frankie; brothers, Tom and Bob.
Mary is survived by her daughter, Sue Weiser of Garfield; sisters, Margaret and Becky; one brother, Larry; and also Bob Johnson.
Mary enjoyed working outside, fishing, reading and horseback-riding.
Visitation will be held Tuesday, May 28, 2013, from 5 to 7 p.m. at Rollins Funeral Home Chapel in Rogers, Ark.
Graveside services will be 10 a.m. Wednesday, May 29, 2013, at Walnut Hill Cemetery in Garfield, Ark., with the Rev. Marvin Farar officiating.
Arrangements are under the care of Rollins Funeral Home in Rogers, Ark.
Condolences can be made at www.rollinsfuneral.com.
Published May 25, 2013
OBITUARY SUBMITTED BY:
Rollins Funeral Home
1401 W. Hudson Rd, Rogers, AR
Phone: 479-631-6617

Comments