Dr. Milton Theodore 'Ted' Morter Jr.
Rogers, AR, 1935 - 2013
0

comment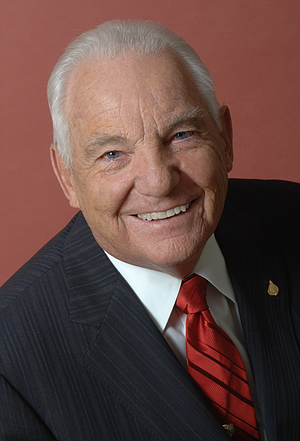 A bell tolls today for the passing of Dr. Milton Theodore "Ted" Morter Jr. on Thursday, May 23, 2013. Dr. Morter was born on May 5, 1935, in Akron, Ohio, to Milton Theodore Morter and Grace Evelyn Morter, and what an amazing 78 years he has had!
From being raised on a small family farm in Ohio, Dr. Morter went on to graduate with his bachelor's of science from Kent State University, his master's of science education from Ohio State University and his doctor of chiropractic degree from Logan College of Chiropractic. He later served as president of that same college, as well as that of Parker College of Chiropractic in Dallas.
He dedicated his whole life to helping people gain and maintain health, spending the better part of five decades searching for scientific and philosophical truths of health and life. His patients, family, colleagues and world leaders, such as King Hussein of Jordan and the royal family of Saudi Arabia, have all been a part of his lifelong pursuit.
Dr. Morter married his childhood sweetheart, Marjorie Ruth Kibler, in 1954. Together they started what would turn out to be one of the most revolutionary healing systems in natural medicine today. His patented technique, the Bio Energetic Synchronization Technique (B.E.S.T.), is now used by tens of thousands of health practitioners worldwide. Together, they also started a family, Dr. Ted Morter III, Dr. Tom Morter and Dr. Sue Morter, who all, along with three of his grandchildren, continue his work.
The author of 11 books and countless audio/video collections on healthy living, Dr. Morter leaves us with a wealth of information he felt was divinely inspired. He credited his own success as a doctor to his "best friend," the subconscious, intuitive voice, which guided him throughout his adult life.
Dr. Morter was obsessed with knowing the cause of disease, and he thought about it even while he was doing the other things he loved. He loved his garden. It was there, he said, that he was in communion with his Father in Heaven and with Mother Earth. And he loved to fish. Whether it was with his boys in Canada or right near his home on Beaver Lake, he looked forward to every trip, buying the latest gizmos and gadgets to compete for the biggest and most fish.
He was preceded in death by his parents; a sister; and his loving wife and partner of 50 years, Marjorie Morter.
But his memory lives on in those he has left behind in this world, his wife, Barbara Jean Morter, and her children, Colette Sookma, Ky Crump, Fenny Smith and Patrick Smith, and her four grandchildren; his brothers, Dr. Bill Morter of Lebanon, Mo., Chuck Morter of Canada, Dr. Dan Morter of St. Louis, Mo.; and his sister Marlene Greenslade of Canada; his children, Dr. Ted Morter III and his wife, Janna, of Rogers, Dr. Tom Morter and his wife, Anna, of Rogers, and Dr. Sue Morter and her partner, Elisa Zinberg, of Indianapolis, Ind.; his grandchildren, Dr. Ted Morten IV and his wife, Dr. Katy Morter, of Bentonville, Dr. Sarah Morter Rowden and her husband, Dr. Josh Rowden, of Rogers, Dr. Russell Morter of Rogers, Chuck Morter of Fayettevllle and Phillip Morter of Fayetteville; and his great-grandchildren, Maxwell Morter and Evelyn Grace Rowden.
A visitation will be held at Stockdale Funeral Home in Rogers, Ark., on Saturday, May 25, from 5 to 7 p.m.
A graveside service will be held on Sunday, May 26, at the Rogers Cemetery in Rogers, Ark., at 2 p.m.
A "Celebration of Life" service will be held on Friday, Sept. 13, in Dallas, Texas.
In lieu of flowers, Dr. Morter would want you to support B.E.S.T. Research International, 215 W. Poplar St., Rogers, AR 72756, in its ongoing efforts to share B.E.S.T. with the world.
Dr. Mercer's mission in life was to improve the health of mankind, worldwide. Certainly he has succeeded in that mission. His children and grandchildren will continue that work, for there is more to do. He was a great man who deeply loved his family and his extended Morter Health System family who followed his work. If you knew him, in honor of him, please tell your favorite story about Dr. Morter to someone the day you read this. He has now found truth, and all is well.
Arrangements are by Stockdale-Moody Funeral Services.
Online condolences may be made at stockdalefuneral.com.
Published May 25, 2013
OBITUARY SUBMITTED BY:
Stockdale-Moody Funeral Services
2898 West Walnut, Rogers, AR
Phone: 479-631-1353
http://stockdalefuneral.com/
Comments