Leon Stanley Lieutard
Springdale, AR, 1922 - 2013
0

comment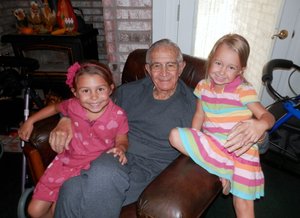 Leon Stanley Lieutard, 91, of Springdale died May 21, 2013. He was born March 14, 1922, in San Francisco, Calif., to Leon Louis Lieutard and Emma Ualie Robin.
After the bombing of Pearl Harbor, he enlisted in the United States Navy and served as an aircraft electrician on Enewetak in the Marshall Islands for the duration of the World War II. He moved to Northwest Arkansas in 1996 from Stockton, Calif. He was a member of Saint Raphael Catholic Church.
He retired from the federal government as a repair shop supervisor for emergency and military vehicles at Sharp's Army Depot in Lathrop, Calif.
He volunteered thousands of hours of service organizing and running Bingo for St. Luke Catholic Church in Stockton, Calif., to help fund their school operations.
Leon's favorite pastime was baseball. He was inducted into the ASA Hall of Fame in Oklahoma City, Okla., after umpiring three World Series. At age 74, he retired after 50 year of calling balls and strikes.
Other favorite pastime activities included bowling and golf. In 1988 he received an award from the American Bowling Congress for a 290 game, including 11 strikes in a row.
His most important accomplishment in life was being a beloved husband, father, grandfather, and friend.
Survivors include his wife, Paula E. Lieutard, to whom he was married Feb. 16, 1946; one son, Leon L. Lieutard II and wife, Robin; 10 grandchildren: Vanessa M. Cook and husband, Bud, Heather M. Sidney and husband, Joshua, Leon S. Lieutard and wife, Chrystal, Amber M. Nowlin and husband, Patrick, Darren L. Lieutard and wife, Lindsy, Sydney M. Lieutard, Noel K. Lieutard, Hallie A. Lieutard, Lucy K. Lieutard, Maxwell G. Lieutard; 10 great-grandchildren: Shelby M. Sidney, Baylee M. Sidney, Kaity M. Cook, Brenda K. Lieutard, Alex M. Nowlin, Charleigh D. Lieutard, Kemper L. Lieutard, Kayla M. Nowlin, Jaxon A. Lieutard, Annabelle V. Lieutard; brother-in-law, August Ferrari and wife of Belmont, Calif.; brother-in-law, Kenneth Miller of Bridgeport, Calif.; and many nieces and nephews.
Services will be at 5 p.m., Friday at St. Raphael Catholic Church in Springdale with Father John Antony officiating. Private burial will be at Hickory Creek Cemetery.
The Family would like to thank the staff of Willard Walker Hospice House.
In lieu of flowers, donations to St. Raphael Catholic Church in Springdale are welcome.
Published May 23, 2013
Comments