John J. Hickerson
Bentonville, AR, 1920 - 2013
0

comment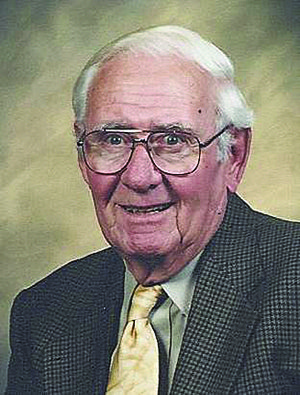 John J. Hickerson, 92, of Bentonville, Ark., died Tuesday, May 21, 2013, at Circle of Life Hospice House in Bentonville. He was born July 29, 1920, in Batesville, Ark., the son of Katie Waddell and Junius Hickerson.
He attended Arkansas College (now Lyons University in Batesville, Ark.) He attended Ouachita Baptist University, then he proudly served his country in the United States Navy during World War II, where he obtained an honorable discharge.
He was the city finance director for many years, and in the early 1960s he served as mayor of Port Hueneme, Calif., where he won the "Citizen of the Year Award," also he served as president of the Lion's Club in Port Hueneme for many years.
He had lived in the Northwest Arkansas area since October 2003 after moving from California. In 2006, he wrote an historical article about the Hickerson family, who settled in Independence County and received "Historical Heritage Award" from Independence County, Ark.
He was preceded in death by his parents; his wife, Naoma DeLay Hickerson in March 1997; and his son-in-law, Dennis Stump in September 2012.
John is survived by one son, Dr. Thomas Hickerson and his wife, Linda, of Damasus, Ore.; two daughters, Lois Weaver of Bentonville, Ark., Joanie Stump of Waldorf, Md.; four grandchildren and five great-grandchildren.
A memorial service will be at a later date in California.
Memorials may be sent to the donor's choice.
The family wishes to thank the staff of the Bradford House and Circle of Life Hospice Home at Legacy Village for the care and compassion they gave to John in his last weeks of life.
All arrangements by Epting Funeral Home of Bentonville.
Condolences: www.eptingfuneralhome.webs.com.
Published May 23, 2013
OBITUARY SUBMITTED BY:
Epting Funeral Home
709 N. Walton, Bentonville, AR
Find it at: corner of Walton and College
E-mail: [email protected]
Phone: 479-273-3443
http://www.eptingfuneralhome.webs.com/
Comments