Catherine Lavonne Bright Clark
Rogers, AR, 1915 - 2013
0

comment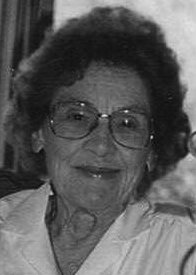 Lavonne Clark, aged 97, passed away at her beloved home May 16, 2013. Born July 21, 1915, to Alta Ann Boyd and James Alden Bright near Morning Star, Anderson Township. Lavonne grew up on the family farm near Cave Springs.
She attended Liberty Bell School and was enrolled in Bentonville High School when the Great Depression hit. Her father had 16 cents in his pocket when the banks "went broke," so there was no money for the required tuition and boarding. Those challenging economic years and farm living instilled resourceful, creative and hardworking characteristics within her lifestyle. Growing up in the country, she developed a keen knowledge and appreciation of the natural world.
Lavonne was a devoted older sister to twins, Lono and Lonora. She was baptized in Osage Creek by J.W. Farrish and was a member of the Cave Springs Baptist Church.
Known as the prettiest girl in Benton County with blond hair, clear blue eyes and a beautiful smile, her affections were won by a charming Bentonville boy. She and Cactus (J.D.) Clark were married in Fayetteville on April 10, 1932.
Two sons, Jerry Dean and Donald Lee, were born early in their marriage. She and Jerry shared the love of the outdoors, hunting wild flowers, like the rare pink Lady's Slipper, and antique glassware. She was proud of Donald's athletic accomplishments and treasured the auction finds he'd bring her. There were always animals of many types as pets. The family lived in or around Bentonville.
During the early '30s, Lavonne and Cactus began working for Cactus' sister, Lila Buell, at her Horseshoe Cafe on the Bentonville Square. Lila opened the Horseshoe Grill in Rogers around 1938. In 1939, the Clarks bought the restaurant. They created a popular eating establishment among locals and travelers. The latter part of WWII, Lavonne operated the Horseshoe while Cactus served in the Army. She was affectionately known as "Ma" to patrons, some only slightly younger than herself. Lavonne had no problem drawing boundaries and gaining respect. Young soldiers on leave could have their ears pinned if they got outta' line and/or shuttled safely to their parents' home or the Lane Hotel, where many bunked while home. In fact, throughout life she possessed a fearless composer. If challenged by a bear she'd likely whup 'em with a broom!
While stationed on Okinawa, Cactus conceived the idea to build a restaurant and recreational attraction near the Rogers water source, Lake Atalanta. After entering a lease agreement with the city, construction began in 1947, financed, in part, by the savings accumulated by Lavonne while running the grill. Lakeside Cafe, pool, sports shop and skating rink opened July 5, 1948, becoming an intrinsic part of the Rogers Community until October 2012.
She enjoyed a hiatus from the hard work of restaurateur after having their later-in-life surprise baby, Sharon Kay, sharing her love of nature, church, ingenuity and handiwork. Fortunately for the thousands she's fed, filling her shoes proved to be too difficult, so it was back to the kitchen and managing daytime operations of the restaurant until the Clarks' retirement in 1979. Lavonne's cooking is still legendary; her pies, fried chicken and dumplings still topics of conversation.
In 1987, the City of Rogers dedicated the Clark Pavilion as a tribute to the Clarks' vision and positive influence on the community. At her surprise 80th birthday in 1995, Mayor John Sampier (former Lakeside Pool lifeguard) presented Lavonne with a certificate recognizing her impact on the history and quality of life of Rogers.
Among things she enjoyed were picking vegetables, berries and fruit of any kind, then creating the most wonderful blends of jellies and home canned goods, picking out nut goodies, perfectly embroidered stitching, sewing doll clothes, cooking after school favorites and prolific reading with dog Sneaker beside her.
She had a masterful green thumb. She enjoyed rock hounding, salvaging, crocheting, mushroom hunting (though unsuccessfully), engineering projects with the most unlikely components, deco-paging antique crocks, traveling, playing the slots, Rummy and Bingo. Although she often joked that "she couldn't carry a tune in a bucket," she enjoyed music and dance, especially on the Lawrence Welk Show.
Lavonne was efficient, meticulous, thoughtful, generous and tolerant of the differences of others, a golden hearted wife, mother and grandmother. She loved cookies; particularly Mo-las-ses. Her humor was dry, yet playful.
Those greeting her in Heaven include her husband, Cactus; and his siblings; son, Jerry; sister, Lonora Culley; grandson, Randy Clark; and sweet cousin, Betty McDermed.
Cherishing forever her memory are daughter, SK Clark-Will, and grandson, Danner Will of the home; son, Donald and wife, Carolyn Clark, their children, Jimmy Clark, Bobby Clark, Donita Moore, Cheryl Wise and Kimberly Jacobi; daughter-in-law, Faye Clark, children, Paul, Roger and James Clark; sister, Lono Cotton Lewis; 18 great-grandchildren, 24-and-counting great-great-grandchildren; and many loving nieces, nephews and cousins, who have kindly kept in touch.
The last remarkable years of her life were enhanced by her family of friends, Jason, Melody and Bria Riddler, Laurel Kester, Ramona Cagle, Lora Garner, Cherie Creamer, Tarah Lyons, the Rios Family and hospice angels Jamie and Lori.
Graveside services will be at Benton County Memorial Park, 3800 W. Walnut St., Rogers, on Sunday, May 19, at 2 p.m. with a reception immediately following at the cemetery chapel.
In lieu of flowers, please gift in her memory to Sunshine School, Horses for Healing, Circle of Life Hospice, Rogers Humane Society, Ozark Natural Science Center or Rogers Historical Museum. Also, please be actively involved in the plans to renovate Lake Atalanta to honor all of our memories.
Arrangements are with Benton County Memorial Park Funeral Home of Rogers.
Published May 18, 2013
OBITUARY SUBMITTED BY:
Benton County Memorial Park Funeral Home and Crematory
3800 West Walnut, PO Box 328, Rogers, AR
E-mail: [email protected]
Phone: 479-636-2412
http://www.bentoncountymemorialpark.com/
Comments