Carolyn Jean Wobbe Sarratt
Springdale, AR, 1931 - 2013
0

comment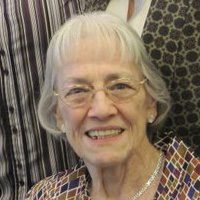 Because of her faith and trust in Christ alone for her salvation, Carolyn Jean Wobbe Sarratt met her Savior face to face on May 12, 2013.
Carolyn was born and raised in northeast Springdale on the family farm, located on what is now Randall/Wobbe Lane. Her father, Harry Wobbe, was a rural mail-carrier and farmer. Her mother, Ruth Perkins Wobbe, also carried the mail, coached girls basketball at the old high school (school admin. building) and started the first Girl Scout Troop in Springdale.
Carolyn was the youngest of four girls, Eleanor Ann Dubois and Mary Lou Johnson, both now deceased, Margaret Ruth Goodart of Rogers, and then after nine years, came beloved brother Thomas, now of Las Cruces, N.M.
Growing up on the farm allowed Carolyn the best of growing up years, making her strong, stubborn and determined. She married Gene Sarratt in 1949, and after having a short stint at raising chickens, they moved to San Pablo, Calif. While in California, they had three children, Beverly Watkins (Jerry) of Vine Grove, Ky., Melissa Ussery (Bill) of Springdale and David (Andrea) of Rogers. After 17 years they came back home to Arkansas.
She has seven grandchildren, Peter (Kristie), Bethani, Merri Leigh and Paul Ussery, Adrianne Michelle Watkins Gulley, Cody Beeson, and Noah Gene Sarratt, born March 19, 2013. She has one great-granddaughter, 2-year-old Adelaide Emma Ussery.
Carolyn is greatly loved and will be dearly missed by all who knew her. She always had a helping hand open to anyone in need.
Graveside services will be held Friday, May 17, at 2 p.m. at the National Cemetery Fayetteville, then afterward will be visitation with the family from 5 to 8 p.m. at Sisco Funeral Chapel, Springdale.
Only one life will soon be past. Only what's done for Christ will last.
See you soon, Mother.
To sign the guest book online, please visit www.siscofuneral.com.
Published May 14, 2013
OBITUARY SUBMITTED BY:
Sisco Funeral Chapel
705 W. Meadow St., Springdale, AR
Phone: 479-751-4577
http://www.siscofuneral.com
Comments