Edna Clema Powell
Springdale, AR, 1916 - 2013
0

comment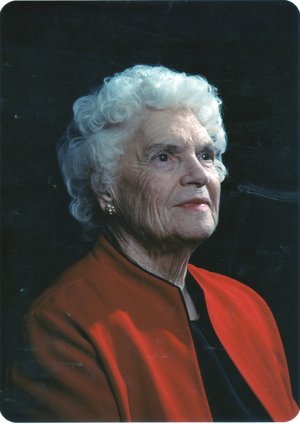 Edna Clema Powell passed away May 11, 2013, in Fayetteville, Ark. She was born in McCrory, Ark., June 8, 1916, to Bevley and Lenora (Fisher) Linhart. She was married to Ray Smith from 1933 until his passing in 1945, and to William Powell from 1950 until his death in 1980.
A woman of many virtues, Edna was best known for her fierce devotion to family her work ethic, and for her resilience in the face of hardship. At the age of 28, with five children and five months pregnant, her husband died of injuries from a northeast Arkansas farm accident. Four months later she gave birth to twins. Destitute, and in spite of advice to the contrary, she kept the family together by moving them to Sugar Mountain south of West Fork to be near her extended family. For five years thereafter, she supported her family by working two jobs, beginning each day by walking down the mountain, catching a bus and going to work as a supervisor in a local garment manufacturing factory, then working a shift as a waitress, and returning at night. In 1950, she married William ("Bill") Powell, with whom she had an eighth child.
The resolve and love of family Edna showed then continued throughout her life. She retired from her garment factory job to take care of her husband and to help with her rapidly growing extended family. Edna was a woman of boundless spirit which she shared generously, especially with the brood of grandchildren on which she doted (and who were thoroughly pleased with the arrangement). Her lasting impact will be in these and Edna's other virtues, which have been passed down to her grateful children, grandchildren, and successive generations.
Edna was preceded in death by her husbands, siblings—B.B. "Son", Millard, T.J., Ed (twin), Paul, Gladys, and Celia—by sons Calvin and Jackie, and by grandson David Kohler. She is survived by her children Shirley Rae Kohler-Hester, Christine Johnson, Freda Eloise McChristian, Linda Fay Ludwick, John Roy Smith and Ellen Eve Powell Griner, and by 20 grandchildren, 32 great-grandchildren, and 12 great-great-grandchildren.
The family would like to thank the staff at Willard Walker Hospice and Walnut Grove Nursing Home for the professional and loving care they extended to Edna, as well as Amber Roberts.
In lieu of flowers donations may be made to Gospel Tracts International, c/o Baldwin Church of Christ, 4377 E. Huntsville Road, Fayetteville AR 72701, or The Willard Walker Hospice Center, 325 E. Longview St., Fayetteville, AR 72703.
Funeral arrangements will be held at 1 p.m., May 13, at the Johnson Church of Christ with Glen Ludwick, Larry Celbreath and Paul Woodhouse officiating.
Visitation will be 2 p.m.-4 p.m. Sunday, May 12, 2013, at Beard's Funeral Chapel in Fayetteville.
Published May 12, 2013
OBITUARY SUBMITTED BY:
Beards Funeral Chapel
855 S. Happy Hollow Road, Fayetteville, AR
Phone: 479-521-8551
http://www.beardsfuneralchapel.com
Comments