Miriam Catheryn 'Cassie' Callison
Bentonville, AR, 1924 - 2013
0

comment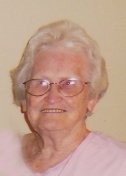 Miriam Catheryn "Cassie" Callison, age 89, of Bentonville passed away Thursday, May 9, 2013, at Innisfree Nursing and Rehabilitation in Rogers. Miriam was born in Lynn, Ark., on March 30, 1924, to Bert and Ada Bell (Manuel) James.
Miriam was a member of the First Church of the Nazarene in Rogers and worked for Model Laundry and Dry Cleaners for 34 years. On Oct. 2, 1941, she married Merle Callison and they were married for 23 years before his death in 1965. Miriam enjoyed reading, computer games, spending time with her family, and she will be missed very much.
Preceded in death by her husband, Merle; her parents; two sons-in-law, Hale Zander and Wayne Welker; one brother, Manuel James; three sisters, Alta Gunn, Monnie James, Margie Brown; and one grandson, Patrick Zander; Miriam is survived by two sons, Phillip "Sonny" Callison and wife, Beverly, of Missouri, Danny Callison of Bentonville; four daughters, Merlene Dryden and husband, Bill, of Pea Ridge, Sue Welker of Missouri, Diane Bariola and husband, Tommy, of Tontitown, Shelley Frank and husband, Terry, of Rogers; one special daughter-in-law, Virginia Callison of Rogers; 13 grandchildren, Dani Merritt, John Dryden, Michelle Basnet, Lori McKee, Susan Devore, Staci Sims, Chuck Leichner, Brande Phillips, Amanda Ball, Kristi Foster, Mandi Ridgway, Gary Goodall and Casey Callison; 35 great-grandchildren; three great-great-grandchildren; many, many nieces, nephews, other relatives and friends.
Visitation will be Saturday, May 11, 2013, from 2 to 5 p.m. at Benton County Memorial Park Funeral Home, 3800 W. Walnut, Rogers, Ark.
Funeral services will be 2 p.m. Monday, May 13, 2013, at the First Church of the Nazarene, 4911 W. Pleasant Grove Road, Rogers, Ark. Entombment will follow at Rogers City Cemetery in Rogers, Ark.
Online tributes to the family may be made at www.bentoncountymemorialpark.com.
Arrangements are with Benton County Memorial Park Funeral Home and Crematory of Rogers, Ark.
Published May 10, 2013
OBITUARY SUBMITTED BY:
Benton County Memorial Park Funeral Home & Crematory
3800 W. Walnut , PO BOX 328, Rogers, AR
Find it at: 3800 W. Walnut
E-mail: [email protected]
Phone: 479-636-2412
http://www.bentoncountymemorialpark.com/
Comments