Michael Allen Pierson
Fayetteville, AR, 1949 - 2013
0

comment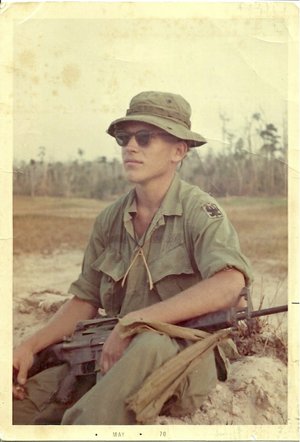 Michael Allen Pierson was born July, 3 1949, in Piqua, Ohio, to Richard and Therese Pierson.
After he graduated from high school he moved to Las Vegas, Nev., where he lived until he was drafted into the U.S. Armed Forces.
He trained at Fort Ord, Calif., before he was sent to Vietnam. Before he left, his father gave him a wishbone to wear around his neck while he was in Vietnam so that they could pull it together upon his safe arrival home. Michael took the nickname "Wishbone" with him into the 5th Battalion of the 12th Infantry of the 199th Division in 1969. He served in Vietnam until 1971, when he returned home with his wishbone still around his neck to Las Vegas from the 11th Armored Calvary as Specialist Four and Honorary Blackhorse Trooper with two medals.
He then moved to Northwest Arkansas, where he spent the remainder of his life. He worked as a painter, in mechanical maintenance, and in his retirement he worked from home as a wood craftsman, which he enjoyed and was very talented at.
He was preceded in death by his parents, Richard and Therese Pierson.
He is survived by Geraldean Pierson, his wife, of the home; his brother, Dave Pierson of Piqua, Ohio; two sons, Joe Pierson and wife, Mariah, of the Fayetteville area, and Ben Pierson of Bentonville, Ark.; and three grandchildren.
Graveside service will be Monday, May 6, 2013, at 1 p.m. at Fayetteville National Cemetery. Full military honors will be provided by the Northwest Arkansas Honor Guard.
In lieu of flowers, memorials may be made to the Veterans Health Care System of the Ozarks, in honor of Michael Pierson, to support the Hospice Palliative Care Unit, Chief, Voluntary Service (135), VHSO, 1100 N. College Ave., Fayetteville, AR 72703.
Arrangements by Epting Funeral Home of Fayetteville.
Condolences: www.eptingfuneralhome.webs.com.
Published May 4, 2013
OBITUARY SUBMITTED BY:
Epting Funeral Home
709 N. Walton, Bentonville, AR
Find it at: corner of Walton and College
E-mail: [email protected]
Phone: 479-273-3443
http://www.eptingfuneralhome.webs.com/
Comments