Millie Susnik
Pittsburgh, KS, 1921 - 2013
0

comment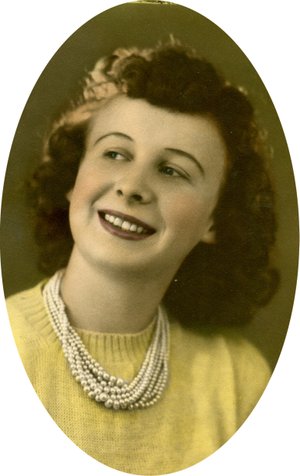 Our beloved mother, grandmother and great-grandmother Millie (Poncha) Susnik, 91, passed away at home in the presence of her loving family on April 29, 2013. She was born at home, the youngest of five children, in the coal mining community of Midway on Oct. 22, 1921. Her parents, Frank and Rose (Bruzinski) Poncha, were European immigrants.
She attended Midway Country Grade School as a child. During the Great Depression, many coal miners like her father were forced to seek work in larger cities, like Chicago. During this time, she spent two years attending school there. Always a country girl at heart, she was glad to eventually come home to Midway. Before her senior year at Cockerill High School, she worked the summer as a bookkeeper and stenographer for President Roosevelt's Youth Progress Administration.
She graduated from high school in 1939. Her dream was to attend nursing school, so while visiting her sister in Cleveland, she endeavored to enroll. Having missed the enrollment deadline, she would have to wait until the following fall. She returned to Midway and enjoyed dating old beaus while waiting to attend school. Over Labor Day 1940, she met her future husband at the Lincoln Park festivities. Frank Susnik Jr. and Millie Poncha were united in marriage on Dec. 21, 1940, and left the next day for Chicago to find work. Marriage and family won out over nursing school and Millie became a devoted wife and mother.
After Frank was drafted into World War II in 1942, Millie returned to Midway with her young first-born son, Ronnie. After the war and the birth of her daughter, Marilyn, Millie and Frank moved to Pittsburg. In 1957, the family had grown by two more children, Janice and Bobby. That fall, they moved to the place Millie would call home for the rest of her life — a lovely house in the country built by Frank and their teenage son, Ronnie. Millie was a superb cook, bar none, and would often make dinner for the entire family with her husband who was also a wonderful cook in his own right. We could never forget the wonderful Sunday dinners she and Dad would make for our family get-togethers — there was nothing like her meatballs and garlic slaw and his apple pie and potica!
She loved nature in its entirety and felt God's presence within it. She took pride in her beautiful plants and flowers, especially her African Violet. She received hours of joy each day watching the squirrels in her yard devour the dried corn on the cob she endlessly provided and her songbirds eating at her picture window feeders.
Millie deeply loved her family and was very proud of them all. We will always remember Millie's beautiful smile, sense of humor and sharp wit, still unmistakable, even during the suffering of her final months with cancer. She always made her doctors and medical staff smile, laugh and feel at ease. She consoled her grieving children and grandchildren while smiling and joking through her pain. One of her favorite sayings was, "Smile and the world smiles with you; cry and you cry alone." She showed us how to live with a vibrant passion for life and how to die with courage and dignity — her cheerful spirit remained with her until the end.
Though baptized into the Catholic faith, the sky and the clouds were her cathedral. We would like to think she is feeding the squirrels and birds in Heaven and she may even be dancing a polka with her beloved Frankie.
Millie was preceded in death in 2002 by her husband of 62 years; two sisters, Anna Hurt and Rose White; two brothers, Robert and Rudy Poncha; dear niece, Nadine (Hurt) Oeth; and most of her cousins and friends.
She is survived by four children, Ronnie Susnik and wife, Karlene, of Lowell, Ark., Bob Susnik and wife, Glenda, of Pittsburg, Marilyn Merando and husband, Bill, of Frontenac, Janice Bartlow and husband, Terry, of Pittsburg; a niece and nephew, Rose (Poncha) Freeman and Ernest Poncha of Texas; seven grandchildren, Mike Cessna and wife, Vada, Lori (Cessna) Mitchell and husband, LaGene, Jon Bartlow and wife, Amy, Christina Bartlow and Jason Susnik, all of Pittsburg, Emily (Susnik) Schnabel and husband, Cory, of Overland Park, and Jennifer (Susnik) McWhorter and husband, Mark, of Rogers, Ark. Millie had five great-grandchildren, Jonathan and Nathaniel Cessna, Sarah Valentine and Cole Bartlow, all of Pittsburg, and Annalynn McWhorter of Rogers, Ark.
According to her wishes, she was cremated. Millie and Frank's ashes will be intermingled and there will be a private family internment of them at Fort Scott National Cemetery where Frank will be given recognition for military service to his country.
Arrangements are under the direction of the Bath-Naylor Funeral Home.
Published May 3, 2013
Comments