Donald L. Chew
Lebanon, OH, 1925 - 2013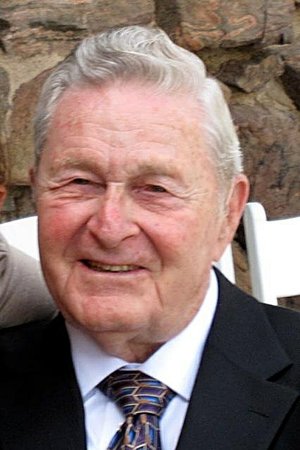 Donald L. Chew passed away on July 6, 2013, of natural causes at Otterbein Retirement Home in Lebanon, Ohio. Don was born and raised in Atchison, Kan., on Feb. 15, 1925.
He graduated from Atchison High School and Kansas State University. He served in WWII in the 8th Air Force on a B-29. He was an outstanding baseball player for the Atchison Colts and some semi-pro teams. He was asked to play for several pro teams, but chose to go to college instead.
He married Audrey Harris of St. Joseph, Mo., on July 13, 1947. Don and Audrey lived for many years in St. Joseph, Mo. They retired in Bella Vista, Ark., in 1986. They recently moved to Otterbein Retirement Community in Lebanon, Ohio.
Don worked for Beatrice Foods in the Dairy Division. He was president of the Consulting Division, managing several dairies.
While in St. Joseph, he was on the board of the YMCA, an assistant Boy Scout leader, on the board of trustees of Park Bank, on the board of trustees of Missouri Western College and a member of Rotary Club. He was very active as a member of Ashland Avenue Methodist Church.
Donald is survived by his wife Audrey; his three children, Michael (Raleigh, N.C.), Connie (Lenexa, Kan.) and Bill (Mason, Ohio); six grandchildren, Lisa Wright, Matthew Turner, Erin Turner, Shannon Johnson, Stacy Chew and Skylar Chew; and one great-grandchild, Elliott Wright.
A memorial service will be held at St. Mark's Lutheran Church in Atchison, Kan., on Don and Audrey's 66th wedding anniversary, Saturday, July 13.
Visitation at St. Mark's will be 9:30-10:30 a.m. with a church service and cemetery service to immediately follow. In lieu of flowers, memorials may be made to the Alzheimer's Association or to St. Mark's Lutheran Church, Atchison, Kan. Don will be laid to rest in Sunset Memory Gardens in Atchison, Kan.
To send a condolence, visit www.muellerfuneralS.com, 513-398-9100.
Published July 9, 2013