Feriba Ann Thomas McNair
Fayetteville, AR, 1921 - 2012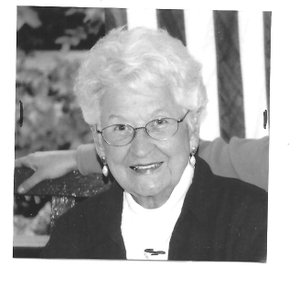 Feriba Ann Thomas McNair, age 90, of Fayetteville, died Thursday, March 15, 2012, at home, suddenly and unexpectedly. Born March 30, 1921, to William Francis and Lucy Allen Thomas, she was the descendant of pioneer families of Sevier County and Howard County, Ark.
Mrs. McNair was educated at the University of Arkansas, where she earned a Bachelor's of Science in Education in 1942. She became a teacher of science and physical education from 1943-1946 and 1953-1956 at Fayetteville High School, where she established the first girls' physical education program and served as the sponsor of the cheerleaders and the pep squad. In 1967 she became the first woman to serve on the Fayetteville School Board, and served six terms, the last three as president of the board. A lifelong member of the First Baptist Church, Mrs. McNair served on the Board of Directors, helped establish the Play-Learn Program, taught Sunday School, and taught Bible Study Fellowship for many years. Mrs. McNair was an avid, enthusiastic, and accomplished golfer, who developed and established the first junior golf program at Fayetteville Country Club, a program which has become the model for many similar programs throughout the state and region. Her most recent tournament victory occurred at the age of 88, in August of 2010, a mother-daughter tournament. In addition, a breast cancer survivor in 1977, she established and chaired, for more than two decades, an annual Walter Hagen golf tournament, which raised money for cancer research. Mrs. McNair was preceded in death by her husband, David Malcolm McNair Sr.; her parents; her brother, William Francis Thomas Jr.; her sister, Elizabeth Thomas, and her nephew William Francis Thomas III. She is survived by her sister-in-law, Carolyn McNair Stirewalt; her sons, Thomas Wiley McNair, David Malcolm McNair Jr.; her daughter Lucy McNair Jones; and their spouses, Donnealia Wilson McNair, Martha Conner McNair, and Charles David Jones. She is also survived by four grandchildren, Rebecca McNair O'Neal, Carrie Elizabeth McNair, Lucy McNair Tschetter, and Emerson Conner McNair, as well as their spouses Jeff O'Neal, Matthew Tschetter, and Allyson Cate McNair and children Josephine Thomas O'Neal and Annabelle Cate McNair. Other survivors include her nieces Mary McNair Kumpuris of Little Rock, Ark., Nancy McNair of Maumelle, Ark., Gail Delp of Anchorage, Alaska, Alexis Stirewalt Elliott and Natalie Thomas of Fayetteville, and her nephews Rick, John, and Mark McNair of Fayetteville, Paul Stirewalt of Springdale, and Mark Allen Thomas of Breckenridge, Texas.
Mrs. McNair maintained memberships in Chapter K of the PEO Sisterhood and the Perennial Garden Club. She was inducted into the Fayetteville Public Schools Hall of Honor in 1999. She was an ardent follower of Arkansas Razorback sports, including football, basketball, baseball, and women's golf. She was an alumna of the Arkansas Alpha Chapter of Pi Beta Phi sorority. Mrs. McNair's lifelong commitment to public education was honored in August of 2000 when McNair Middle School was named and dedicated in her honor. The family will receive visitors on Sunday, March 18, from 4 to 6 p.m. at Nelson-Berna Funeral Home. A funeral service will occur on Monday, March 19, at 2 p.m. at the First Baptist Church of Fayetteville under the direction of Nelson Berna Funeral Home. It will be followed by a graveside service at Evergreen Cemetery and a reception at the Fayetteville Country Club from 5 to 7 p.m. Memorials may be made to the First Baptist Church of Fayetteville, P.O. Box 1324, Fayetteville, Ark. 72702, the Fayetteville Public Education Foundation, 877 Clinton Drive, Fayetteville, Ark. 72701, or the Pi Beta Phi Centennial Gate in care of the University of Arkansas Development Office/Pi Beta Phi Centennial Gate. To place an online tribute visit www.nelsonberna.com.
Published March 18, 2012
OBITUARY SUBMITTED BY:
Nelson-Berna Funeral Home and Crematory
4520 North Crossover Road, P.O. Box 8982, Fayetteville, AR
Phone: 479-521-5000
http://www.nelsonberna.com