MUSIC
Young Artist Tour
Cellist Leland Ko and pianist Adria Ye travel the state for the Arkansas Federation of Music Clubs' annual Arkansas Young Artist Tour:
◼️ Monday: 7:30 p.m., Mabee Fine Arts Center, Ouachita Baptist University, 410 Ouachita St., Arkadelphia. (870) 245-5129
◼️ Tuesday: 7 p.m., Stilwell Humanities Music Hall, Texarkana College, 2500 N. Robinson Road, Texarkana. (870) 773-1118
◼️ Thursday: 7 p.m., Fine Arts Center, University of Arkansas at Monticello, 346 University Drive, Monticello. (870) 460-1060
◼️ Friday: 11 a.m., Trinity United Methodist Church, 1101 N. Mississippi St., Little Rock. (501) 666-2813
◼️ Sept. 17: 3 p.m., Bella Vista Presbyterian Church, 1880 Forest Hills Blvd., Bentonville.
Admission to all concerts is free.
Their program: "Appalachia Waltz" by Mark O'Connor; Divertimento in D major by Franz Joseph Haydn (compiled and arranged by Gregor Piatigorsky); Suite for Solo Cello, op.76, by Alexander Tcherepnin; arrangements for cello and piano of "The Deserted Garden" and "Elfentanz" by Florence Price; and the Sonata for Piano and Cello by Francis Poulenc.
Ko took first prize in the National Federation of Music Clubs biennial Young Artist Competition in the Strings Category in June. The prize includes $20,000 and two years of concert bookings.
'Ukraine to Appalachia'
Walton Arts Center's 2023-24 10x10 Arts Series opens with "Scythian: Ukraine to Appalachia," 7 p.m. today at the center, 495 W. Dickson St., Fayetteville. The four members of Scythian are brothers Alexander Fedoryka (vocals, fiddle, mandolin, harmonica) and Danylo Fedoryka (vocals, guitar, accordion), with Ethan Dean (vocals, upright and electric bass, percussion, guitar) and Johnny Rees (vocals, drums, percussion). Tickets are $10. Call (479) 443-5600 or visit waltonartscenter.org.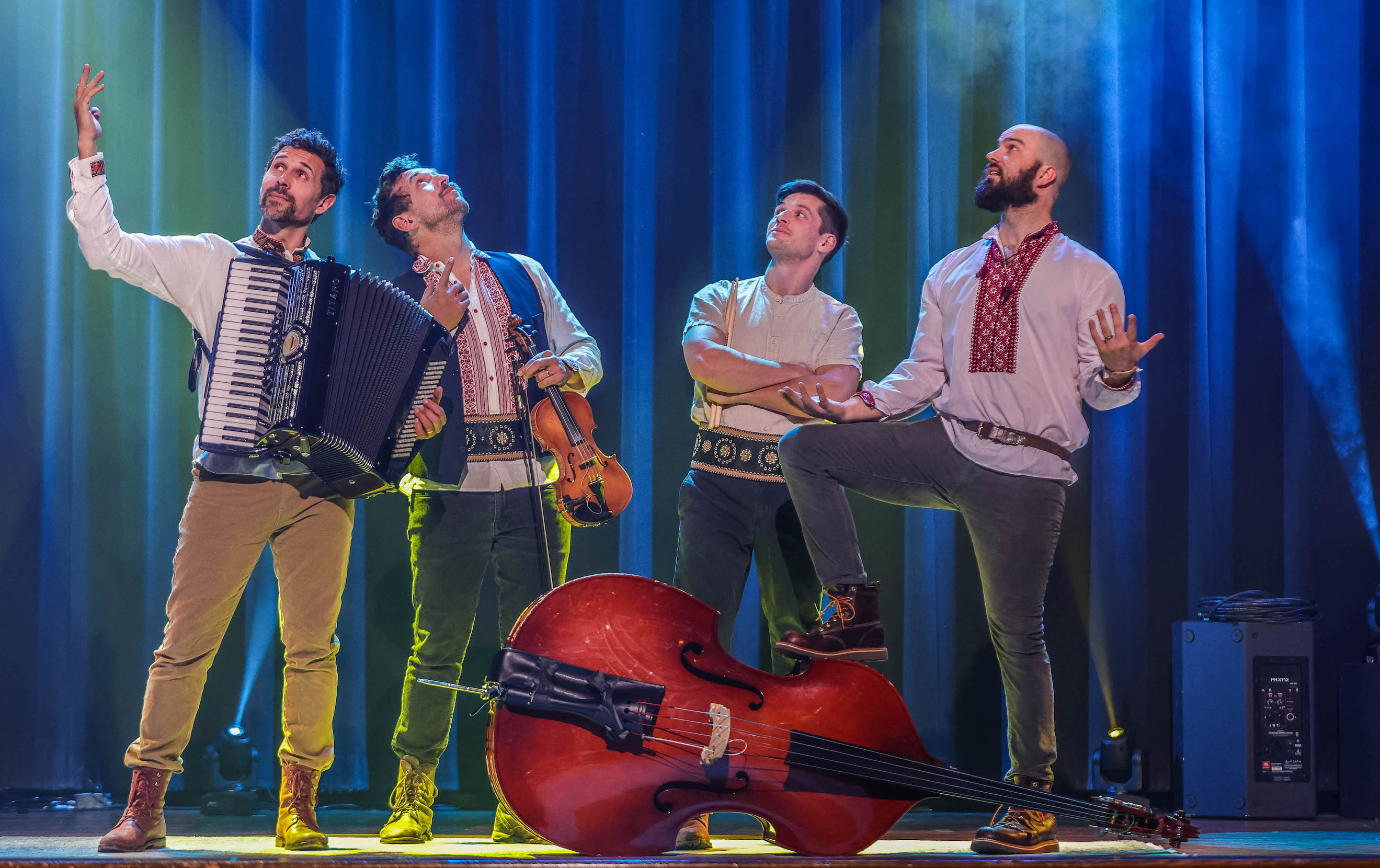 Scythian — (from left) Danylo Fedoryka, Alexander Fedoryka, Johnny Rees and Ethan Dean — perform today at Fayetteville's Walton Arts Center. (Special to the Democrat-Gazette)

MUSIC/FILM
Ragtime and silent film
The Alma Education and Arts Foundation's annual fundraiser Saturday opens with a 4 p.m. matinee film program featuring the Paragon Ragtime Orchestra at the King Opera House, 427 E. Main St., Van Buren. The Alma Education and Arts Foundation is a nonprofit focusing on promoting education in the arts for K-12 students.
Broadway star and Alma High and Ouachita Baptist University graduate Chad Burris will sing and greet attendees at a 5:30 p.m. Roaring '20s-themed costume gala at the adjoining ARTS ON MAIN, 415 E. Main, Van Buren. Fort Smith artist Amy Scoggins will create a painting, with her work to be auctioned at the event.
And at 7:30 the Paragon Ragtime Orchestra will play scores for three silent-film classics at the King Opera House -- "The Immigrant," featuring Charlie Chaplin; "The Haunted House," featuring Buster Keaton; and "Get Out and Under," featuring Harold Lloyd. Host is the Skokos Performing Arts Center.
Burris' Broadway credits include "Almost Famous," "Mean Girls" and "Frozen," and he was part of the national tour of "The Book of Mormon."
Gala-only tickets are $40. Tickets for each silent-film program are $37-$48. All bundled into a Red Carpet Package: $85. Seating is limited. Call (479) 632-2129 or visit alma-internet.choicecrm.net/templates/ALMA/#/events.

The Paragon Ragtime Orchestra performs for silent film screenings, part of the the Alma Education and Arts Foundations annual fundraiser Saturday at the King Opera House in Van Buren. (Special to the Democrat-Gazette)

THEATER
'Arsenic & Old Lace'
In "Arsenic and Old Lace" by Joseph Kesselring, a New York theater critic discovers his two daffy aunts have been poisoning lonely single old men in their Brooklyn neighborhood with arsenic-laced elderberry wine and burying them in their basement; meanwhile, one of his brothers turns out to be a serial killer and the other believes he's Teddy Roosevelt.
Murry's Dinner Playhouse, 6323 Colonel Glenn Road, Little Rock, opens its production with a 12:30 p.m. matinee preview Wednesday and a 7:30 p.m. preview Thursday. The show runs through Oct. 7; curtain time is 7:30 p.m. Wednesday-Saturday (Wednesday matinees only, Sept. 13, 20 and 27) and 12:40 and 6:40 p.m. Sunday.
The cast includes Tim Cooper as Mortimer Brewster, with Natalie Canerday and Leigh Anne Ralston as aunts Abby and Martha, respectively; Stephen Hansen as Jonathan Brewster; Eric Harrison as Dr. Einstein; Thomas Cooper as Teddy Brewster; Katie Greer as Elaine Harper; and Carson Horton as Officer O'Hara. Chad Bradford directs.
The buffet opens 90 minutes before curtain time. Tickets (including meal and show) are $39-$44, $30 for children 15 and younger; $30 show only. Call (501) 562-3131 or visit murrysdp.com.
'Doubt: A Parable'
The Judy Kohn Tenenbaum Argenta Community Theater stages John Patrick Shanley's "Doubt: A Parable," opening Wednesday at the ACT II Sharon Heflin Performing Arts Education Center, 315 Main St., North Little Rock. Dinner-theater performances, including the show, dinner and wine, will be 6:30 p.m. Wednesday-Saturday; theater-only shows will be at 2 p.m. Sunday and 7:30 p.m. Sept. 19-23. Doors open 30 minutes before curtain time. The production is also part of the Acansa Arts Festival of the South. Tickets are $38-$78. Visit ArgentaCommunityTheater.org.
A putative case of sexual misconduct at a church school in New York in the 1960s involves a beloved and progressive parish priest, Father Flynn (Greg Fallon); the school's rigidly conservative principal, Sister Aloysius (Karen Clark); a younger nun, Sister James (Kristen Phantazia-Smith); and the mother (Verda Davenport-Booher) of the school's first Black student. Vincent Insalaco directs.
'Six' in Fayetteville
The touring production of the Tony Award-winning Broadway musical "Six" by Toby Marlow and Lucy Moss is onstage, 7 p.m. Tuesday-Wednesday and Friday, 1:30 and 7 p.m. Thursday, 2 and 8 p.m. Saturday and 2 p.m. Sept. 17 at Fayetteville's at Walton Arts Center, 495 W. Dickson St. Tickets are $71-$108. Call (479) 443-5600 or visit waltonartscenter.org.
"Six" presents the six wives of England's King Henry VIII -- "divorced, beheaded, died, divorced, beheaded, survived" -- as rock icons and turns their experiences into a rock concert. Gerianne Pérez plays Catherine of Aragon, with Zan Berube as Anne Boleyn, Amina Faye as Jane Seymour, Terica Marie as Anne of Cleves, Aline Mayagoitia as Katherine Howard and Sydney Parra as Catherine Parr. (Casting is subject to change.)
ART
'Earth Elegies'
"ParkeHarrison: Earth Elegies," photographs from the husband-and-wife team of Robert and Shana ParkeHarrison, opens Monday in the Brad Cushman Gallery in the Windgate Center of Art and Design at the University of Arkansas at Little Rock, 2801 S. University Ave., Little Rock.
"Our photographs offer visual poems of loss, human struggle, and personal exploration within landscapes scarred by technology and over-use," the ParkeHarrisons explain in an artists' statement.
The exhibition remains up through Oct. 3. The ParkeHarrisons will give a presentation, 6:30-7:30 p.m. Sept. 28 in the Stella Boyle Smith Concert Hall in UALR's Fine Arts Building, with a reception 5:30-8 p.m. Sept. 29 in the gallery and the Windgate Center lobby.
Meanwhile, "Susan Chambers: Through the Garden," paintings by Chambers, goes on display Monday in the Windgate Center's Focus Gallery, with a 5:30-7:30 p.m. reception Thursday. The exhibition remains up through Oct. 6.
Gallery hours are 9 a.m.-5 p.m. Monday-Friday, 10 a.m.-1 p.m. Saturday, 2-5 p.m. Sunday. Admission is free. Call (501) 916-5104 or email [email protected].