LOS ANGELES -- "Gardens are gateways to cultures," said Brandon Tam, associate curator of the orchid collection at Huntington Library, Art Museum, and Botanical Gardens in San Marino, Calif., as he unlocked the door to one of the Huntington's orchid collection greenhouses on a hot afternoon in July.
Tam, 30, is the proud guardian of one of the largest and most diverse orchid collections in the world. He runs horticultural operations, including conservation, propagation and acquisitions, and supervises more than 40 volunteers. What makes the Huntington's collection special is that it contains at least 10,000 orchids with 1,500 unique species.
Tam humbly regards this as merely "a drop in the bucket," compared to the 30,000 recognized species of orchids worldwide. He said the Huntington's goal is to propagate as many orchid species as possible to preserve them for future generations to appreciate.
Therefore, the Huntington's orchid collection is split into three temperature- and humidity-controlled greenhouses -- totaling more than 20,000 square feet of space or the size of 1.5 Olympic-size swimming pools -- based on which climate they are best suited to. Each greenhouse is packed with orchids of every shape, size and color, from the tiny yellow Platystele misasiana to the large magenta Phalaenopsis gigantea.
Tam has been intrigued by orchids since he was a child. His grandmother first piqued his interest. Growing up, he often gardened with his grandmother in the yard of her home in Baldwin Park, Calif. He remembers noticing a plant with white flowers and becoming fascinated by its beauty. It was a cymbidium orchid.
"That was when I got bit by the orchid bug," Tam said, noting that he began volunteering at the Huntington when he was 14 and landed an orchid collection internship two years later. He soon became the Huntington's orchid collection specialist and was recently promoted to his current role as associate curator of the orchid collection.
Tam, who received a bachelor's degree in plant science from Cal Poly Pomona, said plant science is the middle ground between botany and horticulture. It involves hands-on work such as pruning and planting seeds, he said, as well as learning the science behind how plants work, down to the cellular level.
Looking around the greenhouse, Tam pointed to a vibrant, blue Cleisocentron-gokusingii. He said that unlike the blue-dyed orchids that can be found at many groceries and florists, this flower was the real deal -- true blue.
Also in the space, other intriguing orchids were present. Striking stanhopeas -- which bloom only for 24 to 48 hours -- were suspended from the ceiling, while a ghost orchid (Dendrophylax lindenii) clung to a piece of bark fastened to the wall.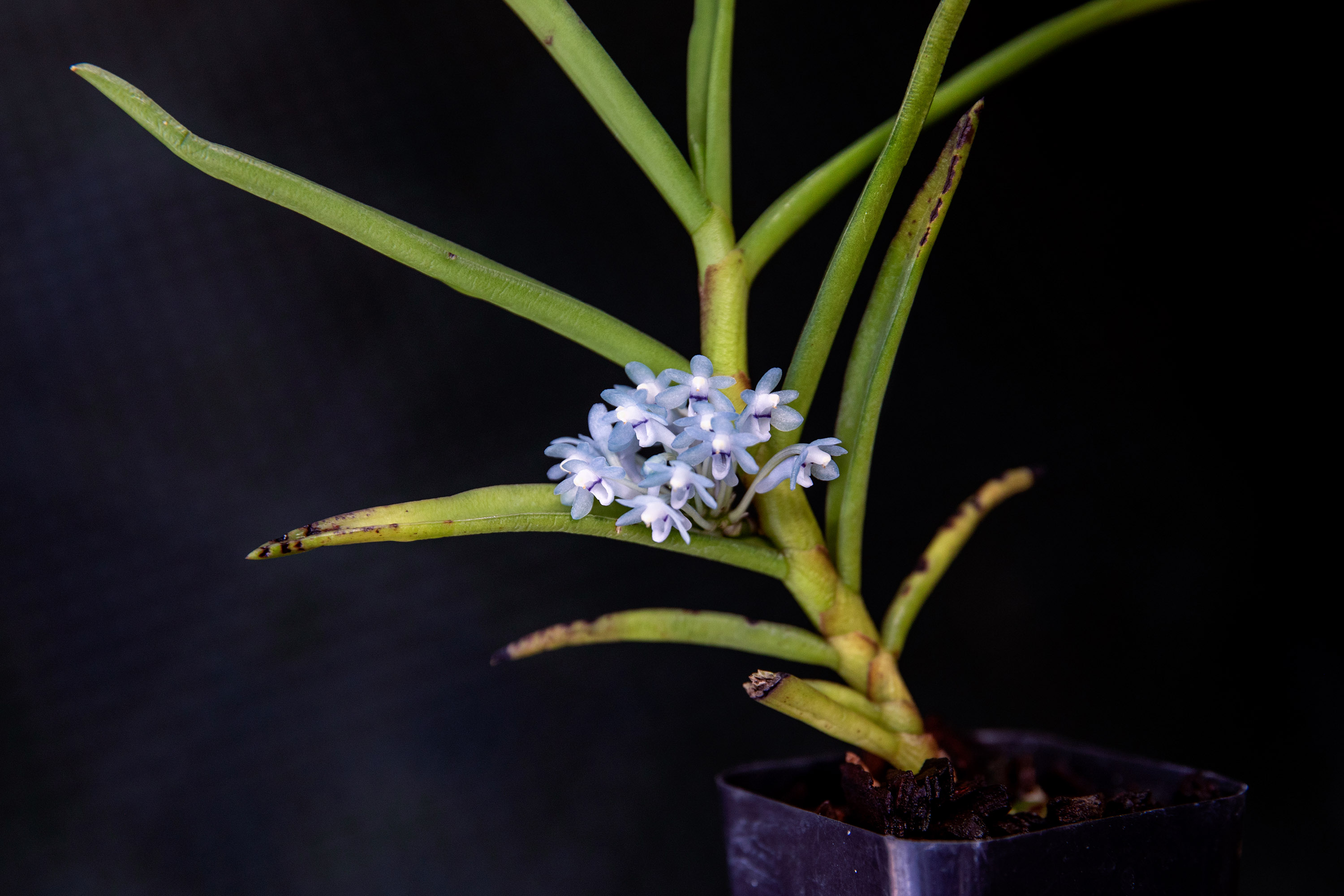 A Cleisocenon gokusingi orchid is in bloom inside one of the orchid collection greenhouses at The Huntington in August. (TNS/Los Angeles Times/Mel Melcon)

THE MYSTICISM
Holding a small orchid pot that recently came back from being propagated in an off-site lab, Tam said he sometimes likes to tell himself that plants have magical powers. He knows the science behind how a tiny seed grows into a massive orchid or a towering redwood tree, but pretending it's magic adds to the mysticism of it all.
Tam then walked over to a group of plants budding from large pots on the floor in the corner of the greenhouse. He said giddily that they were corpse flowers -- not orchids, but unbranched inflorescences known for their putrid odor -- that were monitored and measured in preparation for their big debut.
As for the various plants in the greenhouses, Tam said, "Some stink like a decaying rat in your ventilation system, others [are] as fragrant as root beer or Febreze."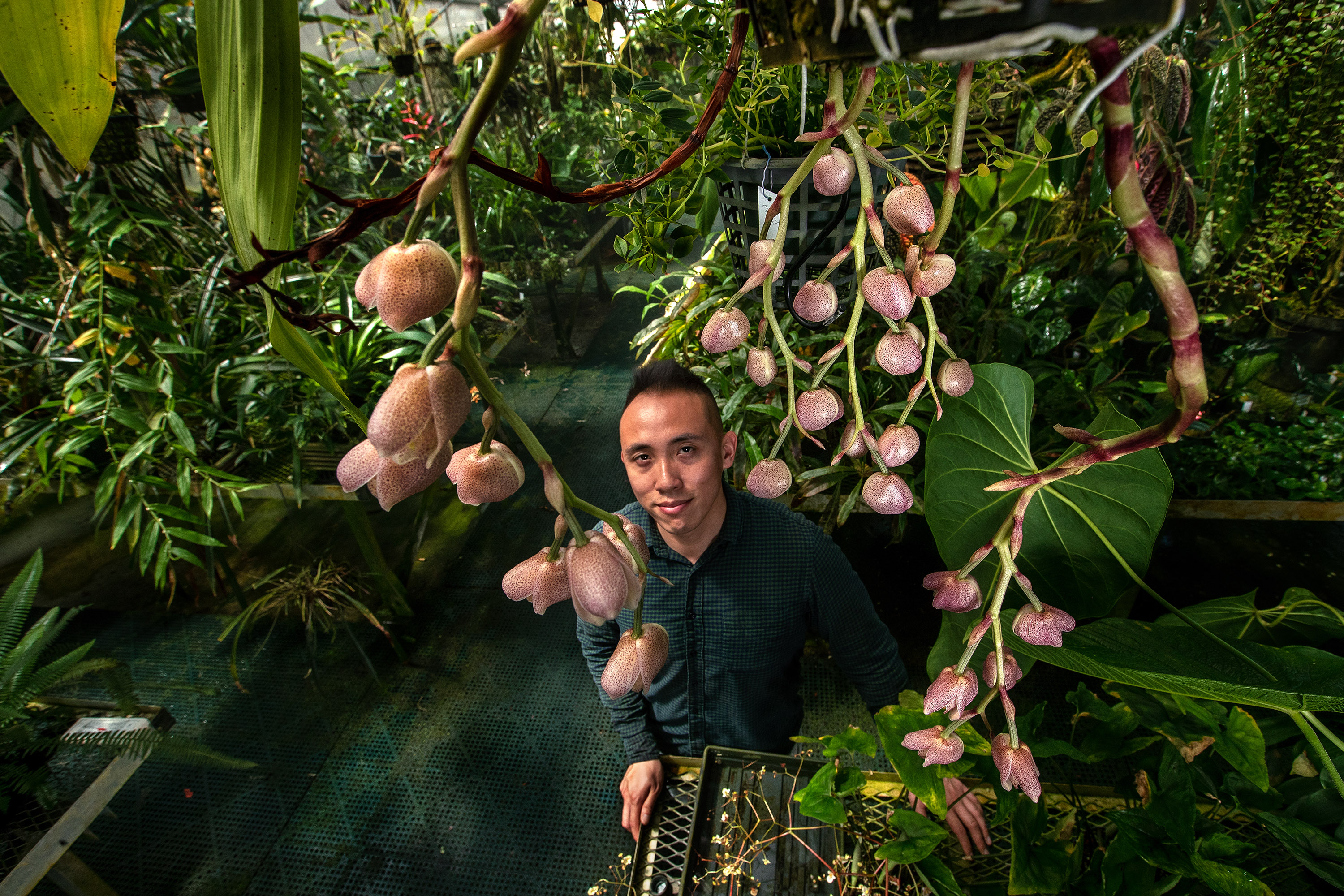 Brandon Tam, associate curator of the orchid collection at The Huntington, stands next to Acineta superba orchids growing inside one of the orchid collection greenhouses. (TNS/Los Angeles Times/Mel Melcon)

BLOOMERS ROTATED
Although Huntington's greenhouses are not open to the public, Tam said every blooming orchid is rotated into the Huntington's public Rose Hills Foundation Conservatory for visitors to gaze at. At the moment, the conservatory is closed due to the presence of a " potentially invasive terrestrial snail, " according to the Huntington's website, but visitors can normally check out the website's In Bloom section to see what orchids are available for viewing.
It's not just the plants themselves that intrigue Tam. He's also fascinated by the unique histories of orchids, specifically the Winston Churchill (Paphiopedilum) orchid. The Paphiopedilum was a highly prized orchid created by Stuart Low Co. in England in 1951. According to Tam, this orchid was beloved in the United Kingdom, with royalty often sending orchid hunters to find them.
"There was a time in history where orchids were only for the kings and queens, but now you or I can stop by Trader Joe's and get one," he said.
During World War II, many plant conservatories in the U.K. became targets for bombings and were torn down or had their natural resources, including gas, diverted to war efforts. Many Paphiopedilums were transported to the United States for protection.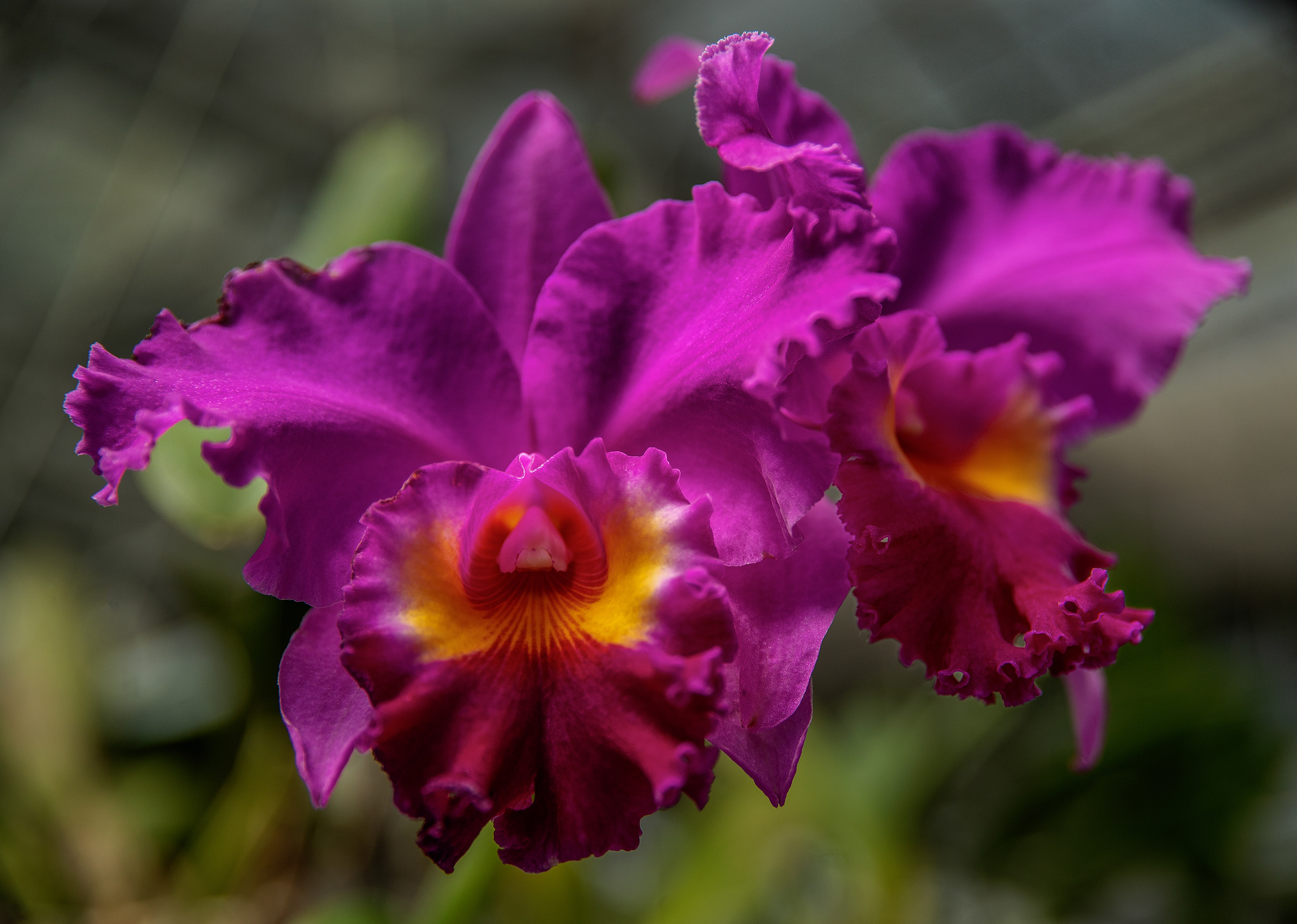 A Cattleya South Esk 'Catherine' orchid blooms at The Huntington. (TNS/Los Angeles Times/Mel Melcon)

LUCKY CHURCHILL ORCHIDS
The Winston Churchill orchids were lucky, Tam said, because not all plants are saved during times of war, which is why conservation efforts are so important. According to the associate curator, the Huntington and other botanical gardens across the United States recently came together to donate financial assistance to botanical gardens in Ukraine to help prevent their seed collections from being lost during Russia's war on Ukraine.
Running the orchid collection has been an eye-opening experience, Tam said, because it has enabled him to network with conservationists all around the world. Orchid species can be found on every continent except Antarctica, and because of how diverse orchids are, they require curators such as Tam to work with people of various cultures, often different from his own Chinese American background.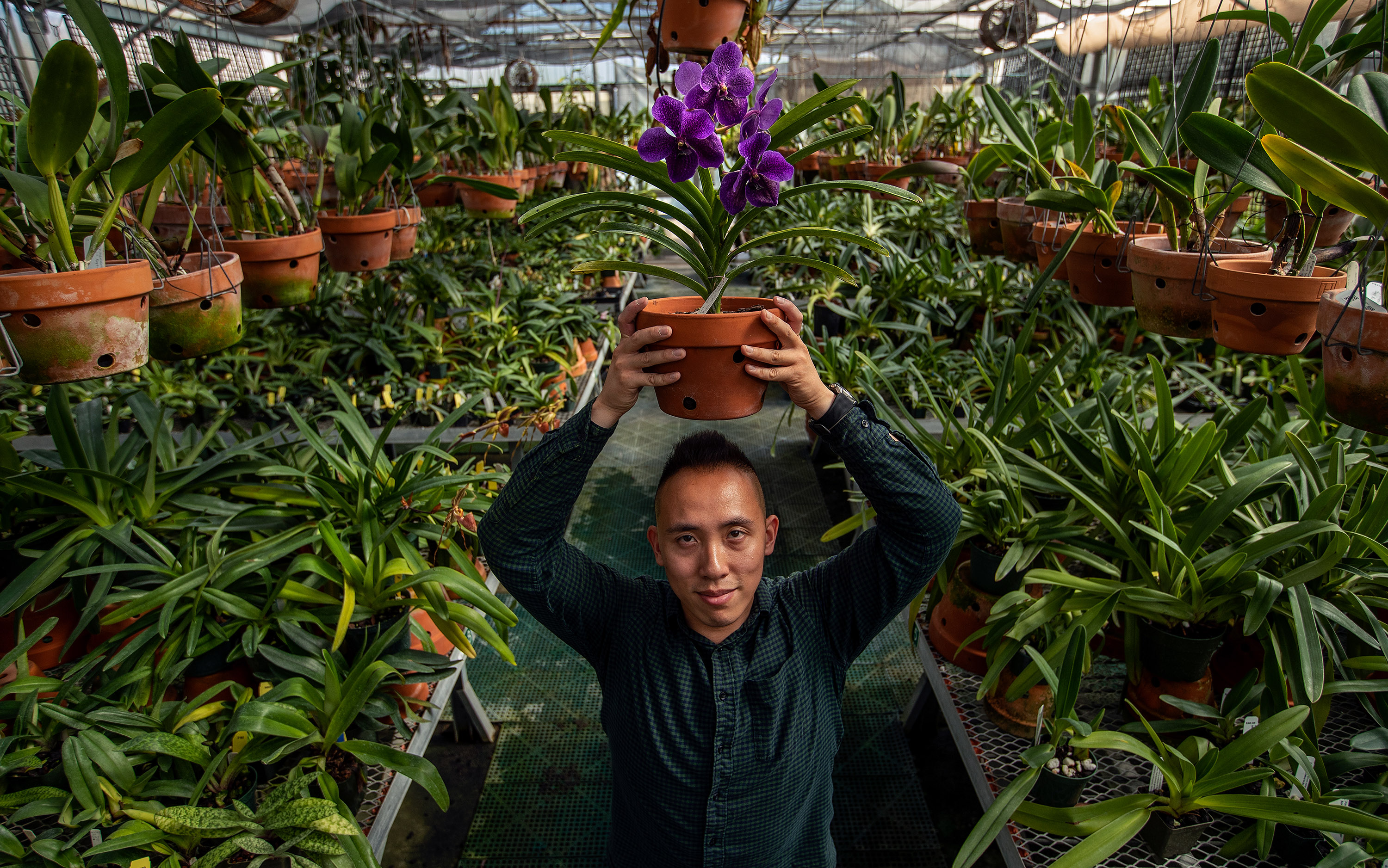 Brandon Tam, associate curator of the orchid collection at The Huntington, holds up a Vanda orchid. (Mel Melcon/Los Angeles Times/TNS)

A BETTER FUTURE
Tam's father immigrated to the United States from Hong Kong and his mother from Vietnam before he was born. Like other immigrant families, he said his parents did not immigrate for themselves but for a better future for him and his brother. Tam credits his parents for his ability to pick a career he is passionate about.
"Coming here for a better quality of life for the next generation is something to be admired and applauded," Tam said.
Looking back on his early days at the Huntington, Tam said that on his first day of volunteering as a teenager, he imagined himself working at the institution for a long time. He now sees himself working there forever, because there's always more to learn about orchids and their mysterious ways. After all, someone could study orchids their entire life and still know only 1% of the information about the species.
"I'll die knowing I'll never know it all," Tam said. "It's sad but so rewarding."