CONWAY -- It was not the crisp performance Conway Coach Buck James wanted from his Wampus Cats, but they did enough things right for a 63-46 victory over the Bentonville West Wolverines on Friday night in the Class 7A quarterfinals at John McConnell Stadium.
The Wampus Cats (10-1) will now face Fayetteville in the semifinals on the road next week.
Conway struggled to take over the game until late in the second quarter, but it did hold a 35-31 advantage at the half.
"It was sloppy, but we won," James said. "We had a good week of practice, but we have been exposed. Stuff shows up on game tape and once it shows up on game tape, are you going to fix it? ... We have got to fix it and we haven't fixed it yet."
Winners of six of their previous seven games, the Wolverines (8-4) held a 28-21 lead in the secnd quarter until two touchdown passes by Donovan Omolo put the Wampus Cats up at the half.
Omolo, who had five touchdown passes in the game, hit Jonathan Smith on a 21-yard scoring pass and Chris O'Neal from 13 yards out to give Conway 35-28 lead. The Wolverines tacked on a 39- yard field goal by Ethan Greg on the final play of the first half to make it 35-31.
To start the second half, Omolo and O'Neal connected on a 10-yard touchdown pass for a 42-31 cushion. But Bentonville West added a 3-yard run from Tre Thompson with just more than six minutes left in the third quarter.
But on the next play from scrimmage, Omolo hit O'Neal on an 80-yard scoring pass and Conway began to pull away.
Desmond Davidson add a pair of short touchdown runs as Conway's lead grew to 63-38.
"I thought our offense played good," James said. "Our offense has played well enough, but I'm really worried about our third- and fourth-down run game. That is a big problem. ... That's really an excusable. We are too big and strong to not be able to get a push.
"If we don't improve, we are going to have to score 100 to win and that is just the truth of it. If we don't get better at what we're doing, it is going to be a long night."
Conway opened the game with O'Neil going on a 4-yard run, but the Wolverines took the lead on a 1-yard pass from Dalton Rice to Jaxson Brust and then Rice hitting Charlie Guthrie with an 8-yard score.
Davidson's first touchdown tied the game at 14-14, but Rice answered with a 53-yard touchdown pass to Ashton King.
Omolo's scoring pass to Jaydon Gains once again tied it. Bentonville West grabbed its final lead on a 12-yard pass from Rice to Brust.
Photo Gallery
Conway vs Bentonville West HS Football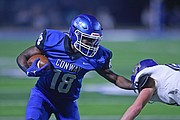 Photos from the Conway vs Bentonville West football game.