Memorial Day is the unofficial kickoff to summer, so it's not surprising this is the time of year when many cooks start dusting off their gas or charcoal grills and power-washing their patios.
Summer is peak grilling season for the 80% of Americans who own a grill or smoker, according the Hearth, Patio & Barbecue Association, with Memorial Day — which honors the men and women who have died while serving in the U.S. military — ranking as the third most popular day for a cookout after July 4 and Labor Day.
Summer also is when backyard barbecues, graduation parties and other gatherings kick into high gear. For the cook, that means finding recipes that are both easy (so many people!), seasonal and crowd favorites.
Traditional sides like baked beans, coleslaw, macaroni salad and corn-on-the-cob are synonymous with outdoor cooking, and we love our potato salads, too, be they made with mayonnaise, sour cream, salad dressing or a simple Dijon vinaigrette. Proteins with bold, meaty flavor — think burgers, hot dogs and brats — also are key players when you're cooking on a grill.
Some like to go all-out on this first holiday of the season with a multitude of dishes, but simple can work just as well if you go with big flavors. This sample menu features three of my family's favorite recipes: My son Jack's pan-fried smash burgers with a bold horseradish aioli, a quick-and-easy potato salad studded with salty, crisp bacon and crunchy green onion, and, for dessert, an old-fashioned strawberry-rhubarb bar that tastes like summer (and on this day when we remember lives lost, just might make you think of grandma).
With regards to the burgers: While they're technically cooked on the grill, it's inside a cast-iron skillet instead of the more tried-and-true method of directly on the grates. This is for two reasons. One, smash burgers continue to have a moment on the food scene. And two, cooking in cast iron — thanks to our love of nostalgia — is a growing trend, according to Eric Davis of HPBA.
"People are experimenting with different dishes beyond the everyday items — think scrambled eggs, quesadillas, veggies, pies and more," he says. "The trusted cast-iron skillet is the perfect accessory to grill these and other items to perfection."
Cooking in a pan also eliminates flare-ups, meat accidentally falling through the grates and any number of other grilling mishaps. You want to start summer on the right foot, after all.
The key here is to get the pan smoking hot (directly over the heat source) and to remember the pan will be very, very hot. You'll need leather grilling gloves or several layers of kitchen towels to protect your hands.
My son Jack, who cooked professionally during college, loves this burger recipe. Instead of the standard ketchup and mustard, accouterments include a spicy homemade horseradish aioli and plenty of dill pickle and white onion.
Smash Burgers With Fried Cheddar
For the horseradish aioli:
½ cup mayonnaise
2 heaping tablespoons horseradish, or more to taste
Pinch of granulated garlic
Salt and pepper
For the burgers:
1 ½ pounds 80% lean ground beef
Salt and ground black pepper
12 ounces shredded cheddar cheese
1 large tomato, sliced, optional
½ white onion, diced or sliced, optional
Sliced dill pickles, optional
6 hamburger buns, divided use
Prepare horseradish aioli: In a small bowl, combine mayo and horseradish. Stir until smooth and then season to taste with salt and pepper. If it's not spicy enough, add a little more horseradish.
Prepare a charcoal grill for high heat. When coals are hot, place a large, heavy, well-seasoned cast-iron skillet directly on the grate and let it heat up for 10 minutes. It should be pretty hot (400 to 500 degrees).
Loosely divide ground beef into 6 potions, and gently form into large, loose balls.
Place 3 meat balls (or as many as will fit in our skillet after smashing) on the hot skillet and smash with a spatula for several seconds to form thin, flat patties. Don't worry if they are not perfectly round, but they should be wide and flat. Sear the bottom of the patty into the heated cooking surface for around 10 seconds.
Liberally season patties with salt and pepper and cook, without touching, until the outer edges are brown and caramelized, 2 to 3 minutes. Flip patties, season with more salt and pepper, cook another minute or so. Remove to plate and cover with foil to keep warm. Repeat with remaining patties.
Using half the cheese, make 3 wide piles on hot skillet. Once it starts to bubble and brown around the edge, it's ready for the burgers.
Assemble burgers, three at a time: Spread a generous amount of horseradish aioli on bun bottoms, then top with a burger. Using a spatula (metal works best) flip a portion of fried cheese on top (melty side down), followed by a slice or two of tomato, onion and pickle chips (if using), plus a little more aioli if you like your burgers messy. Fry the rest of the cheese, then finish assembling the remaining three burgers in the same manner.
Top each burger with a top bun, and serve immediately, with lots of napkins to dab the drippings off your chin.
Makes 6 burgers.
Recipe from Jack McKay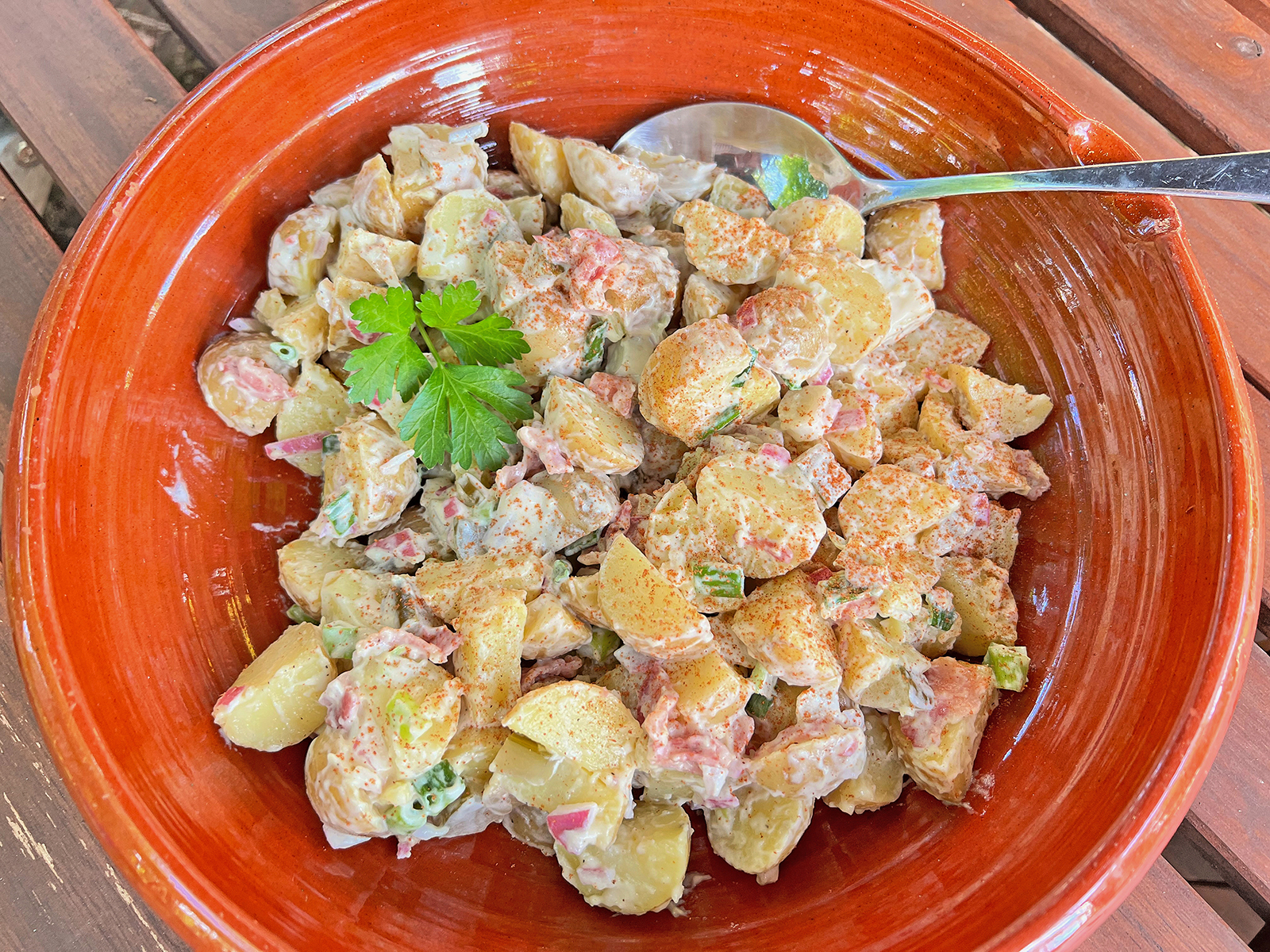 Bacon Potato Salad (Pittsburgh Post-Gazette/TNS/Gretchen McKay)
Potato salad is a classic cookout side. This recipe, made with baby gold potatoes, features a tangy mayo-Dijon dressing and lots of bacon.
Bacon Potato Salad
For the salad:
2 pounds baby gold potatoes, scrubbed and halved
Salt
6 slices bacon
½ red onion, diced small
2 cloves garlic, peeled and finely minced
3 green onions, diced
¼ cup fresh parsley (regular or Italian flat-leaf), finely chopped
For the dressing:
¼ cup mayonnaise
2 tablespoons Dijon-style mustard
1 tablespoon apple cider vinegar
Salt and freshly ground black pepper
Prepare potatoes: Bring a large pot of salted water to a boil, then add potatoes. Simmer until potatoes are fork-tender, about 15 minutes. Drain and rinse potatoes under cold water to stop the cooking process; set aside.
While potatoes cook, fry the bacon in a large skillet over medium heat until crispy. Transfer to a paper towel-lined plate to drain, and when cool, crumbed or chop into small pieces and set aside. Leave drippings in skillet.
Add red onion to the skillet with bacon fat, and cook until tender, about 5 minutes, stirring occasionally. Add garlic, stir to combine, and cook until fragrant, about 1 minute, then remove from heat.
Prepare the dressing: In large bowl, combine mayonnaise, mustard and vinegar. Whisk to combine, then season to taste with salt and pepper. Taste again, and add another day of mustard, mayo or vinegar to desired taste.
Add cooked potatoes, and stir to combine. Add the crumbled bacon, onion mixture, chopped green onions and parsley to bowl. Toss to combine.
Serve immediately, or chill in refrigerate in an airtight container for up to 3 days.
Makes 6 servings.
■■■
One of the first vegetables to pop up in spring, rhubarb can be found at farmers markets and larger grocery stores through early summer. It can be too sour on its own, but when paired with strawberries (and a little sugar), as in these old-fashioned bars, it's nothing short of wonderful.
Strawberry-Rhubarb Picnic Bars
1 cup rolled oats
¾ cup all-purpose flour, plus more as needed
½ cup light brown sugar
¼ teaspoon fine salt
6 tablespoons unsalted butter, melted
2 medium stalks rhubarb, diced (about 1 cup)
1 cup diced strawberries
1 teaspoon cornstarch
1 tablespoon fresh lemon juice
1 tablespoon granulated sugar, divided use
Heat oven to 375 degrees. Line bottom and two sides of 8-by-8-inch square baking pan with parchment paper (this allows for easy removal).
Place oats, ¾ cup flour, brown sugar and salt in medium bowl and mix. Pour melted butter over, and stir until clumps form. If the clumps feel soft or look overly damp, add up to 2 tablespoons more flour.
Set aside ½ cup of the crumble mixture. Press the rest of the crumb mixture evenly in the bottom of the prepared pan.
Spread half the fruit over the crust. Sprinkle it evenly with cornstarch, then lemon juice, and ½ tablespoon of granulated sugar. Spread remaining fruit over this, and top with remaining ½ tablespoon sugar. Scatter reserved crumbs over fruit and bake bars for 30 to 40 minutes (mine took the full 40 minutes), until fruit is bubbly and crisp portion is golden and smells toasty and amazing.
Let cool in pan. (If you cool in the fridge instead of at room temperature, they will be crisper). Cut into squares. Store leftovers in fridge.
Makes 12 to 16 bars.
Recipe adapted from smittenkitchen.com