When I picked up "The Woks of Life," a cookbook written by the Leung family, I felt a pang of envy. Inside is something many of us would be thrilled to have: mom-and-dad-approved recipes interspersed with stories and photos — even a timeline — of one family's history.
The cookbook grew out of the family's decade-old recipe blog of the same name, which began when the younger Leungs realized that while they had inherited their parents' love of cooking, they did not know how to make the food they grew up eating.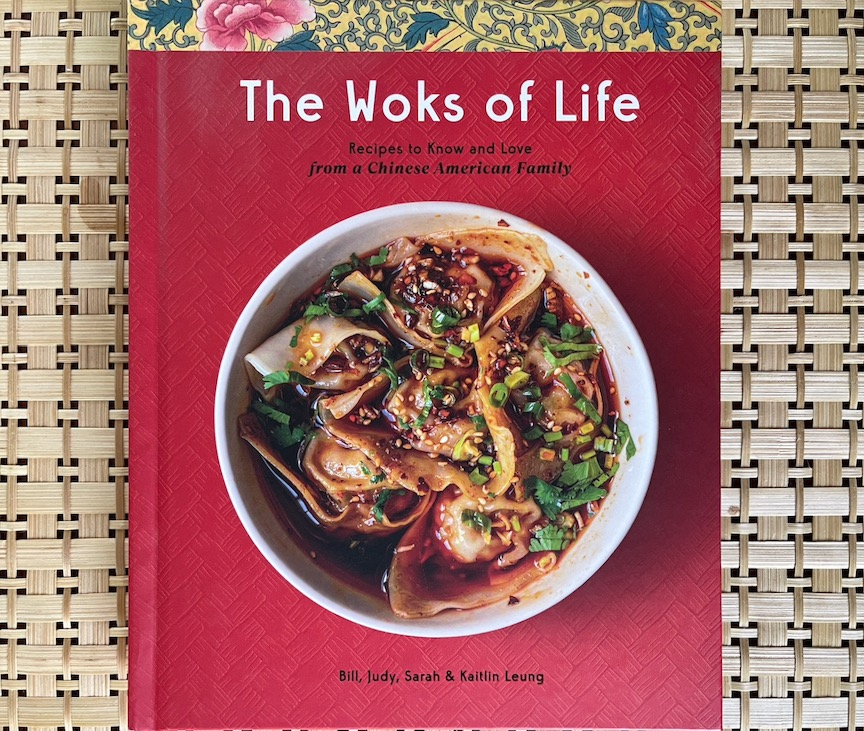 "The Woks of Life" by Bill, Judy, Sarah and Kaitlin Leung (Arkansas Democrat-Gazette/Kelly Brant)
"This book and our blog together are kind of like a family album," said Sarah Leung, who co-wrote the book during the pandemic with her parents, Bill and Judy, and younger sister, Kaitlin. "We call our blog culinary genealogy. We wanted the blog to be our family's story as told through food."
I started my exploration with the Kung Pao Chicken, a familiar favorite, but, as I made it, I realized it was quite different from the milder, saucier versions I grew up eating.
There's a reason for that, Sarah explained: Often in Chinese American restaurants, the food is made through a Cantonese lens, because many Chinese immigrants hailed from southern China.
"Kung pao is a dish you'll find in Sichuan restaurants in China, and that sets it apart from sesame chicken and General Tso chicken. If you ask for those dishes in China, they'd say, 'What is that?'"
Traditional kung pao should have an interplay of flavors and textures, with the chicken and green onions cut to be about the same size as the peanuts, so you get a little of each in every bite; the sauce must be a balance of heat and sweetness, "with no standing sauce" in the serving plate.
A sprinkle of ground Sichuan peppercorns balances the heat from the chiles, she said.
Kung Pao Chicken
For the chicken:
¾ pound boneless, skinless chicken breast, cut into ½-inch cubes
2 teaspoons cornstarch, divided use
1 teaspoon neutral oil, such as grapeseed or canola
1 teaspoon Shaoxing wine (can substitute Chinese rice wine or dry sherry)
1/8 teaspoon fine salt
1/8 teaspoon ground white pepper
For the sauce:
1 teaspoon rice vinegar
1 tablespoon light soy sauce (see notes)
1 teaspoon granulated sugar
1 teaspoon dark soy sauce (see notes)
For the rest of the dish:
3 tablespoons neutral oil, such as grapeseed or canola, divided use
3 medium cloves garlic, smashed and sliced
2 to 4 dried red chiles, seeded and crumbled into small pieces
½ cup sliced green onions, light green and white parts only (from 2 small bunches)
2 teaspoons grated fresh ginger
½ teaspoon ground Sichuan pepper (may substitute freshly cracked black pepper)
1 cup roasted unsalted peanuts (see notes)
Cooked white rice, for serving
Marinate the chicken: In a medium bowl, combine the chicken,1 tablespoon water, 1 teaspoon cornstarch, oil, Shaoxing wine, salt and the white pepper and toss to coat. Let marinate for 20 minutes.
Make the sauce: Meanwhile, in a small bowl, whisk together the vinegar, light soy sauce, remaining teaspoon cornstarch, sugar and dark soy sauce.
Assemble the dish: Heat your wok or large nonstick skillet over high heat until lightly smoking. Add 2 tablespoons of oil to coat the surface of the wok. Add the chicken in one layer and sear it undisturbed for 30 seconds, then stir-fry until the chicken turns opaque, 1 to 2 minutes. Transfer to a plate.
Reduce the heat to low and add the remaining 1 tablespoon of oil. Add the garlic, chiles, scallions, ginger and Sichuan pepper. Stir-fry until the ginger and garlic are fragrant and the scallions are lightly browned around the edges, about 2 minutes.
Return the chicken to the wok, increase the heat to high, and stir-fry for 1 minute. Re-whisk the sauce so the cornstarch is incorporated, then add it to the wok and stir-fry until the sauce has thickened and clings to the chicken, about 1 minute. Remove from the heat and stir in the peanuts. Serve hot, with the rice.
Makes 2 to 3 servings.
Notes: Can substitute regular low-sodium soy sauce, to taste, but the flavor will be different.
The Leung family encourages you to "wok-roast" your own peanuts. Here's how: In a wok or skillet over medium-high heat, heat 1 teaspoon of neutral oil until it shimmers. Add 1 cup of raw peanuts and stir-fry constantly, to prevent burning, until slightly darkened, about 3 minutes. Turn off the heat and cook for 1 more minute using the residual heat of the wok. Transfer to a plate to cool.