Ahead of a slew of album release shows and tours, Dylan Earl is training for a half marathon.
After watching his video "Buddy" this comes as no surprise. The former Subiaco track and cross-country star releases his latest album, "I Saw The Arkansas" March 10 on Gar Hole Records.
"This record is the OG crew. I think one of my favorite parts about the album is I recorded it in my old high school auditorium over the summer of 2021," says Earl. "It took a while to finally put it out but I'm, I'm pleased as hell to be working on it."
In December Gar Hole Records owner Kurt DeLashmet announced that Earl would be joining the label and putting out a new record during a giant two-day showcase of performances by musicians on Gar Hole Records and friends of the label. They released "Buddy" earlier this year, which is racking up streams on Spotify. The YouTube video features fellow label mate, Jude Brothers, whom Earl calls "his pastor." Brothers helped him conceive of the video by pointing out that they didn't know anyone who runs as much as Earl, who was training for a half marathon when he stopped to speak with What's Up.
"Sometimes it takes someone else that knows you really well to point out the important things about you," Earl adds.
In the video shot by Nick Futch, Earl hops up in full running gear and runs through familiar parts of Fayetteville, dances with Brothers (in some gorgeous Western wear) and has a beer with his buddies at a local watering hole before running along again, the scenes are interspersed with scenes of Dylan and his band on the road. The song is one of the faster numbers on "I Saw the Arkansas."
The album was recorded in Logan County with vocals recorded by Eric Witthans at Homestead Studio in Fayetteville and features Dick Darden on drums, Chris Wood on bass, Lee Zodrow on keys, Hamilton Belk on pedal steel and Grady Phillip Drugg on lead guitar and backup vocals. Earl provides the main vocals and rhythm guitar with Meredith Kimbrough and Bonnie Montgomery on backup harmonies.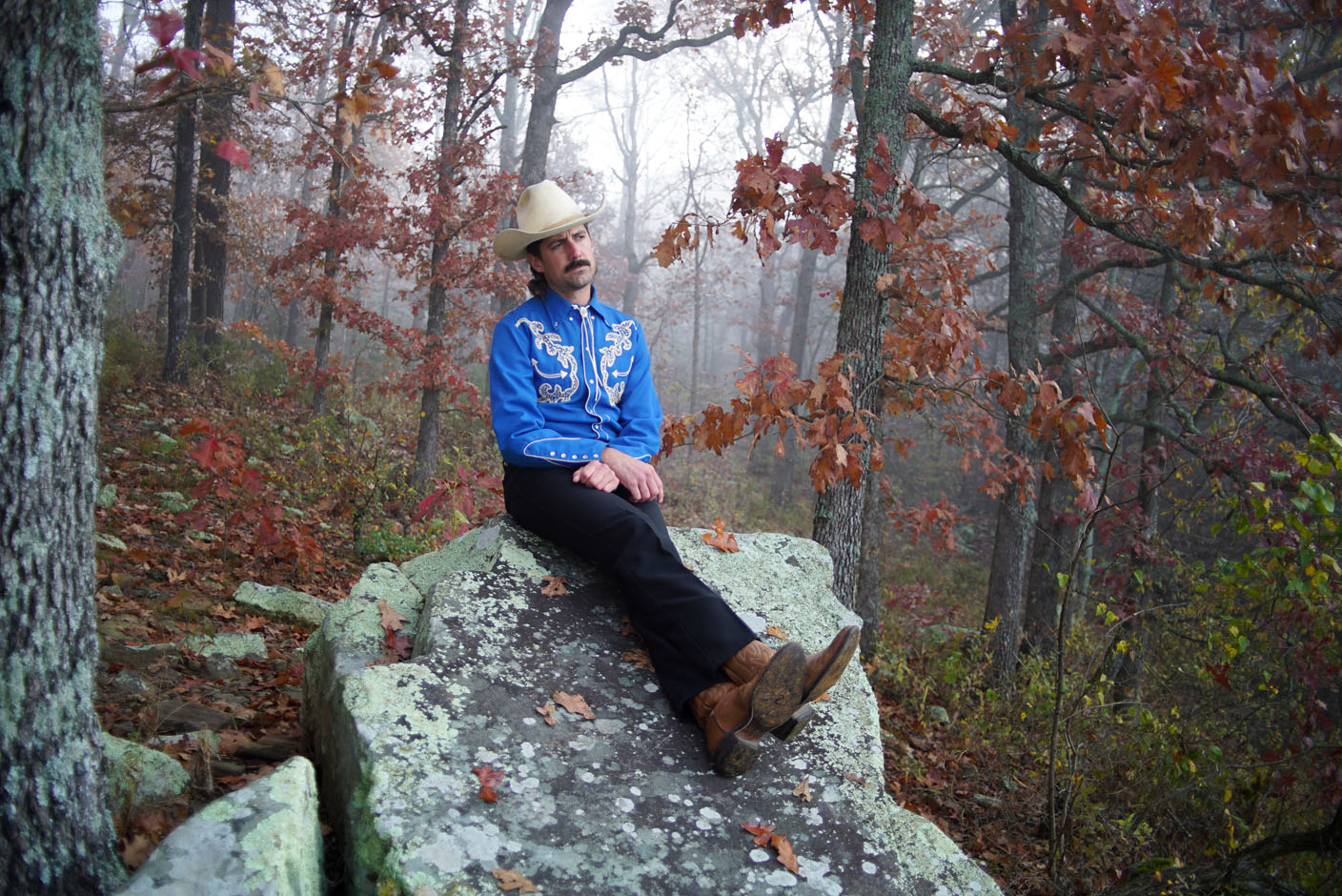 Dylan Earl releases his third album, "I Saw the Arkansas," on March 10 via Gar Hole Records. He's planning several shows in the natural state before kicking off several tours this spring and summer. He plans two album release shows March 10 at White Water Tavern in Little Rock and then March 11 at George's Majestic Lounge in Fayetteville.


The album contains songs from his early career — such as "Blessing in Disguise" — which aren't on his previous albums or Spotify.
"I love the songs, and I wanted to realize them a little bit more fluidly because I was so fresh into my solo career when I recorded those," he says. I was really transitioning as a writer, I feel like and I think some of my strongest material to date is on this album."
"'I Saw the Arkansas,' 'Buddy" and 'White Painted Trees,' to me are the three songs that really stand apart on this album. As more of a welcoming of the audience into me and my soul and who I am and the things that got me here. I feel like I can sit down and write love songs all dadgum day, but I'm not really telling anybody anything about myself."
Part of that is being a "buddy" to everyone. Earl has long shared the stage with other socially conscious country crooners such as Nick Shoulders (part owner of Gar Hole Records) and Willi Carlisle.
"I'm pretty outwardly seeming cishet, white guy playing country music but I'm particularly determined to let my non-cishet white audience know that they're just as welcome, if not more welcome, to my shows than just about anybody else," he says. "Half and half of my friends are queer, straight, everything in between. I want to make sure that that I'm honoring those folks that have taught me so much, and that I don't seem like I'm a safe haven for any kind of bigotry or race or racism or anything like that."
Earl will play several hometown shows including album release shows at White Water Tavern in Little Rock on March 10 and George's Majestic Lounge in Fayetteville.
"It's been incredibly ambitious and Kurt [DeLashmet] definitely rolled his eyes at me a couple of times, in total fairness, whenever I pursued these ideas," Earl says. "I wanted to do some markets. I feel so incredibly fortunate to be able to have more freedom in what I'm able to do around the state, and I've gained the trust of some people, who do some decently cool stuff. … with that I'm just trying to offer my space to as many people as I can."
For sale at his shows and at participating bars will be his beer, Tours Light, an Arkansas Light Lager by Lost Forty Brewing Co. There will also be a market featuring tintype photography, and art by Carl Carbonell with a stage decorated by Smutz Shop at both the Fayetteville and Little Rock shows.
Earl says that he used to sneak into Bonnie Montgomery's shows at White Water Tavern when he was still in his 20s. Now he's throwing a huge show there with Lee Bains III & the Glory Fires and Color Design with a market featuring Flake Baby Pastry and Recycle Bikes For Kids, which will be accepting bikes. Tickets to the show are $20.
Doors open at 7 p.m. at George's with the market and music by Yaint and Carl Carbonell in the front, then around 9 p.m. Jess Harp and Lee Bains III & the Glory Fires play backstage followed by Earl. Find tickets and more information at garholerecords.com or on social media.
After his Arkansas run, he'll be hanging with "Rupert," the star of his latest video, "White Painted Trees." The pooch who also appears in the videos for "Buddy" and the Western AF video for "I Saw the Arkansas" will join Earl on tour when he hits the west coast.
"I could sit down and tell you the story of Rupert is like miles and miles long," Earl says. "Rupert was rescued out of a shed by a friend of ours and kind of lived amongst all of our houses and instantly kind of became the mascot of all this."
He insists that Rupurt has no owners.
"He's just the most precious boy," Earl says of the stout black pup. "It's been it's just a really important part of his identity and his freedom that no one claims him as theirs."
Earl adds that the video for "White Painted Trees" is basically "The Rupert Show." The video was filmed in Helena and Marvill and the dirt roads in between. It was directed by Nick Futch.
"Here's some more Rupert for everybody in case you didn't have enough of that," he laughs. While Rupert lives the good life, Earl's biggest fan is still the woman who loves him the most.
"My mom's my biggest fan, I'd probably say. I think any parent worries when their kid takes an official route as a career choice," he says adding that it took a little while for his dad to come around, but he appreciates the support from both. His mother, he says, got him started on the country music of the 90s — playing Keith Whitley, Randy Travis, Willie Nelson and Merle Haggard on the way to school every morning.
Earl's vocals touch on the same warm and worn tones borne from his heroes, which flatters the 33-year-old singer and guitarist who confessed that he didn't always like to hear himself sing when we spoke in November of last year.
"Anytime I get compared to those I'm like blown away by it because I just don't think it's true," he said then. While he says he hasn't quite learned to love hearing himself, he is continuing to develop as a singer.
"I think I'm getting better at determining what I do that's good, and what I do that's bad and to take a very, very objective approach to it," he says. He's also still running which gives him time to listen to his friend's music and stay sane.
"It's nice to feel physically fit. Don't get me wrong, I love that aspect of [running]. I feel like I can have more stamina, but primarily, it's psychological for me. I feel such release and renewal afterward. Sometimes it's the only time I have for myself, and that's incredibly important, to have my alone time, just me pushing myself down a road somewhere."
FYI
Dylan Earl's "I Saw The Arkansas"
WHAT — Dylan Earl celebrates the release of his third record, "I Saw The Arkansas," on Fayetteville's own Gar Hole Records with two album release shows. The album will be available on March 11.
LITTLE ROCK — 8 p.m. March 10 at White Water Tavern, 2500 West 7th Street. Openers Lee Bains III & the Glory Fires and Color Design with market featuring Flake Baby Pastry, Smutz Shop, Recycle Bikes For Kids, Carl Cabonell and Marigold Tintype. Tickets are $20.
FAYETTEVILLE — 7 p.m. March 11 at George's Majestic Lounge, with Lee Bains III & The Glory Fires, Jess Harp, Yaint and Carl Carbonell with a market featuring Approximately Good with Amber Eggleton, Smutz Shop, James Williams, Carl Cabonell and Marigold Tintype. Tickets are $15.
INFO — garholerecords.com