Elsewhere in entertainment, events and the arts:
MUSIC: Concordia Choir
The Concordia Choir — with conductor Michael Culloton and pianist and organist Andrew Steinberg — from Concordia College in Moorhead, Minn., gives three Arkansas performances as part of its 16-day, 2023 tour of the central United States:
◼️ 7:30 p.m. Tuesday, First United Methodist Church, 201 NW Second St., Bentonville, in collaboration with the Bentonville High School Choir. Tickets are $25; visit eventbrite.com/e/the-concordia-choir-in-bentonville-ar-tickets-457043909637
◼️ 7:30 p.m. Wednesday, St. James United Methodist Church, 321 Pleasant Valley Drive, Little Rock. Tickets are $20; visit eventbrite.com/e/the-concordia-choir-in-little-rock-ar-tickets-457048744097
◼️ 7 p.m. Tuesday March 14, First United Methodist Church, 200 N. 15th St., Fort Smith. Tickets are $20. Visit eventbrite.com/e/the-concordia-choir-in-fort-smith-ar-tickets-457472020127.
The program includes "I Will Greatly Rejoice" by Knut Nystedt, "Psalm 2: Warum toben die Heiden" by Felix Mendelssohn and "Lobet den Herrn, alle Heiden," BWV 230, by J.S.Bach; "Ave Maria" by Javier Busto, "Ave Maris Stella" by Edvard Grieg and "Splendid Jewel" by Stephen Paulus; "Carissimi" by J. Aaron McDermid, "Tonight, Eternity Alone" by René Clausen, "My Song in the Night," arranged by Paul J. Christiansen, "Because You Sang" by Arianne Abela and "Praise to the Lord," arranged by F. Melius Christiansen; for a segment titled "Of angels and alleluias," "Alleluia" by Jake Runestad, "Who Shall Separate Us?" by James MacMillan (written for the funeral of Queen Elizabeth II), "Let All Mortal Flesh Keep Silence" by Sir Edward Bairstow and "Song of Cherubim" by Krzysztof Penderecki (sung in Church Slavonic); and one or more pieces to be chosen from a list that includes "The Battle of Jericho," arranged by Moses Hogan, "I Will Be a Child of Peace," arranged by Elaine Hagenberg, "By an' By," arranged by Carol Barnett, "Shout Glory" by Byron Smith, "Ogo Ni Fun Oluwa" ("Glory to God in the Highest") by Rosephanye Powell, "The Times They Are A-Changing" by Bob Dylan, arranged by Adam Podd, and "Beautiful Savior," arranged by F. Melius Christiansen.
'Voces Omnes'
The University of Arkansas at Little Rock will host the collaborative "Voces Omnes" concert featuring its choirs and choirs from Bryant, Parkview, Joe T. Robinson and Sylvan Hills high schools, 7:30 p.m Monday in the Stella Boyle Smith Concert Hall, Fine Arts Building, UALR, 2801 S. University Ave., Little Rock. The school choirs will perform Choral Performance Assessment programs in preparation for upcoming competitions. Lorissa Mason will conduct the UALR ensembles. The program includes works by Susan LaBarr, Williametta Spencer, Eric Whitacre, Rosephanye Powell, Shawn Kirchner, Anton Bruckner and Sergei Rachmaninoff. Admission is free. Call (501) 916-3291.
'New Canons'
The Symphony of Northwest Arkansas and Music Director Paul Haas offer a program titled "New Canons," 7:30 p.m. Saturday at Fayetteville's Walton Arts Center, 495 W. Dickson St. The program includes new works that will be on SoNA's upcoming album — Trevor New's "Cohere I," with virtual tie-ins to multiple international locations, and Haas' "In saecula saeculorum" — and the Symphony No. 3 in F major, op.90, by Johannes Brahms. Concert sponsors are Mike and Mary Russell. Tickets are $36 to $60 with discounts for students. Call (479) 443-5600 or visit sonamusic.org.
Quartet in concert
The Arkansas Symphony's Quapaw Quartet — Meredith Maddox Hicks and Charlotte Crosmer, violins; Timothy MacDuff, viola and Chava Appiah, cello — perform at 7:30 p.m. Tuesday in Riceland Hall in Arkansas State University Fowler Center, 201 Olympic Drive, Jonesboro, part of the university's 2022‑23 Lecture‑Concert Series. The concert was rescheduled after inclement weather in January forced a postponement. The program: "Five Folksongs in Counterpoint" by Arkansas-born composer Florence Price; "Attaboy," arranged by Crosmer; and the String Quartet in d minor, op.56, "Voces Intimae," by Jean Sibelius. Admission is free. Members of the quartet will also offer a masterclass for university music students at 4 p.m. in Riceland Hall. Call (870) 972-2094 or visit astate.edu/LectureConcert.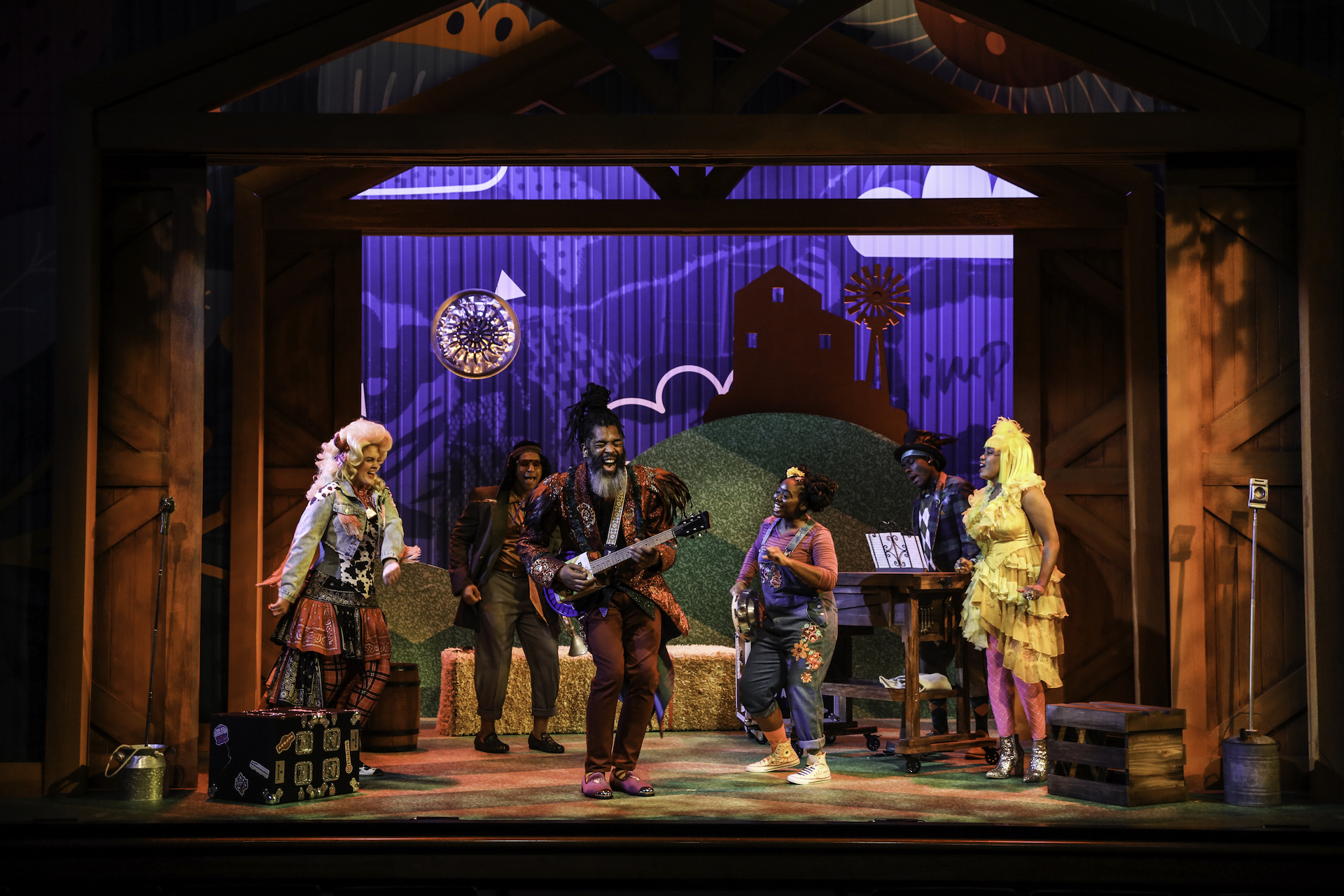 "Acoustic Rooster's Barnyard Boogie Starring Indigo Bloom" is onstage today at Fayetteville's Walton Arts Center. (Special to the Democrat-Gazette/Jati Lindsay) THEATER: 'Barnyard Boogie'
"Acoustic Rooster's Barnyard Boogie Starring Indigo Bloom," based on Kwame Alexander's children's books "Acoustic Rooster" and "Indigo Blume," is onstage at 4 p.m. today at Fayetteville's Walton Arts Center, 495 W. Dickson St. Alexander teamed up with writing partner Mary Rand Hess and musical collaborator Randy Preston for the world-premiere Kennedy Center commission. Indigo Bloom and "special guests" Dairy Parton, Duck Ellington and Chickee Minaj explore jazz, soul music, bossa nova, go-go, rock 'n' roll, rap, ballad, country and other musical genres, while she and other characters tell a story about being scared, being brave and believing in yourself. The show is part of the center's Kellogg's Kids Series. Tickets are $10. Call (479) 443-5600 or visit waltonartscenter.org.
ON THE PODIUM: Leveritt lecture
Investigative reporter Mara Leveritt, author of "Devil's Knot," "All Quiet at Mena" and "The Boys on the Tracks," will give the second-annual Terre Ware Book Author Lecture, 7 p.m. Tuesday in the Vada Sheid Community Development Center, Arkansas State University- Mountain Home, 1600 S. College St., Mountain Home. Admission is free. Call (870) 508-6109 or email [email protected].