Director/choreographer Stephanie Klemons is taking a different approach to "Little Shop of Horrors."
In some respects, she says, the musical — the inaugural collaboration between composer Alan Menken and lyricist and playwright Howard Ashman, based on the 1960 Roger Corman cult film — is a classic, and she's treating it as such.
"I generally believe you do the classics justice by doing them," she says. This show, in particular, is scripted in such a fashion, and restricted by its licensure, to be performed in a particular way.
It focuses on two simultaneous love stories — between nebbishy florist's assistant Seymour Krelborn and Audrey, his fellow employee at Mushnik's Skid Row Florist, and between Seymour and the strange, unusual and, as it turns out, nastily carnivorous plant he discovers (and names "Audrey II") at an Asian market during a total eclipse of the sun.
Usually, Audrey II represents a collaboration between a team of puppeteers who make the plant move and an actor who provides the voice.
However, "Five years ago Will Trice [the Rep's artistic and executive director] came to me and said, 'How would you feel about Audrey II being played by a person? What if you see the strings?'
"Now it's a very different world," she adds. In the intervening five years, she has the opportunity of "exploring something even more exciting."
"We've shifted the puppet a few degrees," she explains. Audrey II is "still the puppet, but we sort of use the idea of the Wizard in 'The Wizard of Oz,' showing the audience what's behind the curtain a little bit more."
"I manipulate the plant as well as the voice," says David LaMarr, who plays Audrey II. "I am the main attraction."
Audrey II is taller than usual in this production, LaMarr explains. "I get to wear heels."
And LaMarr says they're taking a different approach with the voice, which is in a somewhat higher range than you will hear in most productions, where the voice actor matches, or at least tries to match, Four Tops basso profundo Levi Stubbs, who voiced the plant in the 1986 film version.
"The voice is very much my own interpretation, with the help of Stephanie's direction and vision," LaMarr says, noting that during their callback audition, "we were playing in the audition room and came up with something different. I just happened to fit the bill."
Rather than commanding, Audrey II is "more flirtatious and attractive, luring Seymour in to doing things."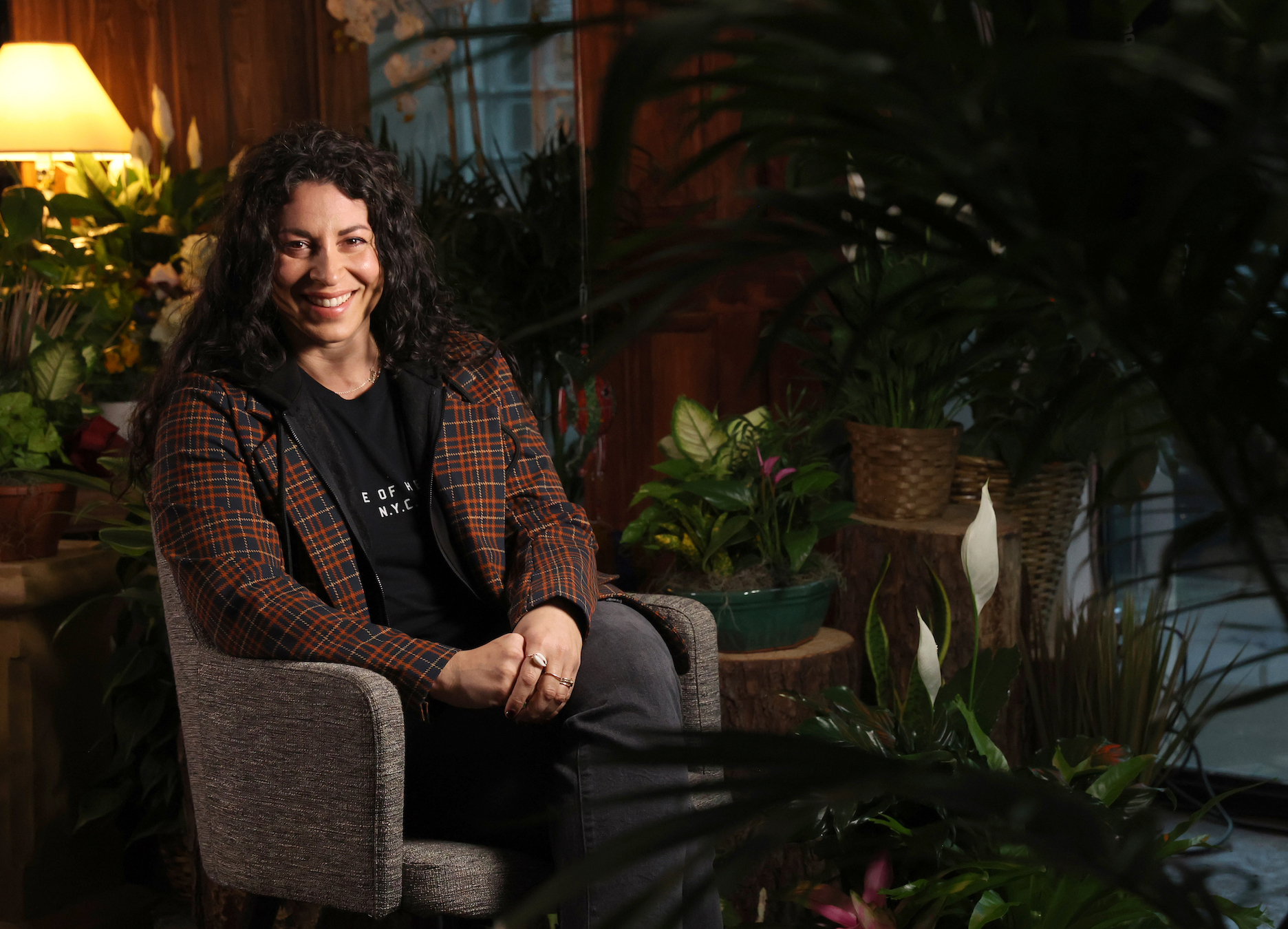 Stephanie Klemons directs and choreographs the Reps production of "Little Shop of Horrors." (Special to the Democrat-Gazette/Stephen B. Thornton) "Terrible things," adds Greg Laucella, who plays Seymour. "This elevates above what's in the text already."
"Little Shop," he notes, was one of the first shows he ever saw on Broadway.
"This is a full-circle moment. I was about to head into my freshman year of high school; I took the train from Connecticut. And it was my first trip to New York without my parents."
This production, he says, "is kind of taking convention and making it unconventional." It shakes up the stereotypical Seymour and "creates a beautiful way of telling this story."
"We approach Seymour not as a caricature, but rooting him in reality — not avoiding archetypes, but diving deeper, rooted in realism. Everything he does in the show is battle and navigation of love."
Klemons, as a director, "allows us to do things on our own," he says. "The best idea wins. She allows you to play and to question. She's the Mama Bear who guides us."
"We are all a little Seymour," says Tara Tagliaferro, who plays Audrey "I," who has her own issues with love — particularly her relationship with narcissistic and abusive dentist Orin Scrivello.
"I'm just trying to live in the moment with this girl," she says. "I love her deeply; she makes me cry. She has kind of accepted" her situation; "she's not self-medicating yet, but all she wants is to be loved."
She, too, had a revelatory experience working with Klemons. "The callback felt like the first day of rehearsal," she explains. "We spent 45 minutes just playing."
Klemons has four Broadway musicals under her belt, including all three of "Hamilton" composer-lyricist Lin Manuel Miranda's Broadway works. She served as associate choreographer of Miranda's "Hamilton" and "Bring It On: The Musical" and performed in "In the Heights," Miranda's first show to win a Tony Award for best musical. She also performed on Broadway in "IF/Then," which starred Idina Menzel (of "Wicked," "Frozen" and "Rent" fame).
"I came from a performing background, onstage with everybody else," she notes. "My background is 50% performing, so I can see both sides of the table."
Her approach to directing: "As in any production, sometimes directors draw up bad ideas, like everybody else, but I believe in 'give me the best idea in the room,' and go with that," she explains.
Serving as director and choreographer on a musical lets her "interweave all the decisions, especially for a show like this. Nobody really dances but the Urchins" — three young women who serve as kind of a Greek chorus, commenting on the action and helping move the musical along. Oh, she admits, and there is that tango between Mushnik and Seymour for the song "Mushnik & Son."
The cast also includes Joey Calveri as Orin, Buzz Roddy as Mushnik and, as the Urchins, Alexis Richelle as Chiffon, Brianna East as Ronnette and Claire Fossey as Crystal.
Klemons praises the Repertory Theatre's staff and the way they've worked with the designers she's bringing with her.
"The Rep's in-house folks have been really great; they've helped build a really cool animated set. I've been getting way more 'yesses' than I'm used to getting."
'Little Shop of Horrors
What: Music by Alan Menken, book and lyrics by Howard Ashman, based on the 1960 Roger Corman film, screenplay by Charles Griffith
When and where: 7 p.m. Tuesday-Thursday, 8 p.m. Friday, 2 and 8 p.m. Saturday, 2 p.m. Sunday through April 30, Arkansas Repertory Theatre, 601 Main St., Little Rock. Todays show is a preview. Rated PG-13 for adult situations and violence. The production is dedicated to the memory of William "Byl" M. Harriell, "beloved community member" and founder of Little Rock production company Bylites.
Sponsors: Wright Lindsey Jennings, Cranford Co. and Oaklawn Racing Casino Resort
Tickets: $25-$65; $25 rush tickets available one hour before curtain
Information: (501) 378-0405; TheRep.org
CORRECTION: David LaMarr, who plays Audrey II, spoke about their part in the production. An earlier version of this article misidentified them by not using their preferred pronoun.