Sherry Hester calls it a "a very hold-your-breath moment for our theater." It was September 2021, and Fort Smith Little Theatre was about to open its doors for the first time in over a year. There were no guarantees the community theater company, founded in 1947, would survive when covid-19 shuttered its stage and no guarantees the audience would be loyally waiting when the lights came back up.
But FSLT is announcing its 75th season this month, and Hester says "surviving the lockdown was the result of some smart people who set the theater up with a great business plan."
"Our building is paid for, and we were able to pay the utilities, thanks to their planning. Show sponsors carried through with their planned donations, local businesses helped reduce our overhead and operating costs and more than 90% of our season pass patrons agreed to donate back to us the value of their unused tickets. Together, they made it possible for our nonprofit to remain shuttered those many months.
"But it was hard. The first decision to cancel a show was devastating, and it didn't get any easier."
As far as they know, "FSLT is the oldest community theater in Arkansas, and we are so proud to have hit this major milestone," adds Eric Wells, the troupe's production chairman. "We have loads of 75th anniversary activities going on during the year, but at the core of our celebration is [a] wonderful season of shows."
Hester says she is particularly excited about the season because she's personally only familiar with one show, "Annie." She calls her own initiation into the theater community "crazy" because she was tapped to stage manage the very first show she tried out for.
"I went to audition for 'Web of Murder,'" she remembers. "Filled out the audition form, indicating that I wanted to work backstage if I didn't get cast. And I didn't get cast, but I got a call asking if I would be backup for the stage manager. She'd broken her leg, and needed someone to do running for her. I was thrilled. So I showed up for rehearsal, and found out the stage manager had to back out, and could I do it? I've been there ever since. I enjoy doing for others. So being part of a team that brings such joy to the community is absolutely worth my time."
The all-volunteer community theater was founded when the Young Ladies Guild of Sparks Memorial Hospital sponsored an amateur production of the play "Mr. and Mrs. North" as a fundraiser. Itinerant at first, the company would eventually move into a renovated grocery store in 1952 and then, more than 30 years later, into its current space at 401 N. Sixth St. Support from the community has remained strong throughout the theater's history, and, today, the company boasts more than 900 season patrons every year.
"We exist because of our volunteers," Hester says. "Onstage, backstage, ushering, hospitality, box office, sets, props, costumes, lights, sound, advertising. We welcome volunteers for all of it. And come watch our shows! Every performance needs an audience, and we want you to enjoy the show."
Supporters, patrons and volunteers are encouraged to submit their memories about the theater online at fslt.org for use in a virtual scrapbook compiled for the anniversary celebration, and three kinds of season ticket packages -- a flex pass, a Wednesday night same-seat subscription and an opening night same-seat subscription complete with champagne and dessert at intermission -- are available ranging in price from $70 to $100 per person.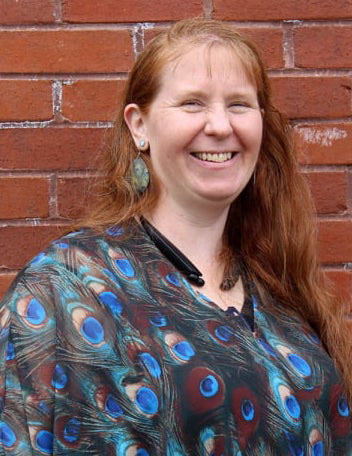 Sherry Hester

FYI
Fort Smith Little Theatre
75th Season
"Smoke on the Mountain" — Directed by Brandon Bolin with musical direction by George Mann, this encore favorite was first produced at FSLT in 1998. With hand-clapping music and knee-slapping comedy, this musical tells the story of a gospel sing at the Mount Pleasant Baptist Church in 1938 featuring a family of traveling performers. Feb. 1-13 & 16-20.
"A Southern Exposure" — Directed by Lora Rice, this heartwarming story features Callie, a young woman who must negotiate a move to New York with her boyfriend while dealing with her Kentucky grandmother and two eccentric aunts. A play filled with humor and love, this show has been rescheduled from its original 2020 date canceled due to the pandemic. March 31-April 3 & April 6-9.
"Moon Over Buffalo" — Written by Ken Ludwig, directed by Duff Taylor and previously staged in 1999 at FSLT, this wild comedy concerns married actors Charlotte and George Hay, who are fading stars of the 1950s stage. On the brink of a disastrous breakup, they learn they have one final shot at stardom with legendary director Frank Capra coming to watch their performance. June 9-12 & 15-18.
"Annie" — New to FSLT, the classic musical will be directed by Eric Wells with musical direction by Barry Law. July 28-Aug. 7 and Aug. 11-13.
"The Philadelphia Story" — A classic screwball comedy directed by Tina Dale, this comedy favorite was staged previously by FSLT in 1957 and in 1981. The show is the story of socialite Tracy whose upcoming wedding is upstaged by the arrival of her ex-husband, a handsome journalist, a wise-cracking photographer, and her estranged father. Sept. 22-25 & Sept. 28-Oct. 1.
"Coffee Shop" — Written and directed by Jamie Lambdin-Bolin, this world premiere production is both hilarious and heartwarming. When a coffee shop owner asks her business savvy sister to help her increase business, sparks fly. Nov. 10-13 & 16-19.
In addition to the regular season, two off-season productions will also be included in 2022: "The Whole Shebang" by Rich Orlof, April 21-23, and "An Old Time Radio Christmas II," Dec. 8-10. Tickets for off-season productions are $7 at the door.
INFO — 783-2966 (ext. 5) or fslt.org