Piney Fire Chief Scott Miser came to the aid of Cheeto, a young cat that was trapped inside a mobile home that was heavily damaged by fire Monday morning on Nickens Street.
Piney got the call of the fire at 110 Nickens St., in the area of Thornton Ferry Road, at 11:17 a.m. and responded with 10 firefighters, with 70 West Fire Department providing two firefighters for mutual aid, Miser told The Sentinel-Record.
When firefighters arrived, the fire had spread from a connecting shed to about 25% of the main residence, a double-wide mobile home, but Miser noted, "We had it under control in about 15 minutes. It was a pretty easy one to put out."
Video not playing? Click here: http://nwaonline.com/1019fire/
He said it took another two hours to complete the salvage and overhaul and noted the fire spread to the attic and compromised the roof of the structure so "it's probably a total loss."
Miser said it was unknown what started the fire, which appeared to have originated in or around the shed. He said the homeowner was not home when the fire started and told him she had left about an hour earlier.
Miser was able to rescue Cheeto, the homeowner's cat, who was trapped inside the residence. He said the cat was still conscious when he found him but "probably wouldn't have been for much longer."
He noted the cat was "surprisingly calm" considering how smoky it was in the room where he located him. "He let me get hold of him. He wanted out of there and it's like he knew that's what I was there for," he said.
Once outside the cat "perked up pretty quick" and was OK, he said, noting they have an oxygen mask designed for pets but didn't have to use it. No injuries were reported in the incident.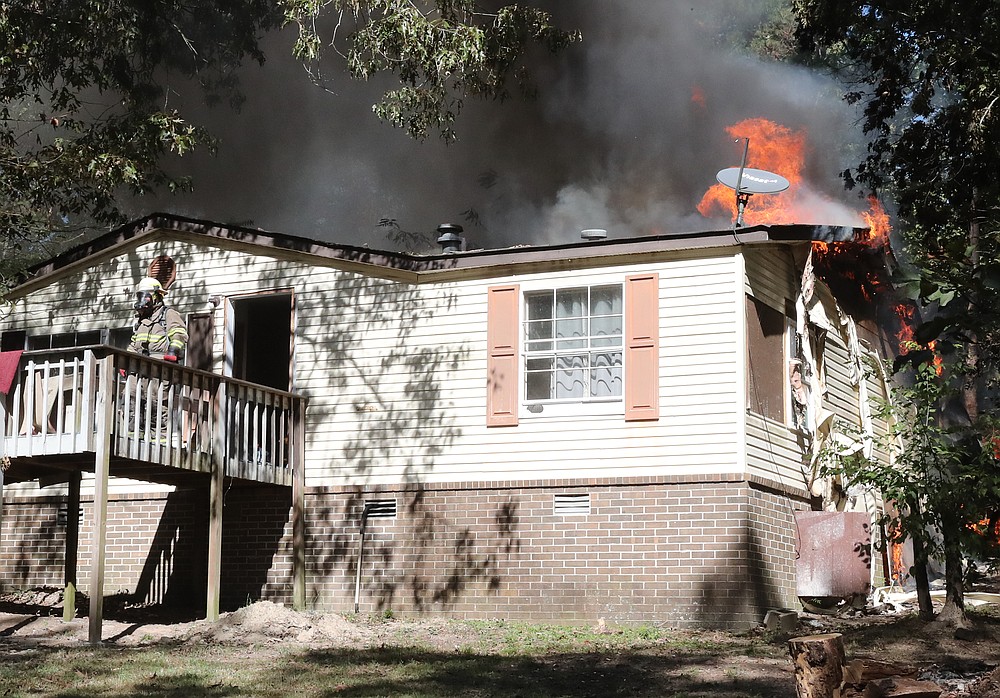 Flames curl around the roof of a mobile home at 110 Nickens St. on Monday. The structure was heavily damaged in the fire. - Photo by Richard Rasmussen of The Sentinel-Record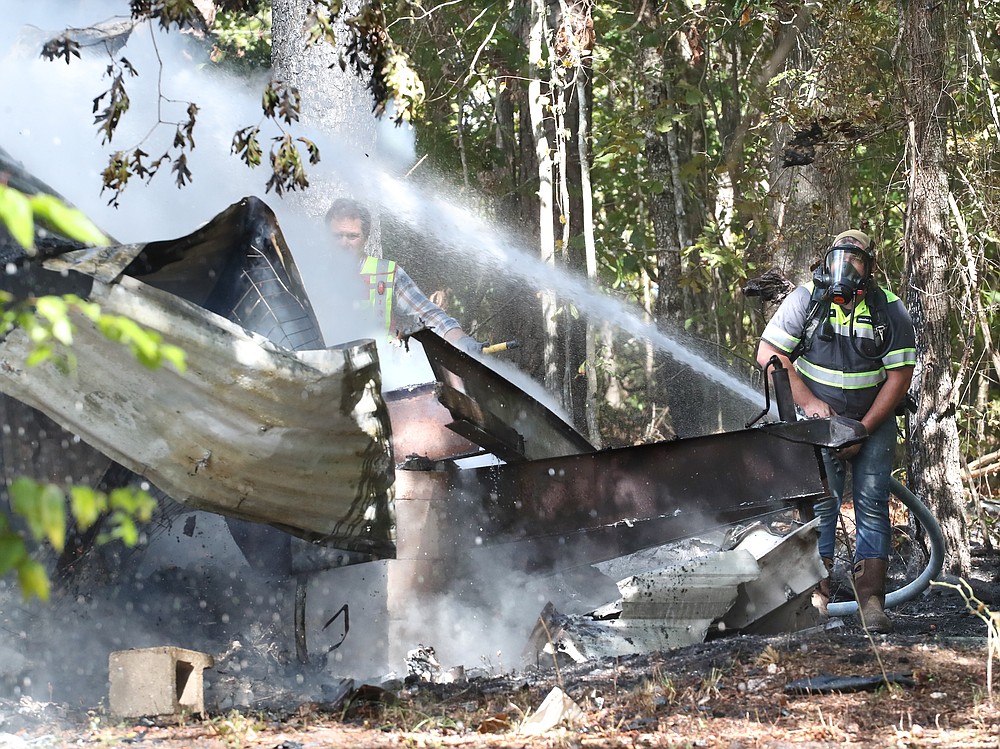 Piney Fire Department firefighters work to extinguish a fire Monday at 110 Nickens St. - Photo by Richard Rasmussen of The Sentinel-Record