Republicans
The Republican Party of Benton County will meet at 6:30 p.m. May 27 at the New Hope Assembly of God, 2626 W. New Hope Road in Rogers. This is the monthly meeting of the County Committee which occurs every fourth Tuesday, except December. This month's program is a legislative report for the 93rd General Assembly.
Information: (479) 685-8747 or email [email protected]
Rotary
The Rotary Club of Fayetteville will meet at noon May 27 via Zoom. The program will be given by Christine Smart and the Rotaracters. Email the club for a link to the meeting.
Information: Email [email protected]
BPL Friends
The Friends of the Bentonville Public Library will hold a "Searching for Treasure" book sale from 10 a.m. to 4 p.m. June 5 on the library veranda. All genres in fiction and non-fiction plus dvds, cds, etc. will featured. All funds raised are in support of library programs and activities.
Information: Email [email protected]
Andante
Andante Music Club of Bella Vista has elected officers for the coming year. They are Betty L. Pierce, president; Martha Sheets, vice president; Carolyn Walker, treasurer; and Jo Evans, secretary.
Garth Smith will present a classical piano concert at 6:30 p.m. June 8 at the Mildred B. Cooper Memorial Chapel. Andante's programs are always free and open to the public.
Information:m Please visit the website at andantemusicclub.org for more information or contact Betty Pierce at (479) 621-3414 or email at [email protected]
Writers and Poets
Village Lake Writers and Poets will meet June 9 under the pavilion at Tanyard Creek in Bella Vista. There will be two sessions, one from 11 a.m. to 1 p.m. and a second from 1 to 2 p.m. The pavilion has been reserved for the entire day, so you may spend the day writing in a relaxing outdoor setting or take a walk for a little inspiration. Bring your chair, quilt or lounger for a more comfortable stay.
Donna May Hanson has agreed to be a co-director for the writers group, which meets monthly on the second Wednesday of the month.
Information: Email [email protected] or call (608) 642-1294.
Woodcarvers
The Bella Vista Woodcarvers Club is a group of local artisans that meets regularly to share art, exchange experiences in woodworking and stay connected to members. Due to covid, the temporary meeting place is at the Bella Vista Assembly of God church gymnasium, located at 1771 Forest Hills Blvd., at 1 p.m. every Thursday.
On the third Thursday of each month, there is a class on some aspect of carving, wood-burning, finishing or another interesting topic. Classes are a great way to practice techniques, learn new ways to achieve your goal, and discover your own unique style.
Visitors are always welcome. At this time, masks are still required.
Information: Jean Visnich, president, at (479) 426-8409 or email [email protected]
Perfect Harmony
Perfect Harmony Women's Barbershop Chorus meets from 3:30 to 5 p.m. every Monday in the Fellowship Hall of Highland Christian Church, 1500 Forest Hills Blvd. in Bella Vista (enter at the north door).
To attend, you must have had at least the first dose of the covid vaccination. Social distancing and mask-wearing are required. No previous experience or tryouts are required to join. Women of all ages and voice ranges are invited to experience barbershop singing.
Information: Karen Frankenfeld, director, at (479) 876-7204 or visit the website at www.perfectharmonybv.com.
Women's Chorus
NWA Women's Chorus (previously the Bella Vista Women's Chorus) is rehearsing again. If you love to sing, women from Benton, Washington and McDonald counties are invited to join. All are welcome, with no tryouts or experience needed. Performances include classical, pop, folk and show tunes for local clubs, schools, care centers and veteran centers.
Rehearsals are at 12:45 p.m. every Monday at Bella Vista's St. Bernard Church Hall, with plenty of room to spread out and follow Arkansas State covid-19 guidelines.
Information: Elaine at (918) 857-1675 or visit www.NWArkansasWomensChorus.com.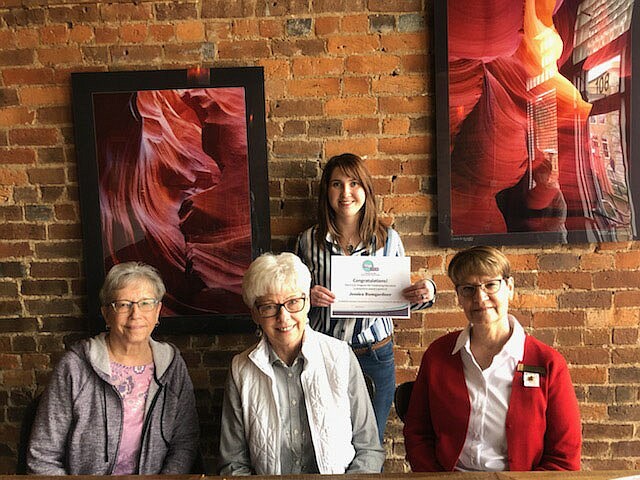 Jessica Bumgardner from Bella Vista recently was awarded a Project For Continuing Education grant from Chapter BL, P.E.O., Bella Vista. P.E.O. is a Philanthropic Educational Organization that provides educational scholarships, grants, and loans to women. Pictured from left Vickie Griffith, Chapter BL President; Julie Amos, Chapter BL Vice President, Jessica; Jane Gordon, Chapter BL PCE Chairman.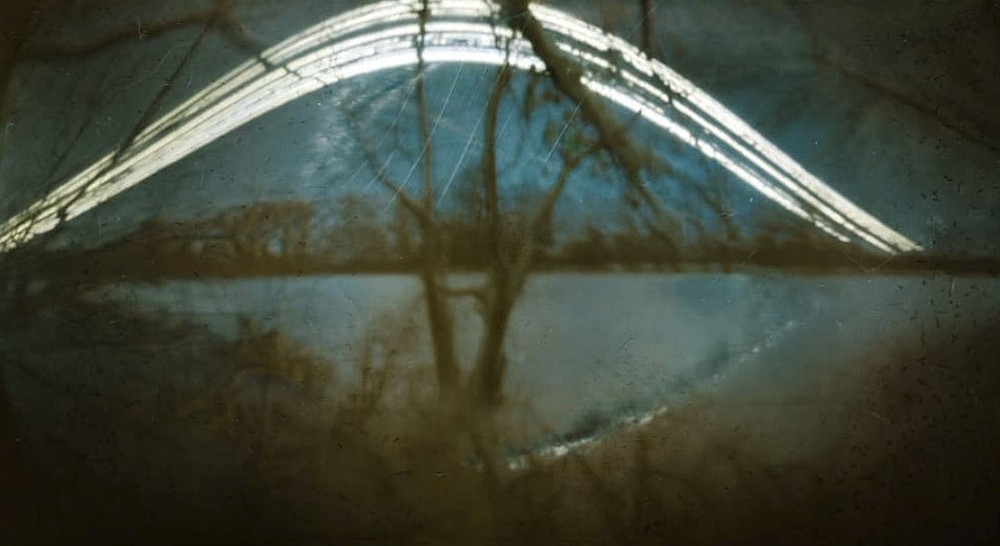 The Photographic Society of Northwest Arkansas' Distinguished Photographer series presents Doug Hanson, a Chicago-based artist using obscure and historical methods of photography. In this photo, Solography, the image is made from an exposure of six weeks in a tin can. The community discussion and online event will be at 7 p.m. June 1. For a link to the event email [email protected]