Merkel speaks to young on climate angst
BERLIN -- German Chancellor Angela Merkel says she understands young people's frustration about the pace of efforts to combat climate change but is stressing the need to build political majorities to support effective action.
Merkel's Cabinet on Wednesday approved an ambitious plan to reduce Germany's greenhouse-gas emissions to "net zero" by 2045, five years earlier. The move was made after the country's top court, acting on complaints filed by individuals and backed by environmental groups, ruled in late April that the government must set clear goals for reducing emissions after 2030.
"I understand -- and of course it saddens me a bit -- that young people say, 'man, did we have to go to court before they in the government give us what we are entitled to?'" Merkel said in a recorded online panel discussion at an event Saturday.
Germany holds a national election on Sept. 26 in which all major contenders are portraying combating climate change as a priority. Merkel is not seeking a fifth term after nearly 16 years in office.
The chancellor said she would like "those who do something for climate protection, for sustainability and for biodiversity" to win, "but we have a lot of work to do -- that is not a foregone conclusion."
Vote delayed again in war-hit Ethiopia
NAIROBI, Kenya -- Ethiopia has again delayed its national election after some opposition parties said they wouldn't take part and as conflict in the country's Tigray region means no vote is being held there, further complicating Prime Minister Abiy Ahmed's efforts to centralize power.
The head of the national elections board, Birtukan Mideksa, in a meeting with political parties' representatives on Saturday said the June 5 vote in Africa's second-most populous country would be postponed, citing the need to finish printing ballots, training workers and compiling voter information. The board estimated a delay of two to three weeks.
Ethiopia last year delayed the vote, citing the coronavirus pandemic. That heightened tensions with the Tigray region's leaders, who declared that the prime minister's mandate had ended and defiantly held a regional vote of their own that Ethiopia called illegal.
Since then, war in Tigray has killed thousands and led the United States to allege that "ethnic cleansing" against Tigrayans was being carried out in the western part of Tigray.
Secretary of State Antony Blinken said Saturday that the U.S. is "gravely concerned by the increasing number of confirmed cases of military forces blocking humanitarian access" to parts of Tigray, calling it "unacceptable behavior."
Abiy, who introduced sweeping political reforms after taking office in 2018 and won the Nobel Peace Prize the next year, has vowed that this election would be free and fair. Abiy will keep his post if his Prosperity Party wins a majority of seats in the national assembly.
Ruling forces Zimbabwe top judge to exit
HARARE, Zimbabwe -- Zimbabwe's High Court on Saturday forced the country's chief justice to retire, ruling that an extension of his term by the president is illegal.
The ruling is a major setback for President Emmerson Mnangagwa, whose party pushed through constitutional amendments that critics said concentrated power in the hands of the president.
Mnangagwa had used his new powers to extend Chief Justice Luke Malaba's tenure by five years on May 11, three days before the justice's scheduled retirement. Judges in Zimbabwe retire at 70, but the recent constitutional amendment gives the president the power to extend the terms of Supreme Court and Constitutional Court judges by five years.
The Young Lawyers Association of Zimbabwe and others sued, arguing that the constitution also stated that only judges appointed after the amendment can benefit from it. A panel of three High Court judges on Saturday agreed and said Malaba had "ceased being a judge and chief justice."
Critics viewed the term extension as a tactic aimed at ensuring that Malaba stayed in the judiciary's top office ahead of Zimbabwe's next presidential and parliamentary elections, which are scheduled for 2023.
Italy's Berlusconi sent home to recover
MILAN -- Former Italian Premier Silvio Berlusconi was released Saturday from Milan's San Raffaele Hospital, where he was treated for complications related to his earlier bout with covid-19.
Berlusconi, 84, recovered from the disease in September but has been in and out of the hospital in recent weeks. He was most recently admitted last Monday. In April, he spent 24 days in the hospital.
The three-time former premier and media mogul will rest at his home in Arcole, near Milan, undergoing rehabilitation and treatments ordered by his doctors, Antonio Tajani, a senior member of Berlusconi's Forza Italia party, said on Facebook.
Besides being in a vulnerable age group, Berlusconi has a heart condition that prompted him to get a pacemaker several years ago.
-- Compiled by Democrat-Gazette staff from wire reports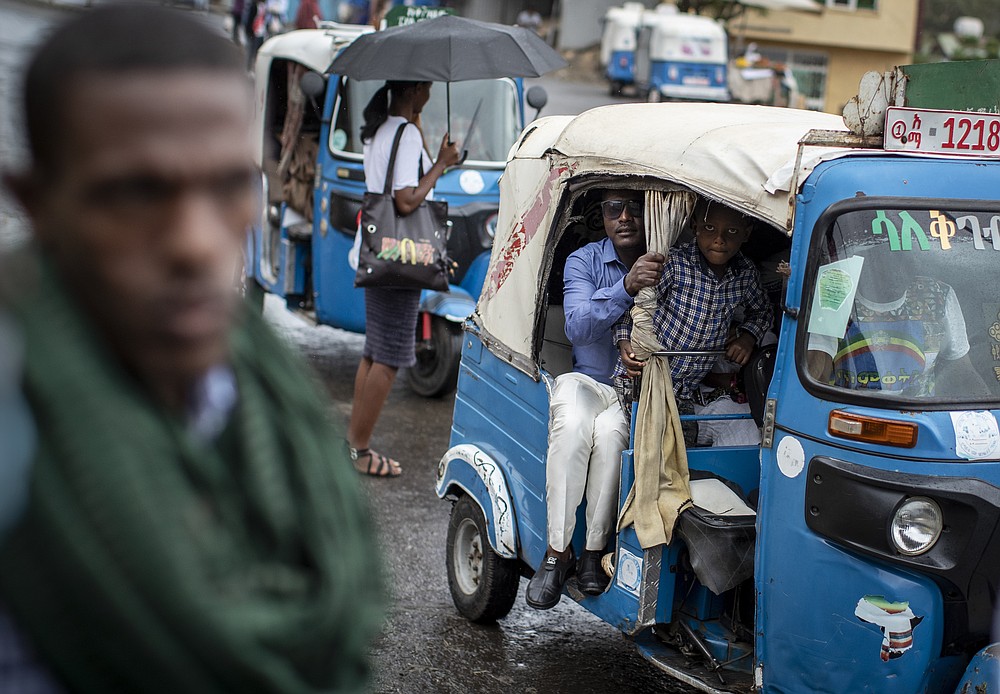 Passengers look out from an auto-rickshaw, known locally as a "bajaj", in Gondar, in the Amhara region of Ethiopia Sunday, May 2, 2021. Ethiopia faces a growing crisis of ethnic nationalism that some fear could tear Africa's second most populous country apart, six months after the government launched a military operation in the Tigray region to capture its fugitive leaders. (AP Photo/Ben Curtis)