ST. PETERSBURG, Fla. -- Joey Wendle hit three doubles and a single, keying two big innings that sent the Tampa Bay Rays past the New York Mets 12-5 Saturday.
Yandy Diaz, who had two of Tampa Bay's eight doubles, and Randy Arozarena each had three hits.
Francisco Lindor, Pete Alonso and Jose Peraza each homered for the Mets, who have lost two in a row at Tropicana Field after a seven-game winning streak.
Wendle had an infield single that set up a run in the first and doubled to spark a five-run fourth that made it 6-4. He hit a two-run double in a six-run eighth that broke open the game.
The Rays collected 15 hits after coming into the game with a .219 batting average.
"The law of averages," explained Wendle, who has been slumping with the rest of the Rays. "We've talked about it being a long season, and these things happen ... things will turn around at some point. We're not going to hit .100 all season. I think it was something that was bound to happen eventually."
Rays starter Shane McClanahan (1-0) got his first major league win. The 24-year-old lefty, who last October became the first pitcher in major league history to debut in the postseason, gave up 4 runs on 6 hits while striking out 7 in 5 1/3 innings.
Peraza's three-run home run, his first of the season, put the Mets up 3-1 in the second. Alonso made it 4-1 in the third with his sixth home run of the season and first in 16 games.
Willy Adames hit a two-run double in the fourth off Joey Lucchesi (1-3). Pinch-hitter Austin Meadows drove in the final run of the inning with a double off Sean Reid-Foley.
Lucchesi (1-3) gave up four runs in 1 2/3 innings following Drew Smith, who worked two innings in his first major league start. Smith gave up one unearned run on two hits while striking out three.
"I've just got to keep trusting myself," Lucchesi said. "I know I'm really good, but I'm not showing it right now. I know there are haters out there, but whatever, I'm just going to man up and do the best I can the next time out."
Lucchesi has a 9.19 ERA after six appearances.
"He didn't throw his curves enough for strikes," Mets Manager Luis Rojas said. "He's had a few outings where he's been good and a few where he's been exposed because of his two-pitch repertoire. If one of his pitches isn't working he can get exposed. That's what happened in that big inning."
TIGERS 9, CUBS 8 (10) Harold Castro hit an RBI single in the bottom of the 10th inning off Craig Kimbrel to give Detroit victory over Chicago. Nomar Mazara tied it with an RBI single that scored the automatic runner, and JaCoby Jones ran for Mazara and stole second. Then Castro -- hitless in five previous at-bats Saturday with three strikeouts -- slapped a two-out single to left.
AMERICAN LEAGUE
RED SOX 9, ANGELS 0 Alex Verdugo hit a home run in his first at-bat on his 25th birthday, Xander Bogaerts also went deep with a game-breaking, three-run shot and Boston beat Los Angeles. Rafael Devers added a home run, Bobby Dalbec hit a two-run double and Franchy Cordero drove in two runs with two doubles for the Red Sox, who won their third in a row and matched their season high by climbing nine games over .500.
TWINS 5, ATHLETICS 4 Miguel Sano snapped a 19-game homerless drought with a three-run home run in the eighth inning and Minnesota defeated Oakland.
YANKEES 8, ORIOLES 2 Aaron Judge homered for the third time in two games, Domingo German had another stellar outing at Camden Yards and New York beat Baltimore. After hitting two home runs Friday, Judge provided New York a 5-0 lead with a two-run shot in the second. Six of Judge's 11 home runs this season have come against Baltimore. German allowed 1 run and 4 hits with 6 strikeouts and 2 walks over 6 innings. He has won all four of his career starts in Baltimore.
NATIONAL LEAGUE
BRAVES 5, BREWERS 1 Ian Anderson took a no-hit try into the seventh inning, Freddie Freeman hit a two-run home run and Atlanta beat Milwaukee. Anderson walked four and struck out four.
PIRATES 8, GIANTS 6 Jacob Stallings slugged a two-run home run in the bottom of the ninth to lift Pittsburgh over San Francisco. Stallings, who finished 3 for 5, also drove in two runs in the seventh with a double as the Pirates overcame a 6-2 deficit at six innings. Darin Ruf, Mike Tauchman and Brandon Crawford hit home runs for San Francisco.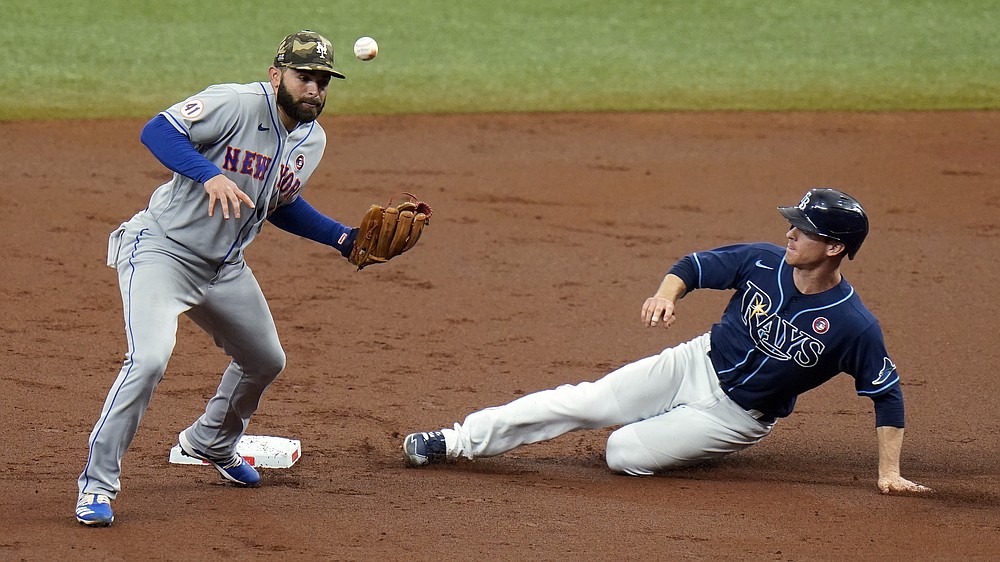 Tampa Bay Rays' Joey Wendle, right, steals second base as the ball gets away from New York Mets second baseman Jose Peraza during the first inning of a baseball game Saturday, May 15, 2021, in St. Petersburg, Fla. (AP Photo/Chris O'Meara)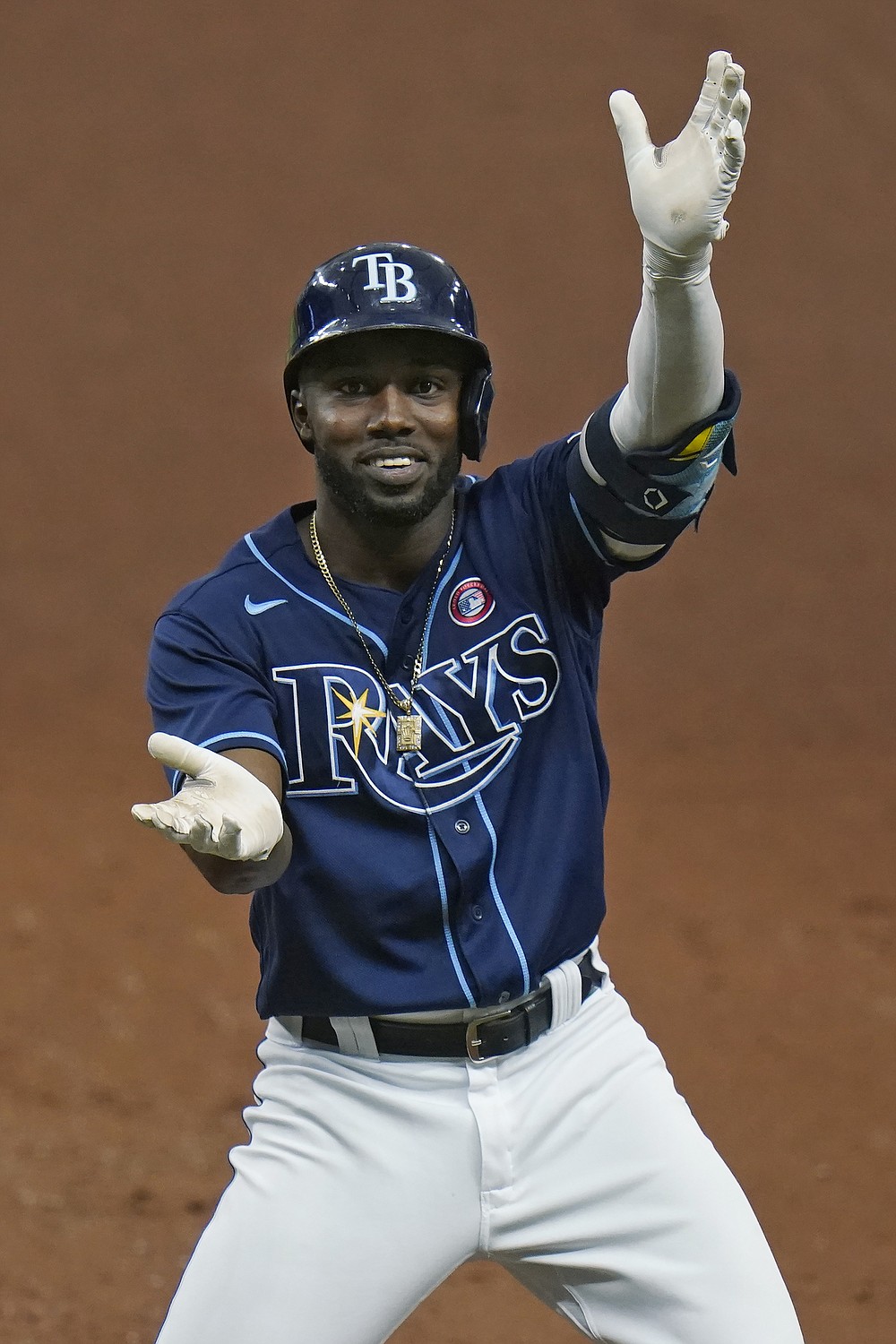 Tampa Bay Rays' Randy Arozarena celebrates after his RBI single off New York Mets relief pitcher Sean Reid-Foley scored Austin Meadows during the fourth inning of a baseball game Saturday, May 15, 2021, in St. Petersburg, Fla. (AP Photo/Chris O'Meara)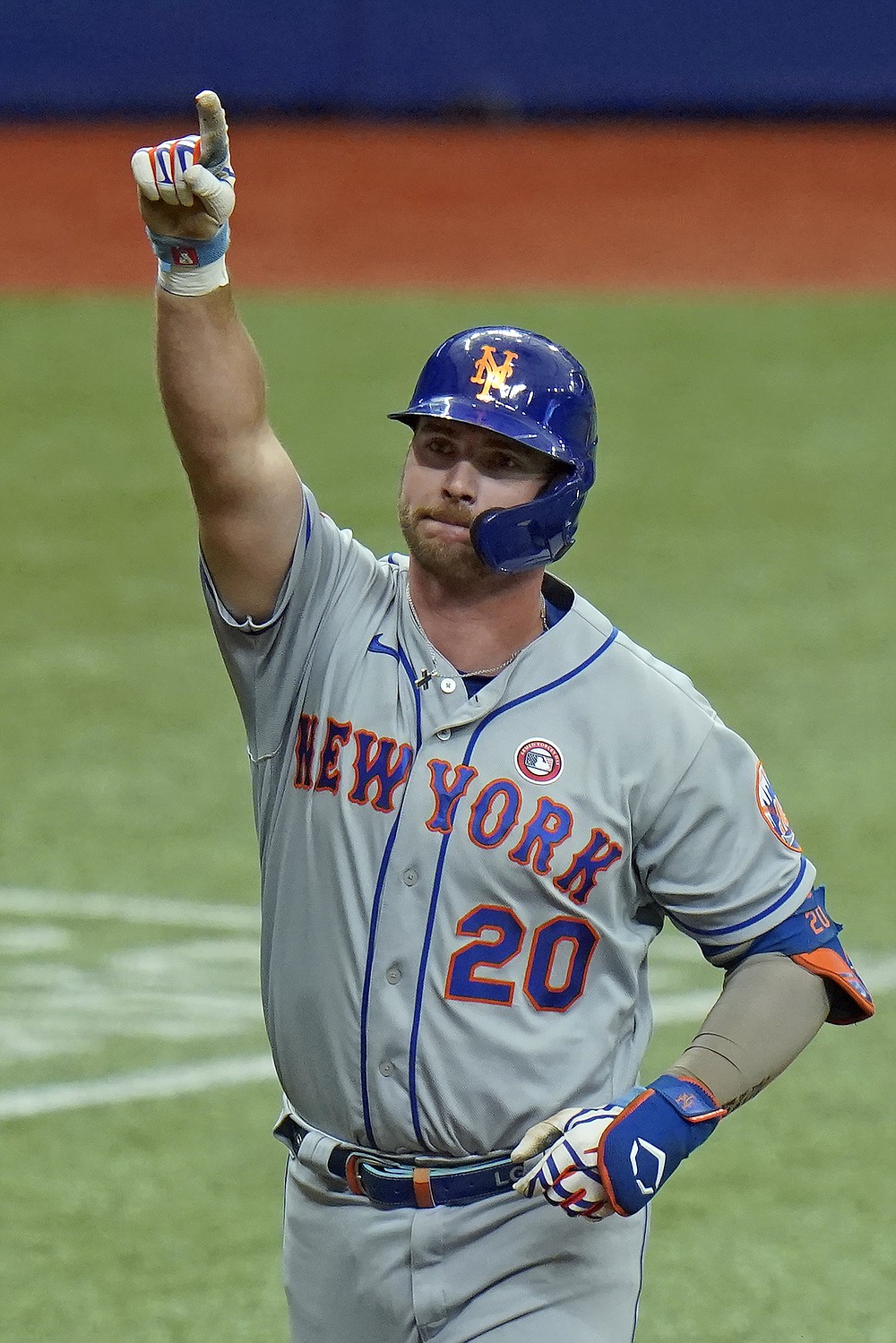 New York Mets' Pete Alonso reacts after his solo home run off Tampa Bay Rays starting pitcher Shane McClanahan during the third inning of a baseball game Saturday, May 15, 2021, in St. Petersburg, Fla. (AP Photo/Chris O'Meara)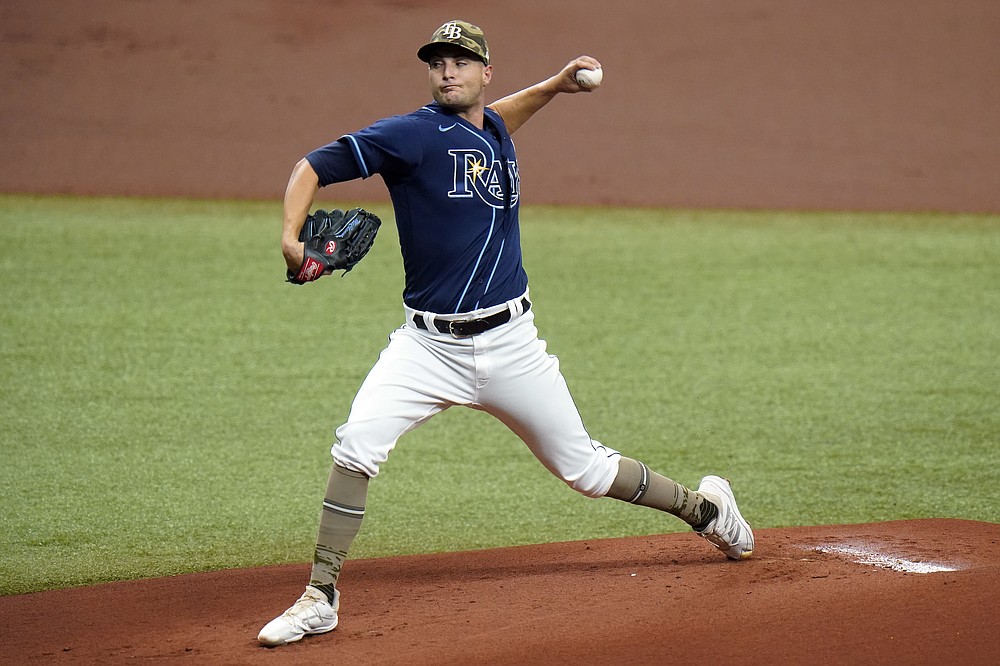 Tampa Bay Rays' Shane McClanahan pitches to the New York Mets during the first inning of a baseball game Saturday, May 15, 2021, in St. Petersburg, Fla. (AP Photo/Chris O'Meara)
New York Mets center fielder Kevin Pillar can't make the catch on a single by Tampa Bay Rays' Austin Meadows during the eighth inning of a baseball game Saturday, May 15, 2021, in St. Petersburg, Fla. (AP Photo/Chris O'Meara)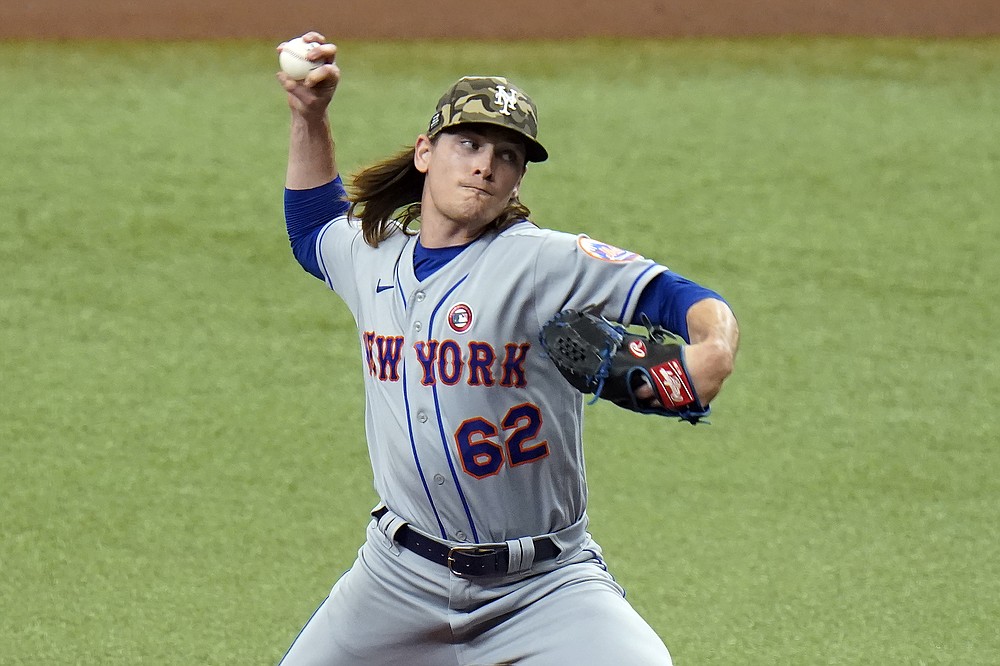 New York Mets' Drew Smith pitches to the Tampa Bay Rays during the first inning of a baseball game Saturday, May 15, 2021, in St. Petersburg, Fla. (AP Photo/Chris O'Meara)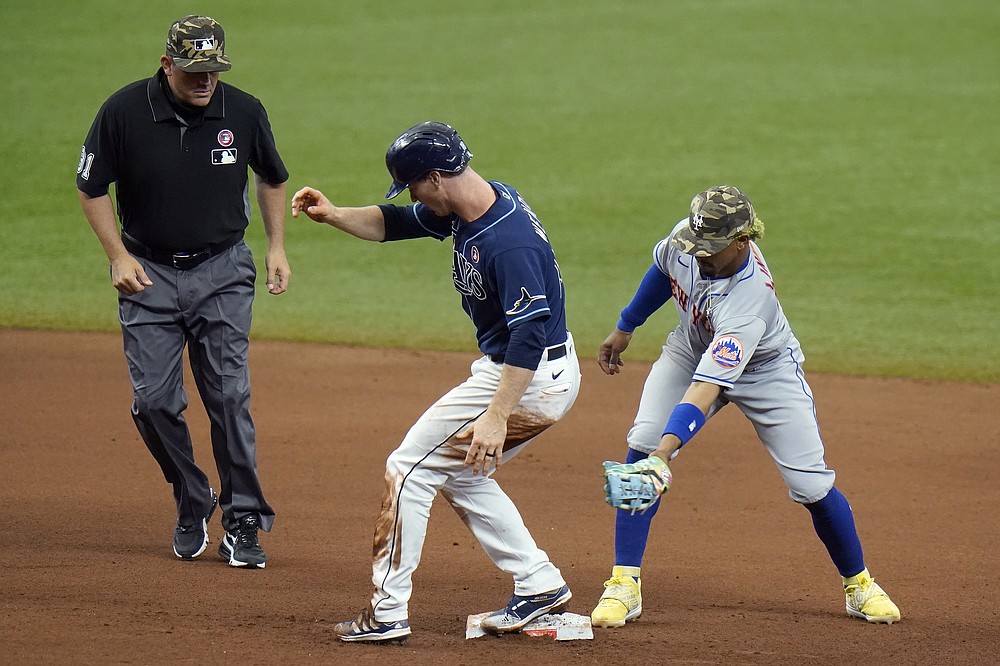 Tampa Bay Rays' Joey Wendle, center reaches second base with a double ahead of the tag by New York Mets shortstop Francisco Lindor, right, during the seventh inning of a baseball game Saturday, May 15, 2021, in St. Petersburg, Fla. Looking on is umpire Brian Knight(AP Photo/Chris O'Meara)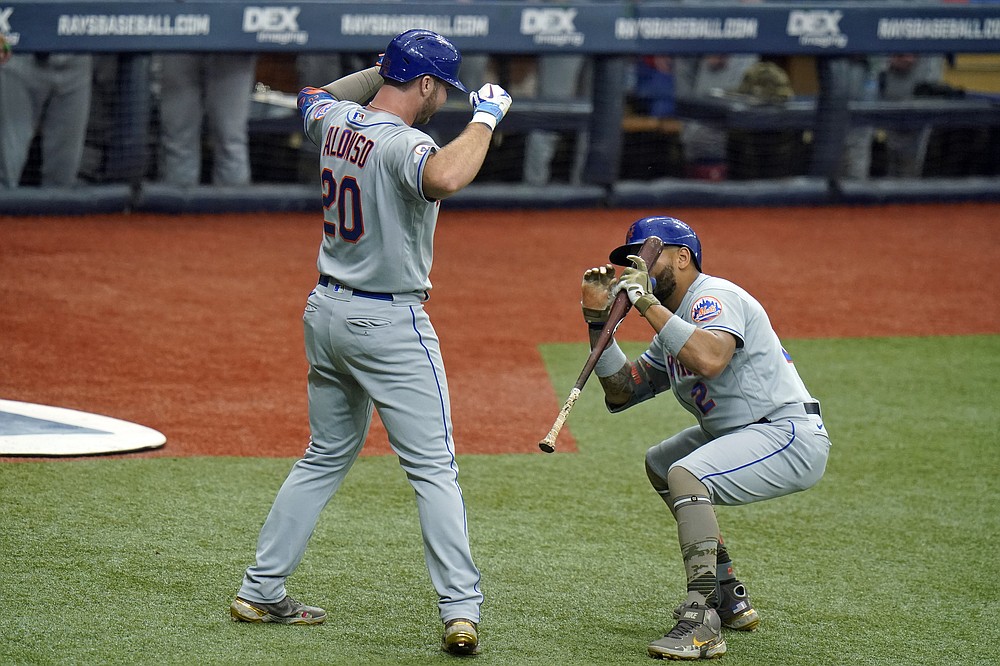 New York Mets' Pete Alonso (20) pretends to pose for a photo for Dominic Smith after Alonso hit a solo home run off Tampa Bay Rays starting pitcher Shane McClanahan during the third inning of a baseball game Saturday, May 15, 2021, in St. Petersburg, Fla. (AP Photo/Chris O'Meara)