BALTIMORE -- Army Wife pulled off a mild upset in the Black-Eyed Susan Stakes on Friday at Pimlico Race Course as trainer Bob Baffert's favored Beautiful Gift finished a well-beaten seventh.
Mike Maker, a former assistant trainer for Hall of Famer D. Wayne Lukas, saddled the winner. Army Wife beat Willful Woman by 2 3/4 lengths for her third victory and first in a graded stakes.
"She had been a hard-luck horse," said Maker, who also won the Pimlico Special on the undercard with Last Judgment. "Her whole career it seems like always something happens. But today, it worked out great."
Jockey Joel Rosario rode the winner, who enjoyed a smooth rail trip for most of the running, though he had to check lightly to find a seam between two competitors.
"She's a really nice horse -- it seemed like she was getting really good over the track," Rosario said. "One point she looked around a little bit, but she was really great after that."
"The rail seems like a good spot to be today," Maker said. "Got the 1-hole and Joel did his usual good job."
Army Wife, who went off at 9-2, covered the 1 1/8 miles in 1:49.63 and paid $11, $5.80 and $4. The 3-year-old filly earned $150,000 to more than double her career earnings.
Maryland first lady Yumi Hoagan, right, hands a trophy to trainer Michael Trainer Michael J. Maker after his horse, Army Wife, won the Black-Eyed Susan Stakes horse race at Pimlico Race Course, Friday, May 14, 2021, in Baltimore. (AP Photo/Julio Cortez)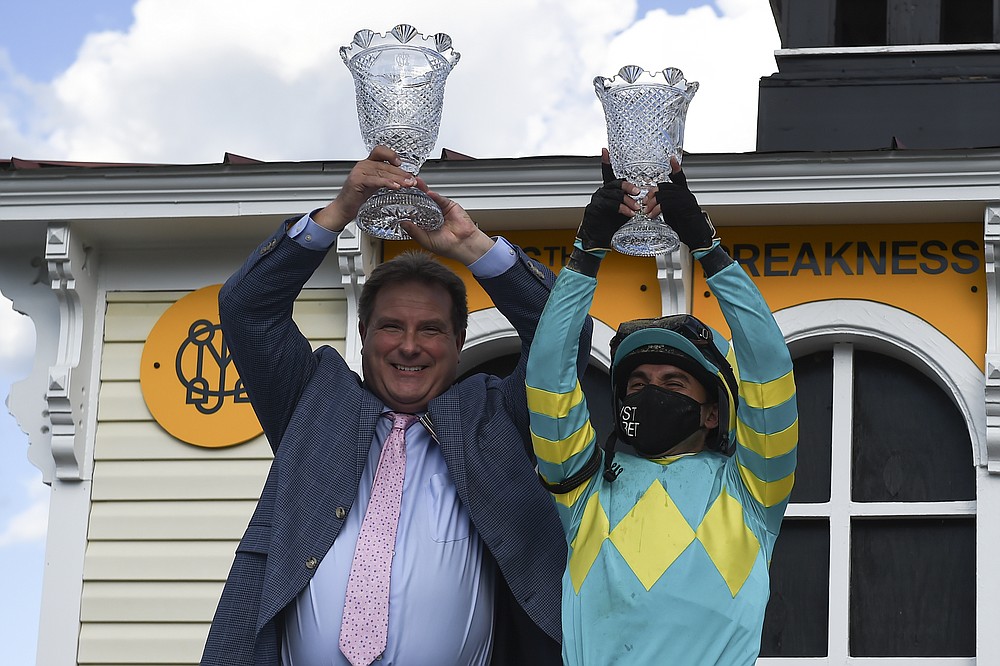 Trainer Michael J. Maker, left, and jockey Joel Rosario hold trophies after Rosario rode Army Wife to win the Black-Eyed Susan Stakes horse race at Pimlico Race Course, Friday, May 14, 2021, in Baltimore. (AP Photo/Will Newton)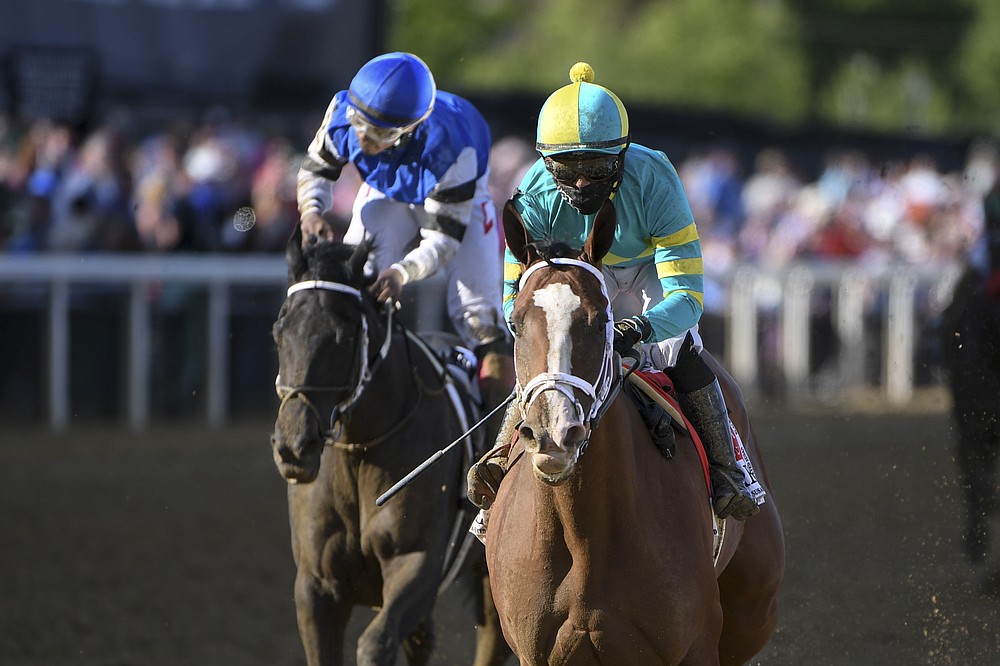 Joel Rosario, right, atop Army Wife crosses the finish line ahead of Ricardo Santana Jr. atop Willful Woman to win the Black-Eyed Susan Stakes horse race at Pimlico Race Course, Friday, May 14, 2021, in Baltimore. (AP Photo/Will Newton)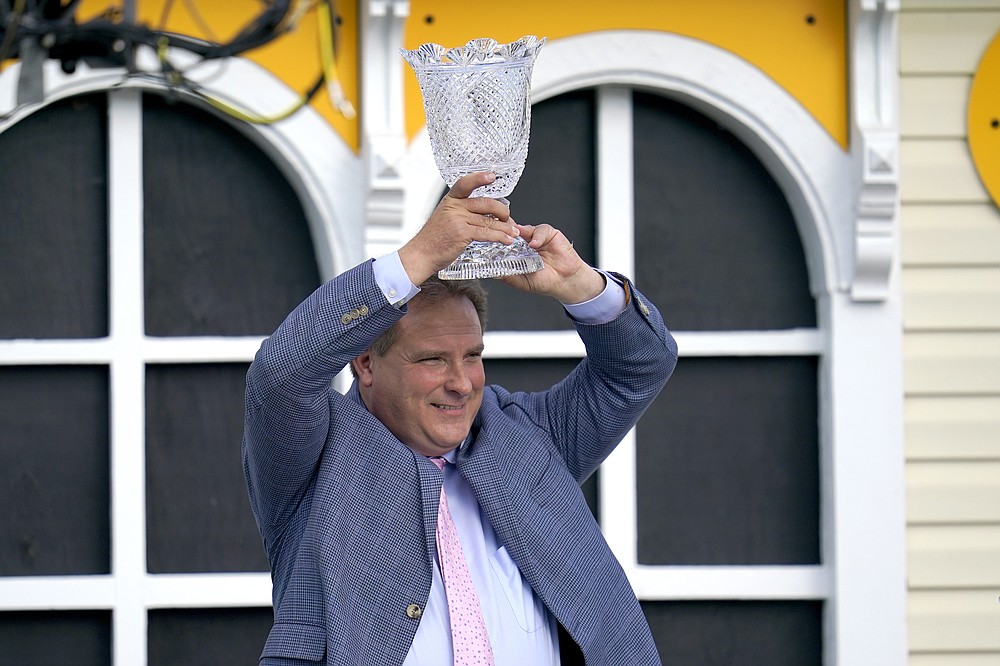 Trainer Michael Trainer Michael J. Maker holds a trophy after his horse, Army Wife, won the Black-Eyed Susan Stakes horse race at Pimlico Race Course, Friday, May 14, 2021, in Baltimore. (AP Photo/Julio Cortez)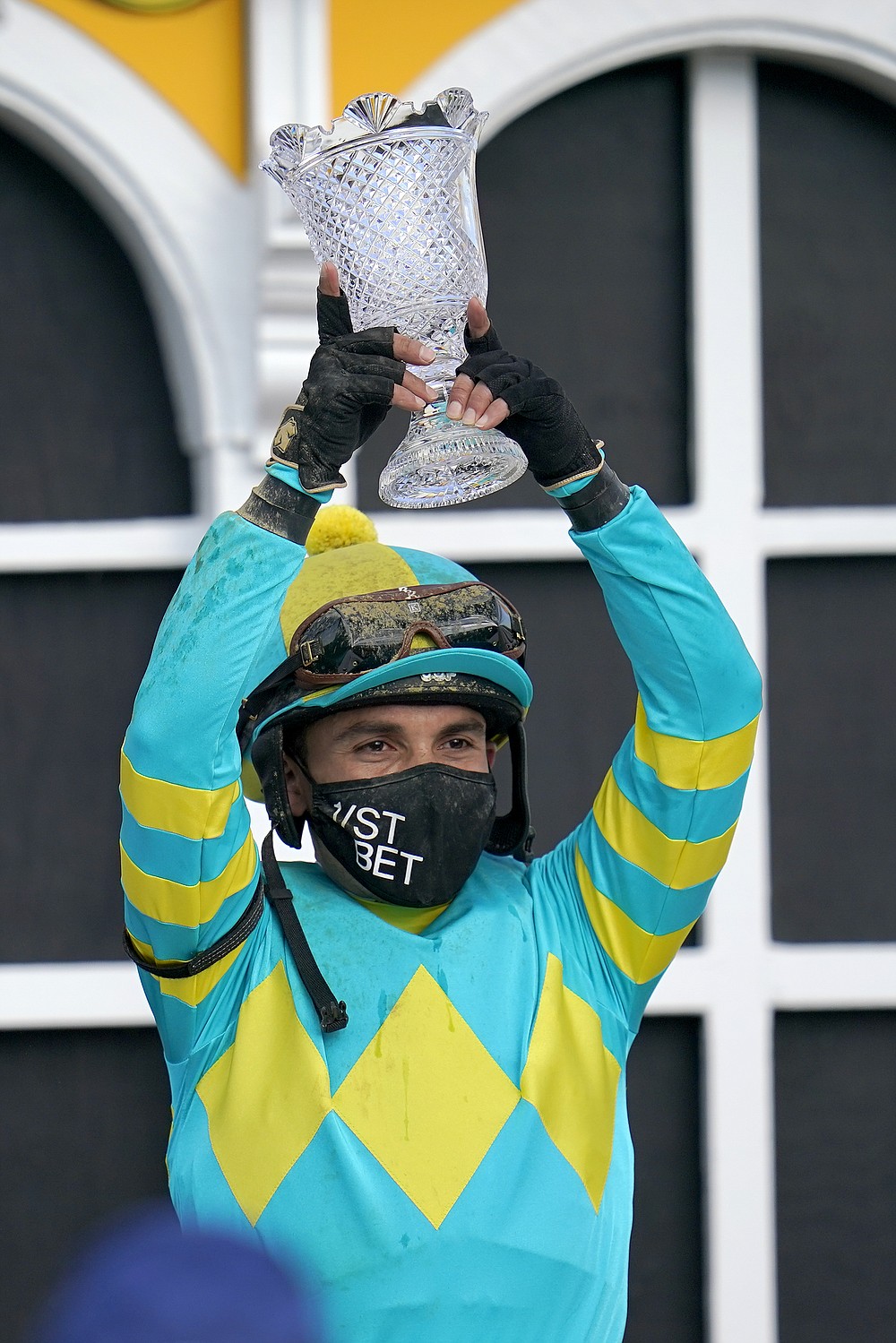 Joel Rosario holds a trophy after he rode Army Wife to win the Black-Eyed Susan Stakes horse race at Pimlico Race Course, Friday, May 14, 2021, in Baltimore. (AP Photo/Julio Cortez)